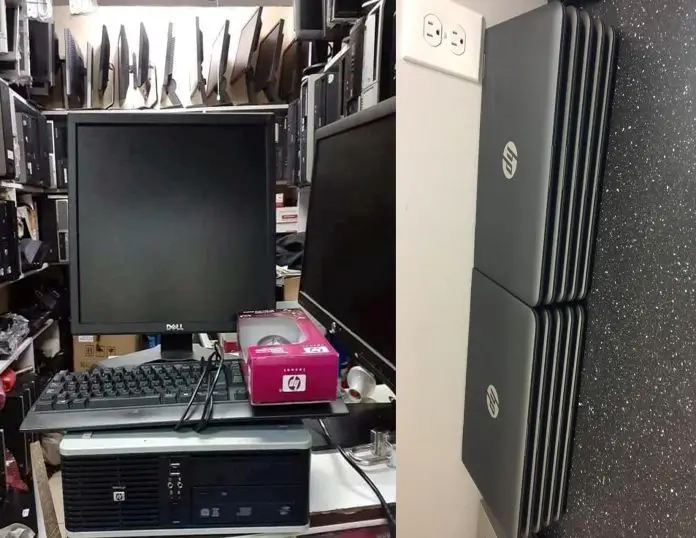 The internet has played a significant role in revolutionizing the way people shop. Many people currently prefer making online purchases through online shopping malls. Stats indicate that online computer shops in Kenya are gathering massive traction from customers.
A big thanks to the high rate of affordable browsing and internet usage.
We live in exciting times, the digital era, where you don't have to move to the local market or store to make purchases. All you need is a smartphone and the internet to visit any of the best online computer shops in Kenya. And everything will be delivered right to your doorstep.
Related: The Best Delivery Companies in Kenya
Top Laptop Stores in Kenya
Name of the Computer Shop
Contact Information
Location
Arctic Computer Shop
Mobile 1: 072267947
Mobile 2: 0736267947
Email: sales@articcomputershop.com
2nd Floor, Kenwood House, Kimathi Street. Nairobi
Bright Technologies
Retail: 0710623400 or 0202241229  
Corporate: 0710 623400 0202210174
Retail: Old Mutual Building, Ground Floor, Kimathi Street Nairobi Corporate: Barclays Plaza, 15th floor, Loita Street Nairobi
Shopit
0777777000
0705784477
Sarova Stanley Hotel, Standard Street, Nairobi CBD
Goodeal Computers
0720529915
Email: info@goodealcomputers.co.ke
Mwembe Tayari, Rahaleo Street, Opposite Coast safari Hotel, Mombasa
Dove Computers
0726032320
0792793349
Revlon Professional Plaza, Biashara street/Tubman road, Nairobi 1st floor, Suite 2E
Stewan Computer Garage
0722666420, 0722453600 or 0722924632
Email: stewan18@gmail.com
Popman House, Eastleigh Northriver road, Nairobi
Hardcopy Technologies
0727450601 or 092686989
Email: sales@hardcopytechnologies.co.ke
Tembo Co-op House, Moi Avenue, 3rd Floor, Suite 2, Nairobi
Elite Digital Solutions
0203753500-06 or 0733737956 Email: info@elitedigital.co.ke
3D Peponi Plaza, Peponi road, Westlands, Nairobi
Spaceman Solutions Limited
0721416912
Email: info@spaceman.co.ke
Al Amin Plaza, Mohdhar Mohd Road off Moi Avenue, Mombasa
Muhimu Computer Systems
0731409727, 0722129808 or 0722842589
Email: sales@muhimucomputers.com
Mithoo House Opp. Khoja Mosque, Ground floor, Moi Avenue, Nairobi
 
 
 
Top Computer Stores in Kenya
If you want a place where you can meet the best bargain on laptops, desktop computers, and other related accessories, then the Arctic is your best pick.
Arctic online computer shop is dedicated to selling affordable laptops to all. They ensure that clients receive 100% support on every purchased computer.
They always get in touch with new developments in the computer industry as well as updating both new and existing clients on the current technological trends.
The bright online shop was launched in 2006 in Nairobi Old Mutual Building. Since then, their goal has been to provide world-class ICT business solutions that include original hardware, software, and other computer accessories that fit your budget and needs.
You can find any laptop accessories in Kenya at Bright Technologies physical store or make an order online any time you want to make an order. With both avenues, they provide a team of expert personnel that waits to assist you in getting your desired product.
Furthermore, making payments to Bright Technologies is secure, and their platform supports a wide range of payment options such as Airtel Money, PayPal, M-Pesa, visa card, and credit card.
Are you aware that Dakika online shop rebranded its name to Shopit? Perhaps you weren't aware. This is one of the newest laptop shops in Kenya that sells computers, electronics, tablets, and mobile phones at a pocket-friendly price.
It's one of the best online computer shops in Kenya that sells high-quality renowned brands.
Shopit is a famous and authorized dealer of many brands such as Acer, Lenovo, Dell, Toshiba, Dell, HP, D-Link, Samsung, and many other models. They are located along the Standard Street within the Nairobi CBD.
Goodeal is a retailer and a supplier of computer-related products. It's one of the best online laptop stores in Mombasa, Kenya. This is one of the trusted online shops that provide fantastic customer experience and delivery of reliable services. They aim to move an extra mile in ensuring that they meet your satisfaction.
Goodeal computers is situated along Raha Leo Street close to Mwembe Tayari. They deal with laptops, printers, desktops, and other electronics. They offer favorable prices within the CBD. Can you visit them or make an online inquiry?
Dove computers online shop was launched in 2005 as a local company to provide products in ICT in both private and public sectors in Kenya. This online computer shop is dedicated to providing you with affordable laptops and electronics.
The shop promises its clients 100% support on any purchased laptop. They always get in touch with current developments within the professional computer industry. Dove boasts two shops located within Nairobi CBD. Whichever store you chose to visit, be sure to get unmatched variety of computer brands. You will be spoilt for choice!
Stewan is among the best online shopping solution stores where you can get the latest devices. You can buy computers, laptops, tablets, all mobile phones, and accessories in Kenya.
In terms of payment options, Stewan online computer shop provides a system that suits everyone, whether you are within the CBD or away. Additionally, Stewan has a payment-on-delivery choice that adds extra convenience.
Also, you can take advantage of their computing products available for your computers, printers, and laptops at a market-friendly price.
Hardcopy is an online computer shop in Kenya that's located along Moi Avenue. It's an IT retail store that focuses on customer satisfaction and service. It's a fully-fledged company that deals with laptop hardware supplies. They also deal with other computer networking solutions for large, medium, and small businesses.
Hardcopy team comprises of highly trained professionals with qualified hardware and software consultants, administrators, and technicians with an aggressive sales team.
Located at Sarit center, Westlands Elite Digital Solutions is a computer shop in Kenya that features a large showroom. It deals with a wide range of laptop and Apple products. This shop is famously renowned for selling high-quality computer products.
All their products are factory-boxed and genuine, fully complemented with a one-year warranty.
Spaceman solutions started in 2006 as single ownership that was fully incorporated in 2013 and was awarded the best Dell Reseller Direct Programme. As one of the fastest growing online computer shops in Mombasa, Kenya, this company has grown to be known as a customer-focused.
This company deals with a range of laptops that include Acer, Lenovo, Samsung, and HP. In 2014, it was awarded the best HP partner of choice.
A great place where you can get all your online computer solutions at affordable prices that won't break your bank in search of a high-quality laptop. It's a full-service and one of the online computer shops in Kenya that accommodates all types of laptop needs.
This company designs a local area network for both small and large business organizations. The company listens to each customer's needs as well as understands every clients' business area.
Apart from selling a wide range of computers to customers, this company performs other activities such as web services and design, high-speed internet options, and warranty activities to customers.
A good computer shop in Kenya should sell their laptops and accessories at a fair price. Equally, they should have a wide range of computer options from which you can select your best choice. 
Computers Shops in Kenya FAQs
Q: What should I consider when choosing a computer shop in Kenya?
A: When choosing a laptop shop in Kenya, you should consider the following factors: the type of products offered, the price range, payment options, location, and customer service. Additionally, you should also consider the quality of the computers and accessories sold by the shop.
Q: How do I know if a laptop shop is selling genuine products?
A: Genuine computer products are usually factory-boxed and come with a warranty. You can also ask the shop to provide you with a certificate of authenticity for the product. Additionally, you can check online reviews to get an idea of the quality of the products offered by the shop.
Q: What should I do if I experience a problem with my computer?
A: If you experience a problem with your computer, you can take it to the shop where you purchased it for assistance. Alternatively, you can contact the manufacturer's customer service department for help.
Q: Can I return a computer that I have purchased from a shop in Kenya?
A: Yes, you can return a laptop that you have purchased. You should contact the shop to find out more about their return policy.
Q: Do computer shops in Kenya offer warranty services?
A: Yes, most computer stores in Kenya offer warranty services. The terms and conditions for obtaining a warranty may vary depending on the shop.
Q: How can I get a good deal from a computer store in Kenya?
A: To get a good deal from a computer shop, you should compare the prices offered by the shop. Additionally, you can ask the shop to provide you with a discount on the purchase of multiple laptops.
Q: What is the best time to buy a computer in Kenya?
A: The best time to buy a laptop in Kenya is during the festive season when most computer shops offer discounts on their products. Alternatively, you can wait for end-of-year sales.
Please follow and like us: