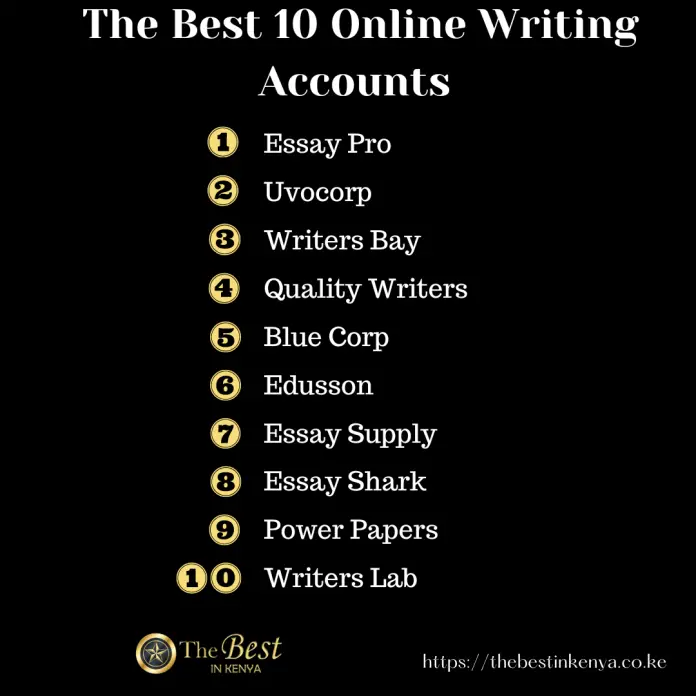 The availability of reliable internet connection across the country has opened doors to many Kenyans, especially youths. In 2019, 23% of Kenyans used the internet. Some use the internet to earn money through academic writing, transcription, and article writing accounts. 
There are different academic writing accounts you can use to earn your living. Also, you can work from anywhere once you own a writing platform. For years, the different freelancing accounts have served students who want their assignments done at a small fee. Although there are some issues with academic writing, most writers have bought cars, taken children to school, and bought land with the money they earn.
Online Academic Writing Accounts that Pay Well
Academic Writing Account
Types of Assignment
Essay Pro
Admission essay
Article review
Business plan
Uvocorp
Research paper
Creative writing
Annotated Bibliography
Writer Bay
Thesis
Essay writing
Quality Writers
Content writing
Editing
Resume writing
Blue Corp
Editing
Essay rewriting
Edusson
Analytical essay writing
PowerPoint presentations writing
Book review
Essay Supply
Coursework writing
CV writing
Thesis proposal
Essay Shark
Thesis writing
Coursework writing
College paper writing
Power Papers
Action research projects
Admissions essay
Blog entries
Writers Labs
Essay writing
Book review
List of Well-paying Academic Writing Accounts
1. Essay Pro
Essay Pro is one of the best academic writing accounts in 2021. This is because the writers have over 20 years of experience. The academic writing account helps students with their academic tasks. Once you purchase your editing or writing services with Essay Pro, you are guaranteed quality work.
Essay Pro aims to help every student in their academics to achieve the best in their education. You can buy an Essay Pro account if you want to be among a team that helps students achieve their education dream.
2. Uvorcorp
It is an academic writing assistance company launched in 2006. The company cares for writers and helps them to perfect their service delivery. Uvocorp's writing account allows you to deal with essays, research papers, dissertation chapters, and creative writing.
Also, if you are a beginner with a passion for academic writing, Uvocorp helps you tap your writing potential. In each assignment given, Essay Pro gives you a deadline to complete the task.
3. Writers Bay
If you are a freelancer looking for an online academic writing account with various orders and a flexible schedule, Writers Bay has got you. All you need to start your job is an internet connection, writing skills, and passion. It is one of the academic sites looking for writers.
At Writers Bay, you are sure of a competitive income on each paper you tackle. Also, you receive your payment twice a month, and thus, your pocket won't run dry. In addition, the academic writing account allows you to manage your workload.
4. Quality Writers
Open an academic writing account with Quality Writers and get paid on time. Also, the website offers you the necessary support while working. This has made many writers who have gone through their hands experts.
You can choose the project you are comfortable working on from the Quality Writers platform. Also, you carry out the tasks at your pace. Therefore, you can earn as much money as you want. If you are good at content writing, resume writing, and editing, join the team.
5. Blue Corp
At Blue Corp, you can earn up to $2500 per month. Also, you can increase your income from $600 to $1700 by working with Blue Corp during your free time. As one of the academic writing accounts for beginners, the freelancing company has a friendly team. They walk with you until you master the game.
The academic writing account also supports your professional growth. Once you prove your effort, desire to work, and responsibility, you can get a promotion and become highly ranked. As a result, your pay increases, and you have more benefits than the other writers.
6. Edusson
Edusson has numerous academic writing accounts for sale in Kenya. To work with them, you only need to open an account. First, submit your personal information. Second, do a short test given and make sure you pass. Third, write an introductory essay to prove your skill.
Fourth, you should present your ID and a diploma for authentication. Finally, select the mode of payment you prefer. Once you complete the process, you can start working immediately on your area of interest.
7. Essay Supply
The Essay Supply writing platform allows you to open an academic writing account free of charge. The process is easy and fast. Therefore, you can start earning as early as now. As one of the best academic writing accounts for sale in 2021, Essay Supply offers constant support to all writers.
If you have a passion for writing and advanced English skills, you can open an account with Essay Supply. You earn according to work done once you adhere to the given deadline.
8. Essay Shark
Essay Shark makes your academic tasks easy to handle. Students can check the progress of the assignment by chatting with the writer. Also, they can request a free preview from your writer to suit your need.
The online writing account handles the projects on time. In addition, the work delivered is non-plagiarized. Therefore, you don't have to worry about the copyright of your work.
9. Power Papers
The academic writing account began in 2008 through a group of experts with over 40 years of experience in research and writing. The team from Power Papers is hand-selected, therefore, the best.
If you have an advanced degree in any field and want to become a freelancer, you can open an account with Power Papers. Also, the payment of work done will warm the cockles of your heart.
10. Writers Labs
Writers Labs brings your freelance writing career dreams to reality. You can register with them and open an academic writing account to earn dollars every month. There is a constant flow of orders in the Writers Lab account. Hence, you can work as much as you want.
Writers Labs also offers flexible working hours. This is because you can either work during the day or at night. Also, they offer 24/7 live support. Therefore, in case you have trouble with a project, you get assistance on time. 
FAQ
What does CPP mean in writing?
The meaning of CPP in writing is the cost per page. This is the amount of money charged for a single page of content. The average CPP in Kenya is between Ksh. 300-400 when working for a local account owner.
What does POA in writing mean?
POA in writing means payment on approval. This usually describes the payment option where you are only paid after the client approves your work. Most academic writing account owners use this payment method.
What is the meaning of POD in academic writing?
POD in academic writing refers to payment on delivery. This is where you deliver the work and then get paid. You don't have to wait for the client to approve before you get your money. This payment arrangement is common in complex and urgent orders.
How much is an academic writing account in Kenya?
The average cost of an academic writing account in Kenya is around Ksh. 10,000-50,000. However, some accounts like Uvorcorp, Bluecorp, Essayshark, and Essaypro may cost hundreds of thousands, depending on the features.
Which is the best place to buy an academic writing account?
The best place to buy an academic writing account is Accounts Place. The website lists all the available writing accounts in Kenya and their prices. You can compare the features of each account before making your purchase.
Please follow and like us: