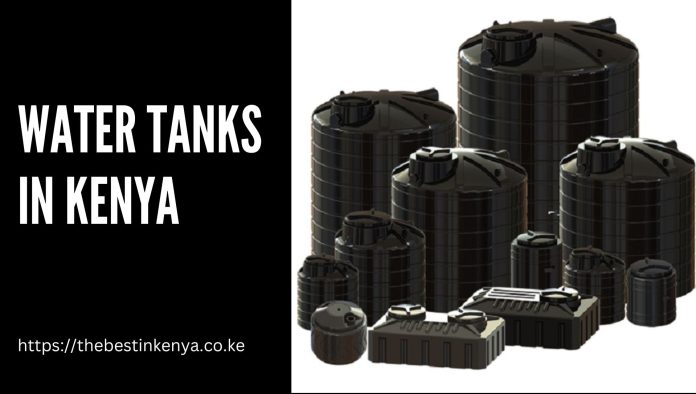 'Water is life, and clean water means health.'- Audrey Hepburn. Water is a basic need for you to live; to have enough, you need storage. One of the best ways to store water is using water tanks.
You can either use plastic or steel tanks to store your water. Depending on the type you choose, a good water tank needs to be easy to clean, durable, rust-resistant, and block sunlight. Therefore, as you plan to purchase your water storage, look for the best quality.
Top 10 Water Tanks in Kenya
Water tanks
Types
Contacts
Location
Roto tanks

Plastic septic tanks
Rectangular loft tanks
Cylindrical vertical tanks

inquiries@rotomoulders.com

+254 20 8070603

+254 733 600203

Off Enterprise Rd, Industrial Area, Nairobi
Jumbo tanks

Glass Reinforced Plastic (GRP) tanks
Loft tanks
Steel tanks

info@jumbotanks.com

+254 789 528340

Old Mombasa Rd, Nairobi
Toptank

Plastic cylindrical tanks
Nestable tanks
Underground spherical tanks

mail@toptank.com

+254 41 2317443

Parkside Towers, Mombasa Rd, Nairobi

Lecol Building, Mbaraki Rd, Mombasa

SBS Tanks

Standard range tanks
Econo tanks
Cyclonic tanks

water@sbstanks.co.za

+254 714 901918

+254 705 634045

Pili Trade Centre, Old Mombasa Rd, Nairobi
Kentanks
info@kentainers.co.ke

+254 20 2519098

Viwandani Embakasi Rd, Nairobi
Jojo tanks

Vertical plastic tanks
Loft tanks

info@jojo.co.ke

+254 713 483445

Pate Rd, Industrial Area, Nairobi
Techno tanks

Transportation tanks
Underground tanks
Loft tanks

info@techno-plast.com

+254 720 622222

+254 720 511111

10 Nadume Close, Off Lunga Lunga Rd, Industrial Area, Nairobi
Mamba tanks

Rectangular UV-plastic ceiling tanks
Septic tanks

+254 722 138669

+254 20 3536719

Enterprise Rd, Industrial Area, Nairobi
Skyplast

Cylindrical plastic tanks
Loft tanks

+254 20 559490
Runyenjes Rd off Nanyuki Rd, Nairobi
Vectus tanks
+254 715 101061
Off Mombasa Rd, Athi River, Nairobi
List of Water Tanks in Kenya
Roto Moulders manufactures Roto water tanks. Besides, the water storages come in different varieties. You can get cylindrical tanks from 100 litres to 23,000 litres. Also, Roto has rectangular loft tanks from 230 litres to 920 litres.
If you want ball-shaped underground tanks between 2,300 litres to 4,600 litres, Roto has got you. Besides, you can get septic tanks from 1,700 litres to 6,000 litres. Finally, the Roto horizontal water tank prices in Kenya were KES 56,695- KES 104,990 in 2020.
Google Rating: 5 
  (31 Reviews)
Jumbo tanks are ultra-durable, eco-friendly, and affordable. They come in different types, such as steel, GRP, and plastic. The cylindrical plastic Jumbo water tanks between 300 and 24,000 litres cost KES 2,700- KES 284,700.
Besides, you can get various options of loft tanks between 250 litres and 1,000 litres. These storage tanks cost KES 4,200 to KES 11,240. The Glass Reinforced Plastic (GRP) tanks have a capacity of 3,000 litres to 49,000 litres.
Google Rating: 4.1
  (34 Reviews)
Toptanks are made in Kenya from food-grade polyethene using the rotational moulding method. The Kenya Bureau of Standards approves these storage tanks. They have the Diamond Mark of quality.
If you want durable underground spherical water tanks in Kenya, Toptank has affordable KES 16,200-KES 80,780. Besides, you can get a rectangular loft, conical hopper, horizontal septic, nestable cylindrical, and standard cylindrical water storage.
Google Rating: 5 
 (59 Reviews)
SBS started manufacturing and distributing water tanks in the Kenyan and South African marketplace in 1998. The storage tanks come from a prefabricated Zincalume steel panel with multi-layered PVC internal liners. Besides, the SBS tanks are suitable for the harshest environments.
The tanks come in three different types: cyclonic, Econo, and the standard steel water tanks in Kenya at pocket-friendly prices.
Google Rating: No Rating Yet
Kentainers make Kentank and have 25 years of legacy in Kenya. The storage tanks are of quality and durable and come in different varieties. The Kentank underground static water tank prices range between KES 33,500- and KES 108,000 in Kenya.
Besides, depending on the capacity, you can get septic tanks at ksh. 38,750 to ksh. 108,000. Other varieties of tanks you can get from Kentainers include loft tanks, cylindrical & rectangle static tanks, and nestable water tanks.
Google Rating: 3.5
  (21 Reviews)
6. Jojo Tanks
Are you looking for efficient and pocket-friendly tanks? Jojo water tank prices in Kenya range from Ksh. 1,000 for 210 litres to Ksh. 80,000 for the 10,000-litre water tanks. Besides, it only takes a minute to install them in your compound. Also, the water storage has everything you need to connect them to your house's downspouts.
You can source vertical storage tanks and loft tanks from Jojo. Besides, they are fit for city dwellers and rural communities. Lastly, the storage tanks are suitable for farming, mining, rainwater harvesting, and chemical handling.
Google Rating: 4.6
  (16 Reviews)
Techno-tanks has been one of the leading water tanks in Kenya since October 1994. The tanks have a capacity of between 200 litres and 30,000 litres. Besides, Techno tanks have a lifetime guarantee of 30+ years.
Techno tanks range from loft to transportation, underground, and water tanks. If you want one today, you can order it online and have it delivered to your doors. Also, you can get the Techno tanks price list in Kenya on their website.
Google Rating: 4.6
 (25 Reviews)
8. Mamba Tanks
Mamba tanks are suitable for home water storage and commercial water storage. You can get cylindrical UV-plastic storage tanks between 210 litres to 15,000 litres. Also, Mamba has rectangular UV-plastic ceiling water tanks with a capacity of 315 litres to 1,000 litres.
If you are looking for septic tanks, Mamba has got you. They have quality septic tanks with a volume of 1,700 litres. Finally, you can visit Mamba offices along Enterprise Road in the Industrial Area.
Google Rating: 4
  (12 Reviews)
9. Skyplast
Kenyan households widely use Skyplast tanks. Besides, they come in different sizes and are easily portable. You can visit their offices in Nairobi, Kenya, to purchase your suitable water tanks. You can get 210-litre to 10,000-litre Skyplast storage tanks at an affordable price.
Google Rating: 5 
  (1 Reviews)
10. Vectus Water Tanks (Now Styproplast) 
Vectus Kenya Ltd manufactures Vectus water tanks in Athi River, Kenya. The storage tanks have a volume of 500 litres to 10,000 litres. The price of a 10,000 ltr Vectus water tank in Kenya is between Ksh. 80,000 and Ksh. 90,000. Besides, manufacturers use German art machinery to produce them; thus, they are of high quality.
Google Rating: 4.4
  (17 Reviews)
FAQs
Can I Install a water tank on my own?
Smaller tanks are easy to install on your own. However, most suppliers offer the installation services at a small fee or free of charge. It is essential to have your water storage installed by a professional.
Do water tanks require maintenance?
Most water storages do not require maintenance practices once installed. However, you can have your water tank checked once a year. It will help to detect a leakage if there is one.
What is the price of water tanks in Kenya?     
The price of the water storage depends on the size and the brand. Here is a table showing the estimate prices for different sizes of Jumbo, Roto, Vectus, Toptank, Jojo, Kentanks, SBS, Techno, and Mamba water tanks.
| | |
| --- | --- |
| Water Tank Size (litres) | Estimated Price (Ksh) |
| 200l | 1,500-2,000 |
| 500l | 5,000-9,000 |
| 1,000l | 7,500-12,000 |
| 1,500l | 10,000-14,000 |
| 2,300l | 13,500-20,000 |
| 3,000l | 20,000-25,000 |
| 5,000l | 35,000-45,000 |
| 6,000l | 47,000-55,000 |
| 8,000l | 65,000-75,000 |
| 10,000l | 80,000-94,000 |
| 12,000l | 122,000-130,000 |
| 24,000l | 260,000-280,000 |
What is the price of skyplast 310 litres price in Kenya? 
The price of Skyplast 310 litres is between Ksh. 2,000 and ksh. 2,700. If you want a 210-litre Skyplast, the price range is ksh. 1,500 to ksh. 2,000. The tanks also come with a lid.
Are all water tanks round in shape?            
Most of the tanks are round-shaped. However, different companies manufacture tanks in various shapes. You can get rectangular, spherical, triangular and square-shaped tanks.
Must I cover my water tank?
Yes, you should. It is crucial to build a cover for your water storage. It helps keep your water clean by covering it from dust, leaves or anything that might contaminate it.
Which are the most durable water tanks in Kenya?
The most durable water tank in Kenya is Roto. Thanks to the premium quality of the material used to manufacture the tanks. However, it is essential to note that all the brands mentioned here have a track record in quality products.
Please follow and like us: