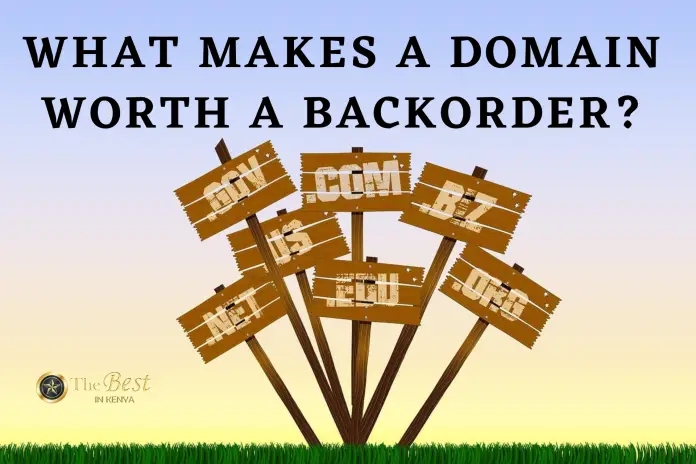 The number of good domain names keeps reducing each day. You think of the perfect domain, but on checking, it is unavailable. Amidst this scarcity, there are hidden gems in expiring domains. But how do you determine whether you should backorder a domain name?
In this blog post, we take you through the ins and outs of worthy domains for back order and the characteristics to consider. Keep reading to uncover the secrets to identifying and securing these coveted online treasures before they slip through the digital cracks.
What Is Domain Backorder?
When a domain name expires, it goes to the auction. But before the auction, what happens?
Thirty days before the renewal date: The registrar reminds you that your domain name will expire in the next 30 days.
Redemption period: Usually 30 days after the expiry period. The registrar reserves the domain for the owner to fix any payment issues if the failure to renew was not intentional. Of course, the renewal at this time may be at an additional cost.
Pending delete period: A 5-day when the domain is temporarily on hold and unavailable for registration or renewal.
After the pending delete period, the domain files are deleted from the domain name system (DNS).
If the domain is desirable, it goes to a public auction where the prices can be quite high. And that is where backorder comes in. Domain backorder is an option to bypass the public auction by placing a reservation on the domain, allowing you to acquire it as soon as it becomes available.
When a domain name has multiple backorders, it goes to a private auction where only those who reserved it can place a bid. In case you are the only one who placed the backorder, you can register it through the standard procedure.
Related: 
7 Characteristics of Domains Worth a Backorder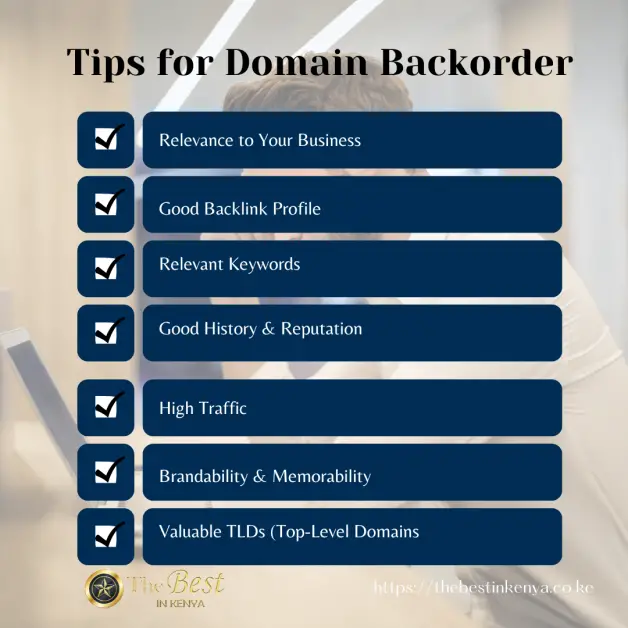 1. Relevance to Your Business
As Marc Ostrofsky puts it, domain names and websites are Internet real estate. And who sees an affordable house in a good neighborhood and lets it slip? To compete effectively in the digital era, you should keep an eye on any opportunity that can give you an edge over your competitors.
There are millions of e-commerce stores worldwide competing for the attention of 2.6 billion online shoppers. In such a competitive environment, you need all the strategies to give an edge to your competitors. Getting a relevant domain can help you add more conversions.
How do you know an expiring domain name is relevant to your business?
It has a relevant and high-volume keyword
The name has a relevant domain extension (TLD)
It accurately reflects your brand name or core business idea
It resonates with your target audience's language and preferences
If a domain name meets these criteria, you can consider a backorder. Also, you can redirect the traffic of a relevant domain to your site.
But is such a domain worth registering for flipping? If a domain name is good for business, it suffices for a profitable investment. So, you can back order it for resale to relevant businesses.
2. Good Backlink Profile
Backlinks can be compared to endorsements or recommendations in the digital realm, indicating credibility and relevance to search engines for better visibility and ranking. So you would want to backorder a domain name with an attractive backlink profile.
But how do you check the authority of a domain's backlink? There is no better way to do it than Bishopi's backlink checker. The tool helps you to get the following:
Number of links: The high the number of links, the better
Domain popularity: It shows the number of incoming links from other websites
IP popularity: A metric that shows the number of incoming links from different serves.
Traffic costs: When the traffic cost is high, it shows the domain has quality prospects.
These metrics come in handy when assessing whether a domain is worth a backorder. Additionally, analyzing a domain's backlink profile can provide valuable insights into its potential value and impact on your business.
3. Relevant Keywords
This goes without saying. If a domain name ranks for a high-value keyword, you should consider back ordering it. Why? A domain with strategically chosen keywords not only helps search engines understand your website's focus but also appeals to users looking for specific information.
This strategy will help you increase your website's click-through rate and conversion. But what if you are into domain flipping? If the domain has considerable traffic from the focus keyword, that is a good selling point. You can even sell it as a premium domain, leveraging its established relevance and potentially commanding a higher value in the market.
4. Good History & Reputation
Although the Internet has revolutionized many things for the better, much has also gone south. From malware distribution, cybersquatting, phishing to scams, the online landscape has witnessed its share of unethical practices.
If you are not cautious, you can inherit the digital baggage of a malicious individual by back ordering a domain with a tainted history. This can expose your online endeavors to legal complications, security vulnerabilities, and a tarnished reputation. Who wants all that in exchange for link juice or traffic?
To avoid this trap, you should ensure that the domain you want to backorder is reputable. But how? You can use the following tools to ascertain the history of a domain name:
Wayback Machine: Check the previous website iterations and verify its content and purpose over time.
Moz Link Explorer: Check the spam score of a domain name. You should backorder domains with low spam scores (less than 30%).
Social media check: Although not a tool, searching on different platforms can help you unearth any dubious activities with the domain name.
These checks will guarantee that you are back ordering a cleaning domain name. With that, you can use it to build your business without hurting your brand credibility.
5. High Traffic
If you are already running a site, you know how difficult it is to get organic traffic. What if you could get a hack around it? Expired domains with established traffic can be a good way to redirect traffic to your business through 301 redirects.
But there are a few caveats to this strategy. First, you should confirm that the traffic is generated organically. According to a report from Imperva, bad bots account for 30% of Internet traffic. Then, how do you identify bot traffic:
Abnormal spikes in traffic
Sudden increase in traffic from unexpected sources
High number of visits from non-English speaking countries
Creation of fake accounts and increase in junk conversions
Abnormally high bounce rate and low duration on pages
Another issue with high-traffic domains is ensuring the incoming traffic aligns with your target audience and business niche. Even if a domain meets all the other backorder criteria, if the traffic isn't relevant, it will only hurt your brand reputation. No one would like to be redirected to a pet store when searching for a laptop.
That said, you should only backorder a domain name if the traffic is organic and relevant to your site or business.
6. Brandability & Memorability
Whether you need the domain name for email marketing or to create a website, it should be brandable and memorable. A memorable domain name is easier to refer through word of mouth and also type when searching for your brand. Apart from that, potential clients can easily come back to your site. This gives you an edge in the highly competitive online arena.
A domain name that aligns with your brand identity is also worthy of a backorder. Aspects that portray brandability include lasting impression, trustworthiness, and alignment. The domain name should enhance your brand image and create a solid online presence.
7. Valuable TLDs (Top-Level Domains)
Although .com is known as the king of domain extensions, there are instances other options may be worth a backorder. For example, if you are targeting a specific location, you can backorder country code top-level domains. Do make sure you check the most sold tlds first.
Although a top-level domain does not directly affect ranking, buyer perception is an essential factor. Most domain buyers and online shoppers view .com as a more credible option compared to other extensions. So, a .com extension contributes to a positive first
Conclusion  
In the dynamic and competitive landscape of the online world, understanding what makes a domain worth a backorder is crucial for gaining a strategic edge. Each characteristic discussed in this blog post plays a pivotal role in determining the worthiness of a back ordered domain.
From relevance and backlink profiles to history, traffic, brandability, and TLD selection, these factors collectively contribute to a domain's potential impact on your business's success.
Please follow and like us: