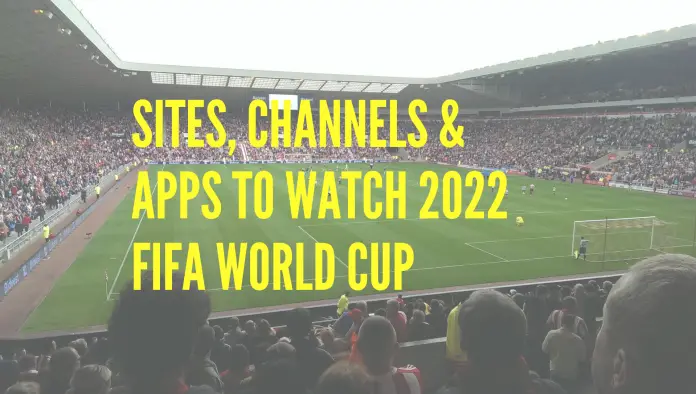 The 2022 FIFA World Cup is just around the corner, and there is no doubt that many people are excited about it. This event is always a spectacle, and it is sure to draw in viewers from all over the world. Whether you're looking for sites to watch the 2022 FIFA World Cup for free or want to pay for a premium experience, we've got you covered.
This blog post will discuss some of the best sites and channels to stream the World Cup. Whether you're a die-hard soccer fan or just looking to catch the excitement of the tournament, read on for more information!
Related: The Best Sites to Stream Football Matches Live
Where to Watch FIFA World Cup 2022 for Free
Streaming the World Cup free and legally can be a hard nut to crack, but a few sites offer quality and reliable live streams of the games. Although there are many channels and sites that will offer all the 64 games, most call for a subscription.
Country
Free Channels (Some Need Valid License)
Paid Channels
USA

Peacock Premium
Sling TV
YouTube TV
DirectTV Stream
Fubo TV

United Kingdom
Germany
Australia
Canada
South Africa

SuperSport La Liga
DSTV Channel 204

Nigeria

SuperSport La Liga
DSTV Channel 204

Kenya

SuperSport La Liga
DSTV Channel 204

Uganda

SuperSport La Liga
DSTV Channel 204

Tanzania

SuperSport La Liga
DSTV Channel 204

Ghana

SuperSport La Liga
DSTV Channel 204

Brazil
New Zealand

Sky Sport Now
Sky Sport Go

Spain

Mediaset
Telemundo
NBC Universo

France
India

JioCinema App
VOOT
Jio TV

Italy
List of Sites, Channels & Apps That Will Air Live 2022 FIFA World Cup
Where to Watch FIFA World Cup in Different Countries
In the United States, Fox and FS1 will air live world cup action. If you want a premium experience, you can stream all the matches through Peacock Premium, Sling TV, YouTube TV, DirectTV Stream, or Fubo TV.
Most African countries can access all the 64 World Cup matches on SuperSport La Liga or DSTV Channel 204. In countries like South Africa and Kenya, national televisions like SABC and KBC will broadcast some matches.
Ghanaian soccer fans can tune in to New World TV and enjoy as Black Stars take on Portugal, South Korea, and Uruguay in Group H.
In Europe, BBC and ITV will show all 64 World Cup games for free. France's TF1 and Germany's ARD will also be broadcasting the tournament.
If you are in Italy, RAI will show all the games for free. In Spain, you can catch the action on Mediaset's Movistar+, Telemundo, or NBC Universo.
Asian countries like India, Pakistan, Bangladesh, and Sri Lanka can stream World Cup matches through JioCinema App, VOOT, or Jio TV.
Brazil is one of the front-runners and fans in the country can watch all the matches on TV Globo.
Fans in Australia and New Zealand can catch every game of the 2022 FIFA World Cup on SBS and Sky Sport Now respectively.
Canadians are not left out. If you want to stream the world cup matches, you can do so on TSN App or CTV.
No matter where you are, there are channels, apps, and sites that will bring the world cup action to you. Enjoy the tournament!
How Many Matches Can I Watch for Free?
Whether you're looking for free sites or paid options, you can rest assured that there will be plenty of games to stream during the 2022 FIFA World Cup. Many popular channels and streaming services offer live streams of at least some matches, and some even offer full coverage of all 64 games.
Do I Need a VPN to Stream FIFA World Cup for Free?
If you have to use a VPN to watch the World Cup, it means that the site or channel you're streaming from is not licensed in your country. While a VPN can be a good way to get around these restrictions, it's important to note that some streaming services may have bandwidth limitations or other restrictions that impact video quality.
How Many World Cup Matches Will Be Aired on KBC?
As Kenya's national broadcaster, KBC will broadcast 28 FIFA World Cup matches. The channel will air all group-stage games involving African teams. Apart from that, KBC will also air select group stage, the round of 16, and quarter-final matches. All semi-final and final matches will be broadcast live.
When Is the World Cup 2022 Opening Ceremony?
The FIFA World Cup 2022 opening ceremony will take place on November 20, 2022. The event will be held at the Al Bayt Stadium, Al Khor. The first match of the tournament will take place on the same day, with Qatar and Ecuador kicking off the exciting event.
Where Can I Stream the World Cup Matches Live?
If you're looking for a convenient and easy way to stream the World Cup matches live on your phone or tablet, you can use JioCinema App, RAIPlay, TSN App, BBC iPlayer, or ITV Hub. These apps may have geo-restrictions in place. You may need to use a VPN to bypass these restrictions and watch matches live on your mobile device.
Please follow and like us: