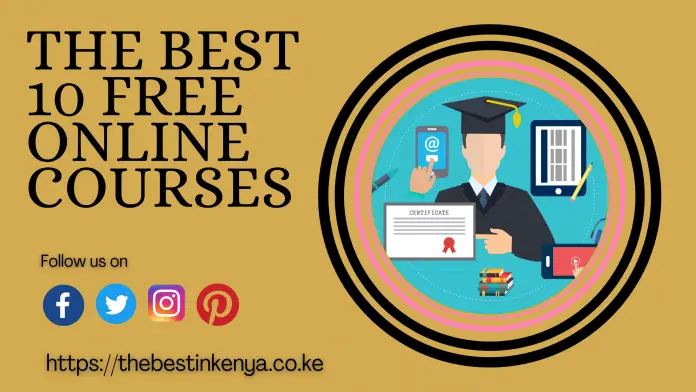 What do you love doing most? Did you know that what you become in life will, to a greater extent, depend on where your passion lies? You can leverage free online courses from platforms we had highlighted to learn a new skill.
Eric Omondi is a famous comedian in Kenya despite having a journalism degree from Daystar University. This cements the argument we have put across- always follow your passion. At all times, work on what you love and everything else will follow.
In the current world, it is vital to equip yourself with various skills to be a holistic. Well, in this article we have curated a list of free online courses that you can take.  We picked courses from various fields to ensure we have something for you. Use your free time wisely and learn a new skill.
List of Free Online Courses
Free online course
provider
Benefits
Downside
Fundamentals of Digital Marketing  
    Google
Recognized certification
Experienced Google trainers
Free
Suitable for beginners
 
Photoshop for Web Design Beginners  
  Udemy  
Excellent platform to sharpen web design skills
Highly marketable
You may incur the cost of installing the Photoshop software
Copywriting for Beginners
  Skillshare
Easy to grasp concepts
Self-employment opportunities
Delivered by qualified instructors
 You must have excellent writing skills.
Introductory Photography Course  
  Udemy
Easy to understand
More courses to sharpen your skills 
Master classes on photography come at a cost.
Cooking  
  Chef Raphael – YouTube
High quality videos
Easy to follow
No certification  
QuickBooks  
 Simon Sez IT – YouTube
Excellent tool for accountants, storekeepers and business owners  
No certification
It is a bit technical to master on your own
Website development for beginners  
  Codeacademy  
100% free
Easy to understand  
No certification
Data Visualization with Microsoft Power BI  
Edureka -YouTube  
Highly marketable course Excellent tool for business intelligence analysts
Highly technical No certification
 
  Events Management  
  Oxford Home study
 100% free
No particular entry requirements
Easy to understand and follow
  The course is short
 
Makeup artist course  
  Skillshare  
Easy to understand
100% free  
Requires beauty tools
 
Free Courses Table
1. Fundamentals of Digital Marketing
Digital marketing enthusiast, where are you? This is for you.  Fundamentals of Digital Marketing is one of the free online courses in digital marketing.
As you might be aware, companies are leveraging the use of the internet to market their products. In the next few years, digital marketing will be a big thing in Kenya.
Companies are looking for individuals to help launch their products to online consumers. You agree that we have seen a surge in online shopping shops. Google is offering this short online course for free. The course helps you master the basics of digital marketing.
Once you enroll in this course, you have 26 modules to explore for a duration of at least 40 hours. These modules are created by experienced Google trainers who offer practical exercises and real-world examples to help you turn knowledge into action. You get all this without incurring any cost. At the end of the course, you get a recognized certification.
2. Photoshop for Web Design Beginners
If you want to venture into web design, this is a good course for beginners. Photoshop is used to handle numerous web design tasks. Thanks to its visual nature and flexible set of tools. Depending on the people you ask, Photoshop may or may not be the best tool to handle your web design-related tasks. 
Photoshop application helps you in the following areas; Photo editing, image optimization, building web assets, and constructing page layouts. These are the key aspects that guarantee a user-friendly website. This short free course is going to equip you with the following skills:
The Power of File and New
Changing, Using, and Installing Brushes
The Key to Custom Shapes
The Core of Photoshop, Layers, and Groups
The Shortcuts to Moving and Resizing
Getting the Most from Zooming and Panning
Creating Cool Effects with Blending Modes
Text, Love it or Hate it
Clean Web Page Design using Photoshop
3. Copywriting for Beginners
Without a doubt, every company that has adopted an online marketing strategy is seeking to capture prospective customers' attention. The company should have an effective communication strategy to stand out from the competitive environment. Quality content does not come easy. You should sharpen your skills to keep up with competitors or outdo them.
For that reason, most companies are looking for copywriters who can write web copy that sells the company's products and services. If you are new to this world of copywriting, then this a perfect place to gain copywriting skills. After an hour of going through the course, you will easily turn cold visitors into leads, sales, and customers.
4. Introductory Photography Course
Learning photography from scratch has never been this easy in this day and age. Thanks to easy access to online education, that has made this possible. Over time, you can brush your skills to the level of the best photographers in Kenya.
If you are an aspiring photographer, you can craft your photography skills from the comfort of your couch. This course is found on Udemy and is completely free. The course offers you array skills you should have to capture professional snaps.
5. Cooking
When it comes to cooking, we researched free online courses where you can learn about making Kenyan cuisine. For that reason, Chef Raphael, a renowned chef in the Kenyan hospitality industry, is there to sharpen your kitchen skills.
He has numerous tutorials on his YouTube channel to guide you on how to make the most popular Kenyan dishes. Enhance your prowess in preparing Kenyan dishes. Do not forget to subscribe to his channel to get live updates.
6. QuickBooks
So many accounting professionals will agree that having an accounting degree or diploma is not enough. At least a good number of people have an accounting degree. To stand out from the crowd, you must have some skills that make you unique. Learning free online courses in accounting is vital.
You can learn how to use QuickBooks even if you lack an accounting background. For example, you must keep track of your business accounts if you own a business. Learning QuickBooks can be a quintessential skill to help you with that.
7. Website Development For Beginners
You can master the languages of the web: HTML, CSS, and JavaScript using your laptop or phone. This equips you with the necessary skills to build basic websites and interactive web apps.
So if you are interested in developing a website, this is a platform where you can learn the skills. Today, most businesses want a website to let the public learn about the services or products they offer.
8. Data Visualization with Microsoft Power BI
Power Bi is a market leader in solving data management crises. This is a tool that helps you to organize and visualize data. The tutorial is ideal for beginners and professionals who want to sharpen their skills in using this tool.
Most businesses transform raw data into meaningful data that can be used to make key business decisions. But you don't earn any certificate.
9. Events Management
In recent years, we have witnessed a rising trend in the number of events held per month in Kenya. Several clients choose to delegate the responsibilities of managing their events to an event planner.
Managing an event may seem easy, but there is more to that. Upon realizing the high demand for professional event management, we researched and found a free course in event management for you.
10. Makeup artist course
Every person wants attractive looks. Don't you? Fortunately, you don't have to be a makeup artist to look good. You can enroll for free beauty classes online to learn how to apply makeup like a pro.
We found a short online course that is easy to understand and implement. The course ensures you have all the basics about applying makeup, from face study to homemade skincare recipes. You can supplement what you learn by getting tips from popular makeup artists.
Enrolling in a free course in an area where your passion lies is an excellent way of using your free time constructively. Well, in most cases, free courses will provide you with the basics in any area of study.
It is your responsibility to invest a few resources to upgrade your learning. The basics you get work perfectly for you before enrolling in a more advanced course. At times, a certificate act as proof that you have skills in a particular area of study. However, this should not make you shy away from enrolling in these courses.
Please follow and like us: