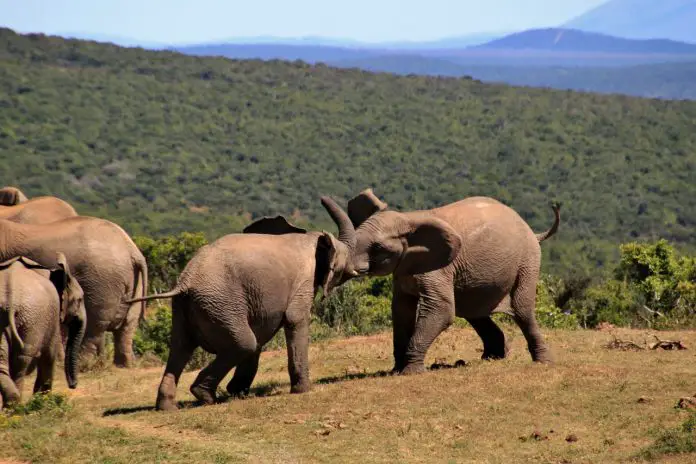 Kenya is blessed with magnificent nature and wildlife that is therapeutic to interact with and watch. It is home to 24 national parks, 15 national reserves, several private conservancies, and 6 marine parks.  Kenya boasts of the majestic Big Five, a gem bringing many people from far and wide to see them.  
The stunning parks and reserves with savannah grasslands, unique plants, majestic animals, and beautiful landscapes can be overwhelming to choose where to visit. 
There are many options to enjoy a Kenyan safari, each of the national parks and reserves carries a unique feel that you will notice in your safaris.  
So take out your camera and get ready to capture the authentic bush life here in Kenya for this list of parks and reserves.   
List of the Best National Parks and Game Reserves in Kenya
1. The Masai Mara National Reserve
This reserve is located in the Southern Part of Kenya along the Great Rift Valley area. It is approximately 224 km from Nairobi, in Narok County.   
It is one of the most visited parks in Kenya due to the Great Wildebeest Migration from Tanzania to Kenya for food and mating. The most dramatic scenes are experienced during the river crossings where the wildebeests fight the water current, crocodiles and hippos. 
The Mara has an all-year game viewing making it friendly to visit any time of the year.  It has eco-friendly camps and lodges within the park to help you interact with nature at close range.
2. Lake Nakuru National Park 
This park is a beautiful wildlife haven located in Nakuru County, 150 km Northwest of Nairobi.  It is home to thousands of flamingos that create a breathtakingly beautiful view of the lake.  
It started as a bird viewing park for sporting migratory birds in the 1950s and has expanded to protect more animals, especially the endangered Rothschild giraffes and the white rhino. You can spot the lion and leopard if you are lucky during your safari. 
3. Samburu National Reserve
Samburu National Reserve on the banks of the Ewaso Ngi'ro river is a beautiful and arid park that you should consider visiting.  It is located in the Southern East part of the Samburu District in the Great Rift Valley, approximately 345km from Nairobi by road. 
Samburu offers different types of wildlife compared to other parks.  It is home to the rare northern five species  – The Grevy Zebra, reticulated giraffe, Somali ostrich, Beisa oryx, Samburu elephants, lions, leopards and gerenuk.  
4. Aberdare National Park
The Aberdare National Park is a wildlife haven and a paradise for birdwatchers.  It is located in the Southwestern part of Central Kenya, north of Nairobi and east of the Rift Valley.
It is a collection of breathtaking ecosystems – the valleys are watered by streams and rivers with fresh waters from the Aberdare mountain range that is a backdrop for this park.  Where the streams and rivers join, they form waterfalls.  
The park has beautiful grasslands and neighbours, giant bamboo forests and rich, diverse rainforests. These varied habitats serve as a perfect home for abundant wildlife, including the lion, leopard, hyena, African wild dog, African golden cat, jackal, giant forest hog, warthog, buffalo, bushbuck, eland, and endangered black rhino.
5. Nairobi National Park 
This gigantic park sits pretty at the edge of Nairobi, the capital city of Kenya, 8 km south. It is Kenya's oldest national park and home to the world's densest concentration of black rhinos.  
It is also home to a wide range of wildlife – zebra, buffalo, lion, rhino, warthog, giraffe.  Unfortunately, there are no elephants in this park; you will have to visit any of the other parks to see these massive creatures.  The park is also home to over 400 bird species that frequent its wetland areas.
6. Amboseli National Park 
Located in the Southern part of Kenya, this park borders Tanzania.  Amboseli has spectacular views of the snow-capped Mt. Kilimanjaro, which is Africa's tallest mountain. 
It is renowned as the second-best park in Kenya, with a large population of elephants grazing in the serene grasslands. You will also see leopards, lions, giraffes, cheetahs, among other animals. Hippos are also a beauty that fills the springs in this park. 
7. Tsavo-East National Park 
It is one of the oldest parks in Kenya, created in 1948, situated on the Eastern side of Kenya.  It is halfway between Nairobi and Mombasa and showcases beautiful nature in its hot climate.
You will see the rust-red soil-covered elephants along the Galana river waters enjoying a relaxed afternoon in this park.   
Besides the elephants, it is home to lions, leopards, crocodiles, waterbucks, rhino, buffalo, lesser kudu, gerenuk and a prolific birdlife featuring over 500 species of birds.
8. Tsavo-West National Park 
Tsavo-West is home to the man-eating lions that killed most Indians who built the railway from Mombasa to Uganda. Today the park is spectacular, with Mzima springs clear water flowing from under a lava rock that feeds the park with water.  
It has open grasslands where the wildlife enjoys grazing and basking under the sun.  You can expect to see the big 5 in this park and a wide range of bird and plant species.  
Finally
You have no reason to get bored around Kenya; there are enough sites to see and animals to watch as you relax and unwind. 
Please follow and like us: