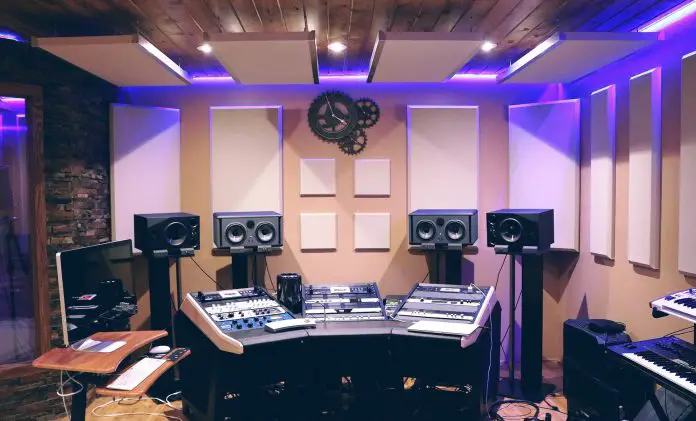 As a musician, it is not all about your voice and content; production studios play a critical role. Technological advancements are a big plus for artists. Most music studios in Kenya have taken their skills a notch higher compared to the previous years.
Some years back, musicians, composers, and arrangers had to jot down their vocals on paper to remember the music idea. Failure to which the music idea could have easily escaped into thin air unheard.
Today, with music studio equipment in Kenya, you can hum, play, or even sing your favorite music and record your work for future purposes.
List of the Best Music Studios in Kenya
1. Still Alive Records
This music studio and production company was launched in Eldoret back in 1993. Since then, it has rapidly grown. Currently, it's among the biggest music studios in Kenya and East Africa.
They have over 15 years of experience in video production, sound engineering, music management, and audio recording. Still Alive delivers top-notch and original home-grown musical talent.
Additionally, they add value to companies that require sound engineering, production, and recording artists. They are diversified with their professional services to SMEs, events, market production, and brands. 
Google Rating: 4.5 ⭐⭐⭐⭐⭐ (35 Reviews) 
Decimal Studios caters to live music production, audio posts, and other music composition services without compromising quality. They regularly update their gear to match the music industry rules and regulations.
This music studio has a range of producers and musicians ready to change your ideas and decisions into fully-fledged songs that befit your artistic vision. It coordinates nearly all aspects of music production to the final product.
Their goal is to provide the best records that go hand in hand with their motto, ' think quality.' 
Google Rating: 5 ⭐⭐⭐⭐⭐ (1 Review) 
Ogopa Deejays Music Studio is one of the best Kenyan music production groups with a record label that was started in the late 1990s. Since then, they have gained popularity and regional fame due to their production standards.
This team began recording hit songs for famous artists like Chameleon, Redsan, and Bebe Cool. They are widely known for boosting the Kenyan urban music scene and are credited for creating Bomba, also called Kapuka.
Apart from music productions, which have revolutionized Kenyan music, Ogopa Deejays organizes special events. They are widely known for their red screaming face logo, and many music artists love it as it's the biggest music studio in Kenya. They also introduced a label called Ogopa Butterfly in South Africa and Namibia. 
Google Rating: Not Available 
4. Calif Records
Calif Records is the best music studio in Kenya, based in Nairobi, California estate. This music studio is also referred to as the Genge genre of music.
It was launched in 2000 by record producer and executive Clement with his childhood friend Paul Nunda (Jua Cali). Calif Records has published and produced music for famous artists such as Vikki Ocean, Nonini, Ratat, Meja, and many more.
Currently, Calif Records has the best music studio equipment in Kenya. If you are looking for quality music recording and production, look no further than Calif Records. 
Google Rating: Not Rated 
Main Switch Records is a recording studio, artiste record label, and event management company. They offer professional recording. Their activities include music production for artists, Multimedia Content Production, and audio-visual content that ranges from television commercials to 3D and 2D animation, as well as radio jingles.
Apart from music production, Main Switch Records encourages musicians, making them generate the best out of their talents. Their vital services beyond music production include:
Talent development
Representation and management
Scouting
Promotion and marketing 
Google Rating: 4.5 ⭐⭐⭐⭐⭐ (94 Reviews) 
Looking for a professional sound engineer with the best music studio equipment in Kenya? Then look no more. Hope Christian Recording Studio is among the top digital state-of-the-art music studios along Valley Road.
If you prefer live recording and quality video and audio recording services with unique equipment, Hope has got you covered. They ensure that your music recording is exciting and vibrant. In other words, your sound comes to life as you record your music with in-house professional producers. 
Google Rating: 5 ⭐⭐⭐⭐⭐ (1 Review) 
This is an excellent gospel music studio that has produced numerous gospel songs, and it's currently getting new artists in the country. Prinecam has a creative lab specializing in generating and bringing new characters to life.
In addition, this music studio creates appealing graphics, 3D and 2D animations that you can use to convey a message to the audience on social media or broadcast. They combine their expertise with modern equipment and offer great film and video experience. 
Google Rating: 3 ⭐⭐⭐ (2 Reviews) 
8. Pacho Entertainment
 Numerous East African artists, such as Gudi Gudi Welle Welle Remix and many more, have made their music recordings with Pacho entertainment.
The company boasts an unrivaled music studio in terms of quality production, marketing, branding, and other deals that the label performs. 
Google Rating: 4.4 ⭐⭐⭐⭐ (18 Reviews) 
9. Creamvision
As the name suggests, this music studio aims to enlighten the talents of music artists. Creamvision makes upcoming artists enjoy favorable services in the music industry. Cream's vision feels excellent and appreciates the significance of music countrywide.
It has developed new hits for several gospel singers like Jimmy Gait. 
Google Rating: Not Available 
10. Jomino 
Jomino is one of the best raga music studios in Kenya. Did you know many fans have recognized popular names like Kenrazy through Jomino Music Studio? They have a friendly team that does well in delivering quality services.
Jomino is a great music studio for new musicians trying to delve into the music industry. 
Google Rating: Not Rated Yet 
Conclusion 
Music is medicine! That's according to the adage. Are you an artist or a music producer? If yes, it's good to invest in the best music studio in Kenya. A professional studio provides a pleasant environment where you can remove barriers to capturing an ultimate recording. It's the heart of many song producers.
Please follow and like us: