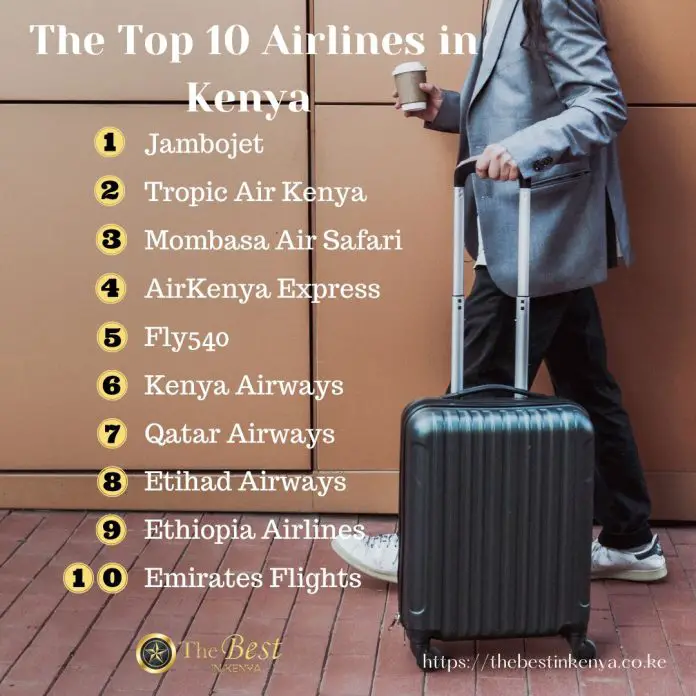 The thought of hopping into a plane and escaping to another city or country in a few hours is thrilling. But hey, there are also horror stories about flights. If you are looking for airlines that guarantee comfort, seamless check-in, and boarding, we've got your back.
In this blog post, we will explore the best 10 Kenya airlines focusing on their exceptional offerings and what sets them apart in the competitive aviation sector.
Top 10 Local & International Airlines in Kenya 
Airline
Popular Destinations
Contact Information
 

Jambojet

 

Ukunda
Malindi
Kisumu
Mombasa
Eldoret
Goma

+254 711 024 545

+254 734 104 545

 

Tropic Air Kenya

 

Ethiopia
Uganda
Congo
Malindi
Kisumu
Mombasa

 

+254 722 207 300

Mombasa Air Safari

 

Diani
Ukunda
 Lamu
 Amboseli
 Nairobi
Mombasa
Mombasa
Samburu
Meru

 

+254 734 400 400

 

AirKenya Express

 

Samburu
Nanyuki
Nairobi
Migori
 Meru
 Maasai Mara
Loisaba
Lewa Downs
Lamai
 Kisumu
Kilimanjaro
Entebbe
Amboseli

 

+254 20 3916 000

Fly540

 

Nairobi
Mombasa,
Malindi
Lodwar
 Lamu
Kisumu
 Eldoret
Zanzibar
Juba

 

+254 722 540 540

 

Kenya Airways

 

 

+254 020 3274 747

Qatar Airways

 

 

 Asia
Europe
North America
South America
Australia
Africa

 

+254 020 3893 931

 

 Etihad Airways

 

 Asia
Europe
North America
South America
Australia
Africa

 

+254 020 4259 000

 

 Ethiopia Airlines

 

North America
South America,
Asia
 Europe

 

+254 20 389 234 924

 

Emirates Flights

 

 

New York
Paris
Cape Town
Istanbul
Bangkok
London
 Beijing
Tokyo

 

+254 207 602 519

 
List of Airlines that Operate in Kenya
The Best Local Airlines in Kenya 
This is one of the cheapest airlines in Kenya. Apart from reliability, Jambojet has the fewest cases of mishandled baggage. Founded in 2014, it flies to over five local destinations: Ukunda, Eldoret, Lamu, Malindi, Kisumu, and Mombasa.
You'll enjoy plenty of perks while en route to your destination. Jambojet introduced free Wi-Fi on most domestic flights; the service is getting good reviews. In addition, the airline's in-flight entertainment suite has more than 5 hours of TV, movies, and music.
Google Ranking: 4.2 ⭐⭐⭐⭐ (339 reviews)
Elevating the travel experience, Tropic Air Kenya is known for its world-class service and luxury. As a popular local airline, the company offers many amenities and options for those wishing to dine, shop, or work en route to their destination.
Regarding dish options, there's everything from local Kenyan dishes to foreign franchises. In addition, Tropic Air Kenya allows cats, rabbits, dogs, and household birds in the cabin for a fee of $50 for a pet each way.
Google Ranking: 4.9 ⭐⭐⭐⭐⭐ (62 reviews)
Founded in 1985, Mombasa Air Safari is a Kenya coast-based airline with about nine aircraft. Its main destinations include Diani, Ukunda, Lamu, Amboseli, Nairobi, Mombasa, Samburu, and Meru.
Mombasa Air Safari is our best airline for families because you can sit together and change your travel plans if necessary. The airline company is a darling to many customers and ranked first in the basic and Economy classes. You will enjoy the carrier's low fares and lack of extra charges. The airline doesn't charge to cancel or switch flights.
Google Ranking: 5.0 ⭐⭐⭐⭐⭐ (3 reviews)
AirKenya Express is another fantastic local airline based at Wilson Airport, Nairobi. It operates charter and scheduled flights across the East African region and is a member of the Kenya Airlines Alliance.
Some of its destinations include Samburu, Nanyuki, Nairobi, Migori, Meru, Maasai Mara, Loisaba, Lewa Downs, Lamai, Kisumu, Kilimanjaro, Entebbe, and Amboseli. AirKenya Express stands out as the best airline for customer satisfaction.
Much like Jambojet and Tropic Air Kenya, AirKenya Express has a loyal customer following thanks to its stylish planes, friendly services, and ample legroom. You will also love the free Wi-Fi on every flight and entertainment screen on your seat, allowing access to services like streaming Amazon Prime and satellite radio and TV.
Google Ranking: 4.6 ⭐⭐⭐⭐⭐ (84 reviews)
5. Fly540
If you're looking for a memorable and exciting flight, there is no need to go beyond Fly540 airline! Currently, it serves 11 domestic destinations within Kenya. Some domestic destinations include Nairobi, Mombasa, Malindi, Lodwar, Lamu, Kisumu, Eldoret, Zanzibar and Juba.
While Fly540 won't have the same food options and amenities you might expect at a domestic airport, a few possibilities keep you excited and fed. You can easily access flying essentials like drinks, snacks, and locally-made food such as salads and sandwiches. The airline is a good choice if you need to travel without paying an arm and a leg.
Google Ranking: 3 ⭐⭐⭐ (12 reviews)
International Airlines Operating in Kenya 
So, is Kenya Airways a good airline? Absolutely. The scope of Kenya Airways is far and wide. Kenya Airways offers an impressive array of amenities like lie-flat seats, sumptuous airport lounges, and a comprehensive in-flight entertainment system.
KQ operates a modern fleet of aircraft with a focus on environmental sustainability and fuel efficiency. The airline offers a range of classes, such as First, Business, and Economy, with in-flight entertainment and dining options.
The airline's First Class goes beyond, presenting you with a personal space for productivity and relaxation and a dedicated chef to craft exquisite meals! Kenya Airways shines as yet another airline exemplifying excellent customer service. Its staff are constantly commended for their attentive character, contributing to pleasant flight experiences.
Google Ranking: 4.6 ⭐⭐⭐⭐⭐ (489 reviews)
Qatar Airways is the national airline of Qatar based in Doha. The airline is known for its focus on fine cuisine, comfort, and the latest in-flight video and audio entertainment, modern aircraft fleet, and award-winning services.
The airline flies from Kenya to Asia, Europe, North America, South America, Australia, and Africa. Qatar Airways' fleet features three-cabin (First Class, Business Class, and Economy Class) and two-cabin (Business Class and Economy Class).
The flight company allows you to bring one or two hand luggage items depending on your travel class. The hand luggage should weigh at most 7 kg for Economy Class or 10 Kg for Business Class and First Class. You can also buy extra luggage allowance online.
Google Ranking: 4.4 ⭐⭐⭐⭐ (292 reviews)
Etihad Airways is a globally renowned airline known for its revolution and luxury in the aviation sector. Although based in Abu Dhabi, the airline has signed several codeshare agreements with many airlines like Kenya Airways, Aegean Airlines, South African Airways, and Middle East Airlines, among others.
In addition, this airline operates a fuel-efficient and young fleet of Airbus A350 and Boeing 787 on their routes. They offer superb guest hospitality with over 500 hours of in-flight entertainment. Etihad Airways has a lounge where you can relax and enjoy treatment from their six senses spa. A modern business centre, a prayer room, and full washroom facilities are also available.
Google Ranking: Not Rated Yet
The airline flies non-stop to over 80 international destinations. This includes nearly 50 destinations elsewhere in Africa and points in North America, South America, Asia, and Europe. Most of its fleets feature a two-cabin configuration: Economy class and Cloud Nine, which is its Business Class. Some of its smaller aircraft are configured with only the Economy Class category.
The airline has a Frequent Flyer Program that offers you benefits like free miles, generous baggage allowance, and waiting lounges access, to mention a few. In addition, its modern aircraft ensure comfort during flights and present you with an up-to-date in-flight entertainment experience.
Google Ranking: 4.1 ⭐⭐⭐⭐ (120 reviews)
As one of the best airlines worldwide, Emirate Airlines has redefined air travel with unmatched innovation and luxury. Embark on a journey of elegance and comfort, experiencing award-winning entertainment, spacious seating, and exquisite cuisine with an Emirates flight booking. Emirates offers seamless connectivity to more than 130 destinations, including New York, Paris, Cape Town, Istanbul, Bangkok, London, Beijing, and Tokyo.
Just like Qatar Airways, Emirates allows you to bring one or two items of hand luggage depending on your class of travel. The cancellation policy for Emirates flights depends on your destination and fare conditions.
Google Ranking:  4.4 ⭐⭐⭐ (277 reviews)
Top 3 FAQS About the Best Airlines In Kenya
1. What is the Best Airline in Kenya?
The best airline in Kenya depends on several factors, such as destination coverage, price, customer service, and more. However, Kenya Airways (KQ) is considered the best airline in Kenya due to its extensive network, quality of service, and fleet size.
2. How Do I Formally Complain About An Airline?
It's often best to email or write to the airline's consumer office at its headquarters. Kenya Airports Authority requires airlines that fly to, from, or within Kenya to state where and how complaints can be submitted on their websites.
3. What Is the Safest Airline in Kenya?
Kenya Airways is considered the safest airline in Kenya due to its high safety standards and long-standing reputation. It's also a member of Kenya Airlines Alliance, known for its strict safety requirements.
Bottom Line 
These ten domestic and international Kenyan airlines check off the boxes if you're looking for memorable flight experiences. From popular and big airlines like Kenya Airways to small and hospitable ones like Jambojet, the airline industry in Kenya is diverse.
Please follow and like us: