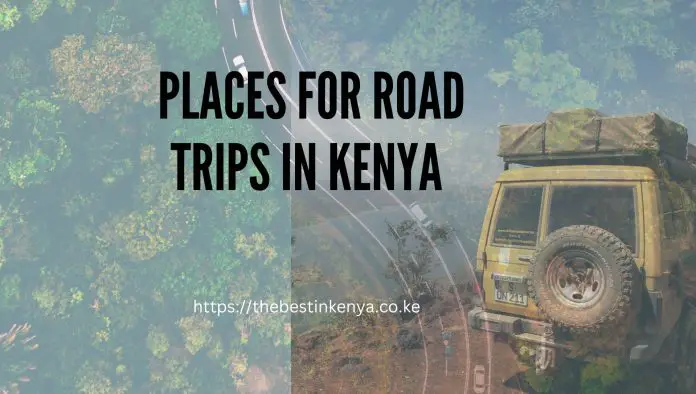 Road trips in Kenya offer a wide variety of activities for travelers seeking adventure, cultural immersion, and scenic beauty. There is something for everyone, from the spectacular scenery of the Maasai Mara and Mount Kenya to the thrill of spotting the Big Five in their natural surroundings.
Beyond the wildlife, tourists can discover the cultures of Kenya's 46 tribes. Next, we look at the 5 best road trips to do in Kenya. 
The Best Routes for Road Trips in Kenya
Places for Road Trips
Estimated Distance
Sceneries
Nairobi-Kisumu
400km

Rift valley
Several lakes
Volcanoes
Tea plantations
Game parks
Forests

Nairobi-Mombasa
500km

Diverse wildlife
Rugged landscape
Historical landmarks
Beaches

Nairobi-Mt. Kenya
200km

Mt. Kenya
Diverse wildlife
Forest
Local open-air market

Nairobi-Maasai Mara
250km

Camping
Wildebeest migration
Other wild animals
Terrain

Nairobi-Samburu
400km

Diverse wildlife
Hiking
Local open-air market
Cultural activities
List of the Best Places for Road Trips in Kenya
1. Road Trip to Kisumu – Minimum 6 Hours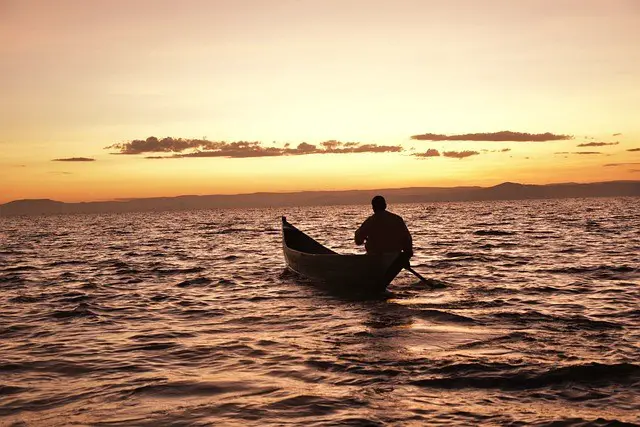 The road from Nairobi to Kisumu is about 400 km long and can take anything from six hours to several days, depending on the number of stops. The route allows tourists to stop and explore important towns such as Nakuru and Kericho.
You can make a stop at the Rift Valley ViewPoint and enjoy breathtaking views of the Great Rift Valley. If you want the lake breeze, you visit the magnificent Lake Elementaita.
You can pass through Mt. Longonot, which offers stunning views of the stratovolcano. The surrounding landscape is a must-see destination in the Great Rift Valley.
On the way, you'll find Lake Nakuru National Park, where you can see various wildlife and vibrant birdlife, including pink flamingos. Scenic drives and nature walks are available.
There are several tea farms and the Mau Forest near Kericho on the way to Kisumu. This region is an ideal destination for road trips in Kenya because. Its roads provide an ideal balance of bends and curves for an enjoyable driving adventure.
This journey will eventually bring you to Kisumu, a city on Lake Victoria's shore, where you can watch a beautiful sunset.
2. Take a Road Trip to Mombasa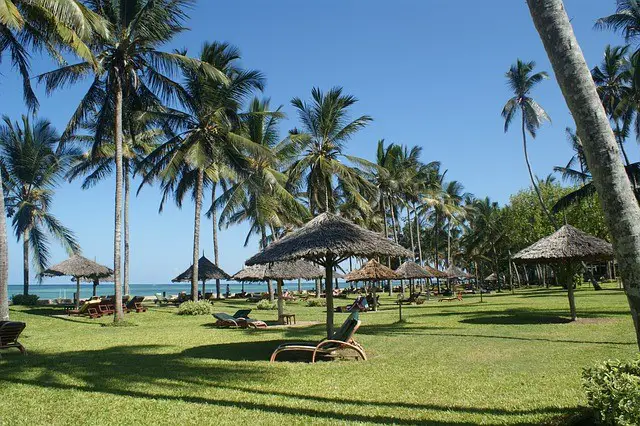 The journey from Nairobi to Mombasa is an exciting one. One thing to keep in mind is that the drive is approximately 500 kilometers long. The journey can take 7 hours to several days, depending on where you stop.
Be ready to enjoy scenic views and beautiful landscapes, but because the distance is long, you should bring snacks. To enjoy the landscapes and wildlife, take a detour from the main highway between Nairobi and Mombasa and drive through Tsavo East/West national parks.
Tsavo East National Park in Kenya is famous for its breathtaking views of Mount Kilimanjaro. You will also experience the large population of African elephants and a diverse wildlife population that includes lions, cheetahs, hyenas, zebras, and giraffes. Visitors are treated to an unforgettable safari experience thanks to the park's unique landscape and breathtaking scenery.
After the adventure, return to the highway to reach Tsavo's East and West national parks. The parks feature diverse wildlife, rugged landscapes, and historical landmarks, including the notorious "Man-eaters of Tsavo."
The park's "big five" animals, as well as other species such as giraffes, zebras, hippos, and crocodiles, can be explored by visitors. They are surrounded by stunning scenery, such as hills, valleys, and the Tsavo River.
As you pass Mtito Andei, the landscape transforms into a lush and cooler hilly landscape that leads to the Shimba Hills. You can drive down to Mombasa from the hills and enjoy its beaches, world-class beach resorts, and historical significance.
3. Explore The Road To Mt.Kenya
one of the best places for road trips in Kenya is Nairobi to Mt. Kenya. This is an exhilarating adventure that includes breathtaking scenery and exciting activities. The journey begins early in the morning with a departure from Nairobi for Nanyuki, which is approximately 200 kilometers away.
You can stop at the equator for a quick photo opportunity along the way. After that, you can have a taste of local delicacies in Nanyuki. Then, proceed to the Ol Pejeta Conservancy, which is home to a diverse range of wildlife, including rhinos, elephants, lions, and chimpanzees.
The journey continues to Mt. Kenya National Park, which is approximately 20 kilometers away. You can climb Mt. Kenya or engage in other activities such as bird watching, game drives, and river fishing. Anyone who wants to experience the park's incredible beauty should spend the night there.
The final leg of the journey is a return to Nairobi via the Karatina Market, one of Kenya's largest open-air markets. It's important to note that the trip requires a 4-wheel drive vehicle, especially for the final stretch of road to the park gate. Warm clothing is also recommended because temperatures can drop significantly at night.
4. Road Trip to Maasai Mara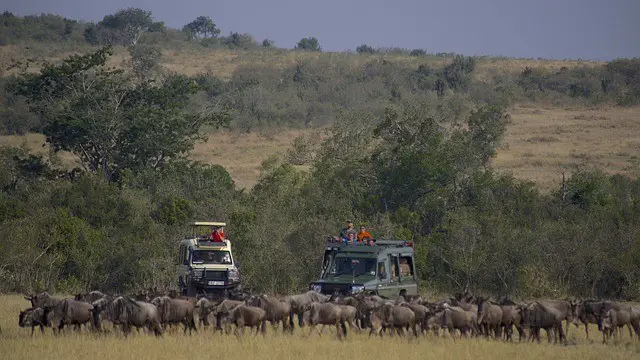 A road trip from Nairobi to the Maasai Mara is an unforgettable experience that provides a glimpse into the world of African wildlife and culture. Travelers should bring a reliable 4-wheel drive vehicle as well as enough supplies and water for the journey.
A road trip to Maasai Mara is a thrilling journey that will create memories to last a lifetime with the right preparation and a sense of adventure.
Driving from Nairobi to Mai Mahiu, Narok, and Masai Mara takes about 5-6 hours or days, depending on the traveler's itinerary. Along the way, you will enjoy scenic views, including the Great Rift Valley viewpoint.
You can join a guided game drive or explore the reserve independently. The park is home to a diverse range of wildlife, including the Big Five (lions, elephants, leopards, buffalo, and rhinos), as well as numerous bird species.
To fully immerse yourself in the wilderness experience, you can spend the night in a lodge or campsite within the reserve. Visitors can also learn about the local culture and way of life.
The road trip to Masai Mara is not ideal for small cars such as Mazda Axela, Honda Fit, Nissan Note, or Toyota Vitz. At a minimum, you need a 4×4 vehicle such as Toyota Prado, Toyota Harrier, Subaru Forester, and so on. Ideally, choose to hire a specialized safari vehicle for optimal game view; either a 4×4 safari land cruiser or a safari van.   
5. Road Trip to Samburu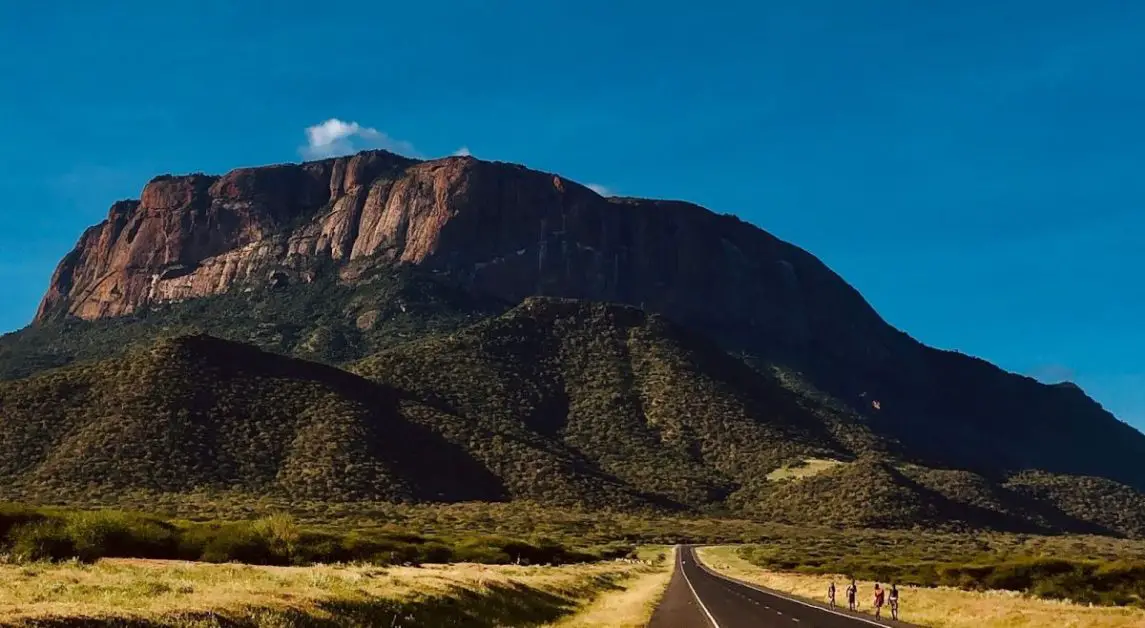 Are you looking for breathtaking places for road trips in Kenya? Nairobi to Samburu National Reserve route is an exciting adventure that takes you on a scenic journey through northern Kenya's spectacular landscapes. Anyone looking for a unique and exciting road trip adventure should pay a visit to Samburu.
You will enjoy eye-catching views of the surrounding countryside on your way to the reserve. A suggested itinerary includes stops at the Karatina market and the Nanyuki Equator crossing. You will see the Grevy's zebra, reticulated giraffe, Somali ostrich, and Beisa oryx while on a guided game drive or solo adventure.
Visitors to the Samburu region can visit Mt. Ololokwe, a popular hiking destination. It is a distinct rock formation that stands (7,628 feet) tall and is also known as 'Ol Donyo Sabache' in Samburu. The hike to the summit takes about 4-5 hours and is rated as moderate.
Hikers can enjoy the summit's breathtaking views of the surrounding plains and hills, including the Ewaso Ng'iro River and the Samburu National Reserve. Wildlife on the mountain includes baboons, hyrax, and various bird species. 
Conclusion 
When on a road trip in Kenya, you can immerse yourself in the various cultures while sampling local cuisine and learning about customs. Kisumu, Mombasa, Mt. Kenya, and Maasai Mara are all possible road trip destinations. Each trip has distinct scenic views, wildlife sightings, and cultural experiences. 
Please follow and like us: