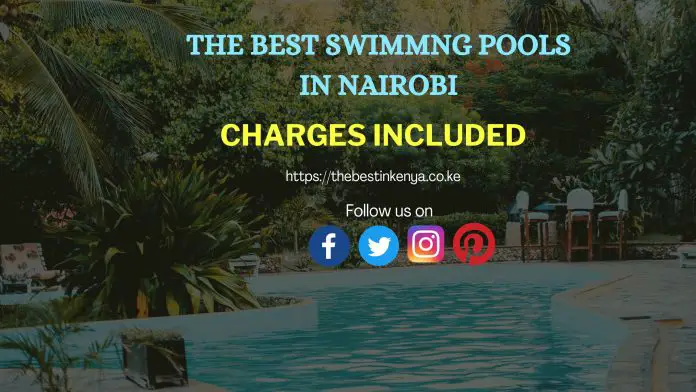 Swimming is one of the most enjoyable recreational activities in Nairobi. And since most people don't have swimming pools in their backyards, they look for the best swimming pools in Nairobi. Besides, the city hosts pools for kids and adults. 
On a warm day, you may choose to visit a non-heated pool to cool down, while on a cold day, you can use a heated one. Here is a list of the top 10 swimming pools to visit, their charges, location, and more!
The Best Private & Public Swimming Pools in Nairobi
Swimming Pool 
Charges 
Location 
Contact  

Kasarani Aquatic Stadium 

Ksh150 on weekdays 

Ksh200 on weekends and public holidays 

Aquatic Dr, Nairobi 

+254 20 2390500

Barclays 

Ksh 300 for adults 

Ksh 200 for kids 

Off Thika Superhighway, near Utalii 

+254 722 335200

Premier Club 

Opposite Nairobi Gymkhana 

+254 20 6763331

YMCA 

Ksh250 for adults

Ksh200 for children 

Statehouse Road 

+254 702 221821 

Rabai Road 

Ksh100

Donholm 

+254 721 343638 

MOW 

Ksh100 for members

Ksh50 for junior members 

South C

sports@mowsportsclub.go.ke

 

+254 717 116183 

Meridian Hotel 

Fairly affordable 

6 Murang'a Road 

+254 722 509826

Chester House 

Ksh500

Chester House, Koinange Street

reservations@jambochesterhotels.com

+254 722 208575/+254 728 607626

Sarabi at Sankara 

Ksh2500

Westlands 

+254 703 028000/ +254 20 4208000

Nyayo Stadium 

Ksh100

Square of Mombasa Rd, along Langata Road 

+254 20 2013704
List of Swimming Pools in Nairobi
1. Kasarani Aquatic Stadium
Kasarani Aquatic Stadium has warm, standard, and diving pools. Whether you are an expert swimmer or a new learner, you can visit it because you can showcase your diving skills and also learn with the help of the attendants. Besides, the public swimming pools are well maintained and clean to make you comfortable.
You can also come with your kids because there is a baby pool that is 1.25m deep. Ample and secure parking space is also available. Finally, you can request food at the poolside cafeteria. 
2. Barclays Swimming Pool
It is one of the affordable swimming pools in Nairobi, located in Barclays Sports Club. Adults pay Ksh300 while children pay Ksh200 only. Even though it is privately owned, the pool is open to the public.
 If you are a serious swimmer, Barclay swimming pool is a perfect choice as it is 25 meters by 12 meters, making it effective for laps. Besides, it has a baby pool detached for kids, with on-site and full-time lifeguards.
3. Premier Club Swimming Pool
The Premier Club private swimming pool is located opposite Nairobi Gymkana around the wider parklands area. As one of the best private swimming pools in Nairobi, the pool is neatly maintained with enough space. Besides, it hosts swimming galas during school holidays where participants compete for medals.
After swimming in the pool, you can go to the restaurant within the club for meals. There are delicious foods to enjoy after taking your laps in the pool. 
4. YMCA Swimming Pool
YMCA swimming pool is located along Statehouse road, a famous public swimming place in Nairobi. Besides, new swimmers can book learning lessons that are available upon arrangements. The swimming pool is well maintained for a hygienic swimming experience.  
It is also one of the restaurants with swimming pools in Nairobi. You can order food from the fast-food joint. Finally, adults pay Ksh250 and kids Ksh200 for swimming. However, you can opt for a monthly membership fee to save. 
5. Rabai Rd Swimming Pool
It features an adult pool and a detached kids swimming pool. Therefore, you can come with your young one to work out. Besides, the deep end of the adult pool is ideal for swimming practices. 
As one of the public pools in Nairobi, Rabai Rd swimming pool costs only Ksh100 all day. Therefore, you can pop in during your free time and enjoy swimming for the hours you want. 
MOW swimming pool is located in Mow Sports club. It provides a relaxing cool swim when you want to refresh in the morning. And in the afternoon, you can dip yourself in the cold water after a long day at work. 
If you want to go swimming in MOW, you must sign up for membership because it is not open for non-members. If you are a club member, you pay Ksh100 for a whole day of swimming, while junior members only pay Ksh 50. 
7. Meridian Hotel Swimming Pool
Meridian is one of the hotels with a swimming pool in Nairobi. Besides, the rooftop pool gives you a great view of the surroundings, and you can enjoy your lunch at the poolside. In addition, there is a strong wi-fi signal to allow you to browse your social media.
The swimming pool attendants are not only well-trained but also friendly. Therefore, you can request any help, and they will attend to you. Finally, its prices are also affordable. 
If you are searching for the best swimming pools in Nairobi and charges, you need to look out for Chester House swimming pool. It lets you dip yourself in cold water under the warm Nairobi sun. 
Besides, the pool is open to everyone at your pleasure. If you are not into swimming, you can relax at the poolside and enjoy the warm sunny breezes. Finally, if you are residing inside, you enjoy swimming as a complimentary.  
Sabari is one of the rooftop swimming pools in Nairobi. Therefore, it gives you an excellent ambience to view Westlands and its enviros. Besides, it comes with heated water for chilly mornings or cold days. 
The swimming pool accommodates family dates or couples' day outs. Apart from the warm poolside services, you will be provided with clean towels and sun loungers. 
10. Nyayo Stadium Swimming Pool
It is a public swimming pool that offers remarkable swimming space. The Olympic size pool is 50 m, making it a perfect choice for people who know to swim. Besides, it provides locker rooms for changing purposes. 
The lifeguards need to be active in such a big swimming pool, which is what Nyayo stadium swimming pool offers. Finally, you don't have to worry about the prices because they are pocket-friendly. 
FAQs
How much is swimming at Nyayo Stadium?
The charges of Nyayo Stadium swimming pool are ksh. 150 for adults. Children pay ksh. 50 to access the facility's kids' swimming pool. You can access the pools any week day and weekend. They also open during public holidays.
How much are swimming classes Nairobi?
Swimming classes in Nairobi range from ksh. 500 to ksh 2500, depending on the type of swimming class you want and the instructor. You can find a pool instructor near you to help you with your swimming lessons.
Please follow and like us: