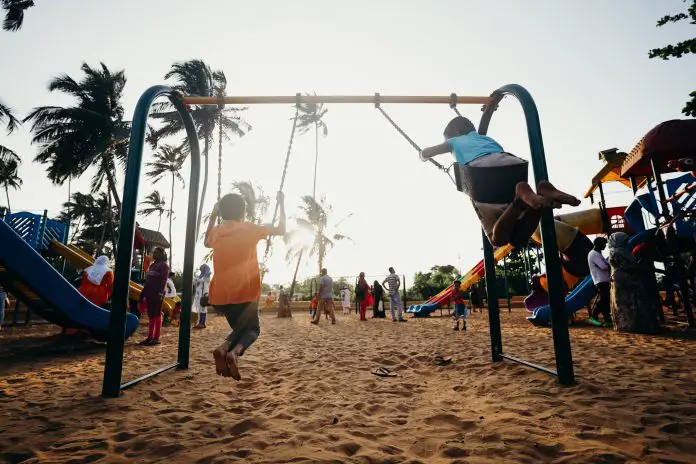 Nairobi, Kenya's capital city, is full of exciting recreational facilities for the young and the old. Whether you want to have a good time with your kids or want them to have the best moments alone, you will find the best fun places for them.
The city hosts amusement parks, playgrounds, and kids' dining areas, among other memorable places for children. Besides, these facilities are kid-friendly, and therefore you don't have to worry about your kids' safety. If you are looking for fun places to take your kids in Nairobi during the holidays, here are the best 10. 
Top 10 Fun Places for Kids in Nairobi
Fun Place 
Activities
Location
Contact 

Giraffe Center

Giraffe watching and education 

Langata 

info@giraffecentre.org

+254 20 8070804/ +254 734 890952 

Village Market

Kids village camp

Kids fun express

Racing  

Gigiri 

admin@villagemarket-kenya.com

+254 20 7122488-90 

Garden City Mall kids area

Kids run around 

Water games 

Playground games 

Thika Road 

info@gardencity-nairobi.com

 

+254 724 248657 

Lu&Mi Kids Village 

Sensory activities

Reading

Storytelling 

Lavington 

lumikidsvillage@gmail.com

 

Kids Arena Diamond Plaza

Skating

Jumping castle 

Trampoline park 

Diamond Plaza II Shopping Centre 

funcitydiamondplaza2@gmail.com

+254 769 431 161  

Panari Sky Center 

Skating 

Mombasa Road 

sales@panarihotels.com

+254 711 091000

GP Karting

Karting

Racing 

Langata 

nyagothie@gpkarting.co.ke

+254 733 666333

The Hub Karen

Gaming

Fine dining 

Karen 

info@thehubkaren.com

+254 702 120120 

Playland Amusement Park 

Kids' soft area playing

Ropes obstacle course 

Trampoline park 

Mombasa Road 

+254 736 549284 

Jojo Fun Park 

Bouncing castle 

Kiambu Road and Northern Bypass Junction 

+254 706 202020 
List of Fun Places for Kids in Nairobi
It is a popular place in Nairobi where you can take your kids to watch giraffes. Besides, as they enjoy seeing the animals, they can feed them from a platform and touch their tongues.
The facility charges Kshs200 for children between 3 and 12 years and those below 3 years is free of charge. Besides, if the kids go as a school group, they won't be charged if they have booked at least one week in advance. 
Google Rating: 4.6 ⭐⭐⭐⭐⭐ (12,768 Reviews)
Village Market hosts more than 250 shopping stores where you can take your kids for enjoyment. There are food courts, mini-golf, a Maasai market, and a movie theatre. Therefore, it is one of the fun places in Nairobi 2020.
Under The Sea is one of the funniest kids' places in the Village market. It has an indoor children's playground where your toddlers can enjoy themed parties or playdates. You can also visit the Ozone Trampoline Park, where you and your kids can unwind from your daily activities. 
Google Rating: 4.6 ⭐⭐⭐⭐⭐ (7,978 Reviews)
If you reside along Thika Road and wonder where you can take your kids on weekends, Garden City Mall is a perfect choice. The facility has a 3-acre central park which is convenient for children to run around. Besides, there is a playground and a water park on top.
The facility also hosts hundreds of famous family events and activities every year. And in case your kids get hungry during their playtime, you can grab snacks or food for them in one of the restaurants. 
Google Rating: 4.4 ⭐⭐⭐⭐ (46 Reviews)
4. Lu&Mi Kids Village
It is one of the fun places for kids to play in different recreational activities. When planning for a birthday party or a playdate for your preschooler, this is an excellent place to take them. They will engage in sensory activities, storytelling, and reading.
Besides, if you have been away from your child and want a perfect place to catch up with them, Lu&Mi serves the purpose. The place is open from 8:30 am to 5:00 pm. 
Google Rating: 4.6 ⭐⭐⭐⭐⭐ (23 Reviews)
5. Kids Arena Diamond Plaza
It is an amusement park with fun-filled children's activities. You can take your kids for skating, slides, jumping castle, Trampoline Park, or bumper cars. Besides, you can also host your child's birthday here.
The facility charges Ksh1000 per child for a full day of play. If your kid loves gymnastics, there are also classes offered. Therefore, don't lock your child on holiday whereas there are such adventurous places in Nairobi. 
Google Rating: 4.4 ⭐⭐⭐⭐ (61 Reviews)
Panari Sky Center is the only ice skating rink in Kenya and Eastern Africa that provides outdoor activities in Nairobi for kids. It features an enclosed ice skating surface where children can skate to their fulfilment. Besides, it offers a family-friendly environment for weekend family fun days.
For skating, children below 14 years pay Ksh700 while those 15 years and above pay Ksh900 per hour. These charges also cater to skating boots. Finally, the skating arena is open from 11 a.m. to 10 p.m., with a one-hour gap between the sessions. 
Google Rating: 4.5 ⭐⭐⭐⭐⭐ (248 Reviews)
GP Karting has got you if you are looking for places to take kids for fun near me in Nairobi. The facility provides adrenaline-filled rides and fun activities for juniors. The charges range from Ksh900 to Ksh1300, depending on your kid's age.
The junior karting series is acceptable for drivers between 7 and 12 years. Therefore, you can take your kids on weekends to compete with other peers and have a memorable motorsport experience. 
Google Rating: 4.3 ⭐⭐⭐⭐ (2,473 Reviews)
It is a premier shopping mall that features fashion, fine dining, and entertainment shops. Therefore, it is one of the family day out places near me where you can enjoy your day as a family. You can take your kids to the fantastic children's games arcade to have fun as you shop around.
After a long day of fun and shopping, you don't have to go and cook at home because there are family-friendly restaurants. Therefore, all your family members, including the children, will have their favourite meals. 
Google Rating: 4.6 ⭐⭐⭐⭐⭐ (18,085 Reviews)
It is an amusement park with a soft play area for kids, a trampoline park, pool tables, and a ropes obstacle course. You can take your kid there any day from 10 am to 8 pm.
The children's package costs Ksh1000 for a day with endless activities such as a ropes course, trampoline park, and soft play. If you reside along Mombasa Road, Playland is a must-go destination for a family to have fun. 
Google Rating: 4.3 ⭐⭐⭐⭐ (97 Reviews)
10. Jojo Fun Park
It is a 24/7 fun park where kids enjoy bouncing castles and more. Besides, it is suitable for children between 2 to 13 years. After having a good time, toddlers can enjoy delicious meals on coloured dining tables. 
Google Rating: 3.3 ⭐⭐⭐ (11 Reviews)
Please follow and like us: