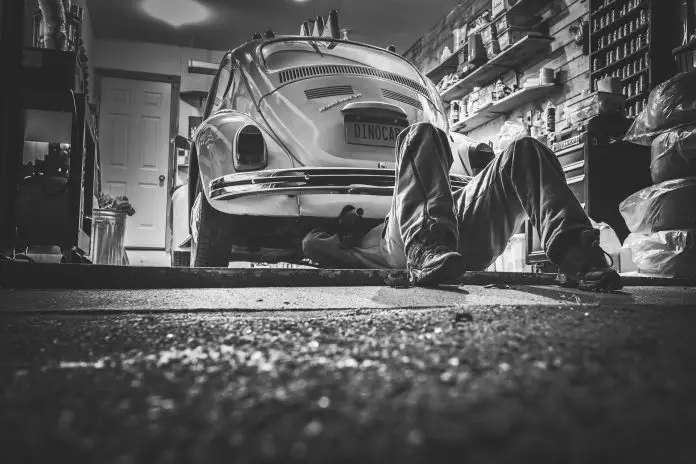 No one wants to drive a vehicle that has an issue. That is why you take your car to one of the auto garages in Nairobi for complete motor vehicle solutions such as maintenance, repair, and bodyworks.
Driving a malfunctioning car in Kenya is a risk. It can cost your life and those of your passengers. Therefore, take your vehicle to a garage frequently to get serviced. The car will not only work correctly, but it will also last longer.
Top 10 Auto Garages in Kenya
Auto garage
Services
Contact
Location
TJ and U Auto Garage
Vehicle restoration to original condition

Rust and scratch removal

Under seal and waterproofing

info@tjanduauto.com/ tjanduauto@gmail.com

+254 20 2501972/ +254 700 534823/ +254 721 222585

Buruburu Phase 1, Uhuru Estate on Rabai Road.
Central Motor Service Ltd
Wheel balancing and alignment

Beam setting

workshops@cmskenya.co.ke

+254 720 441250/ 735 204887/ 772 784798

Pokomo Road, Industrial Area, Nairobi
Mash Auto
Accident repairs

Respraying

info@mashauto.co.ke/ marketing@mashauto.co.ke

+254 722 925808/ +254 722 704085/ +254 732 001197

Chiromo Lane 1, Westlands.
Top Quality Motors
Engine replacement

Oil changes

020 4404383/ 0725 852085/ 0777 888285

 

Opposite Kenyatta University Ruiru Campus, Ruiru

Along Thika Road next to Safari Park Hotel

A One Auto Car Garage
Major and minor collision repair

Break services and repair

enquiries@a-oneauto.co.ke

+254 722 521446/ +254 722 790500

Westlands, Nairobi.
Express Garage
Buffing

Tuning

Car wash

expressautogarage@gmail.com

+254 720 381435

Kiambu Rd, Nairobi
JDM Auto Kenya Garage
Suspension check up

Accident panel repair

0722 793945
Kutch Prant Rd, Nairobi
Kineticar Auto Garage Ltd
Full restoration and respray to original manufacturer's color
info@kineticar.co.ke

0710 300955

2nd Sunrise Avenue, off Eastern Bypass, Thika Superhighway, Ruiru.
Apex Motors
Accident repair

Motor vehicle body fabrication

apexmomart@yahoo.com

0722 817799

Donholm, Nairobi
Ace Autocentre Ltd
Auto body painting

Mechanical repairs

info@aceautocentre.com

0718 391 540/ 0728 386353/ 0740 545354

Gilgil Rd, Off Enterprise Rd, Industrial Area, Nairobi
List of Auto Garages in Kenya
TJ and U is one of the top auto garages in Nairobi. K-tech was its name back in 2004 during its establishment. After one year in car suspension, it ventured into vehicle repairs and changed its name to TJ and U Auto.
The professional technicians at the auto garage provide complete bodywork on all types of vehicles and bodaboda. You can have your car get rust removal, welding, and scratch removal. Also, TJ and U help in under seal and waterproofing for cars.
Central Motors Service Ltd has three companies in Kenya that deal with vehicle sales and repair. From their 700 square foot workshop, the auto garage offers oil change, upholstery, wheel, and tyre services. Besides, CMS takes pride in panel beating and respraying services.
Some of the auto garage's clients include Hillcrest International School, Cytonn Investments, and Stanbic Bank. You can book a service online by filling CSM form. You will receive a call to confirm your booking slot.
Mash Auto has a qualified and experienced mechanics team who offers free and valuable advice on car repairs, servicing, respraying, detailed interiors, and body works.  They are also experts in those areas, and therefore, they offer the best car bodyworks and interiors services in Nairobi.
You can visit the auto garage in Westlands along Chiromo Lane 1. Some of Mash Auto's clients include CIC Group, Equity and Britam, and APA Insurance.
Top Quality Motors has its head office at Ruiru and a branch along Thika Road next to Safari Park Hotel. The auto garage is a member of the Kenya Motor Vehicle Repair Association and is licensed by the Ministry of Transport Garage Inspection.
Top Quality Motor's professionals offer fluid flush and fill, diagnostic tests, oil changes, engine replacement, and full vehicle overhauls. If you have any vehicle such as a Mazda, the auto garage is the best service center in Kenya.
A One Auto Car Garage is a fully registered auto garage located along the 3rd Parklands Avenue-Off Limuru Road in Parklands, Nairobi. It started its operation in 1998, and since then, its clients are happy.
It is one of the auto garages in injector testing and service, air condition repairs and top-up, major and minor collision repair provider. The garage also has experts in motorcycle painting, paintless dent removing, and emission inspection and adjusting.
The Express garage is open from Monday to Saturday from 8 am to 6 pm. On Sundays, only the car wash is available. The auto garage is registered and certified by the Ministry of Public works and meets all the standards.
Besides, it has the best Mazda mechanics in Kenya. The professionals offer body works, tyre, tuning, buffing, and car wash services. Again, you can get alarm installation, music, and tinting services for your vehicle.
7. JDM Auto Kenya Garage
JDM Auto Kenya Garage has an auto repair and tuning shop in Nairobi. It offers general vehicle services starting from as low as Ksh 1,000. Also, you can get accident panel repair and suspension checkup services.
The auto garage sells Subaru rims at Ksh. 55,000. Besides, you can get club P1 racing at Ksh. 60,000. Their garage is open from Monday to Saturday from 9 am to 5 pm.
8. Kineticar Auto Garage Ltd
It is an auto garage that offers car makeover services in Kenya. During the cold season, Kineticar garage works in their temperature-controlled, infrared, and automated booths. Therefore, you don't have to worry on a chilly day when you need your vehicle repaired or maintained.
If you want vehicle service such as full restoration and respray back to the manufacturer's color, Kineticar has got you. Besides, you can get accident repair for your car.
9. Apex Motor Mart Ltd
Apex Motor Mart Ltd is in Donholm, Nairobi. It is one of the auto garages that deal with accident repairs, motor vehicle body fabrication, and panel beating. Besides, you can get services in motor vehicle maintenance.
The auto garage acquired a chassis repair bench machine for your vehicle repair and straightening. You can call 0722 817799 for more details.
Ace is a member of the Kenya Motor Repairers Association, and the Ministry of public works has approved it. Besides, Kenya's Automobile Association has selected its workshop as a three-spanner garage to conduct significant repairs.
You can get automatic gearbox repair from Ace, Kenya. Also, it provides auto body repair, painting, and mechanical repairs. Finally, the company works with insurance companies such as Jubilee, ICEA Lion Group, and CIC Insurance in its service delivery.
Please follow and like us: