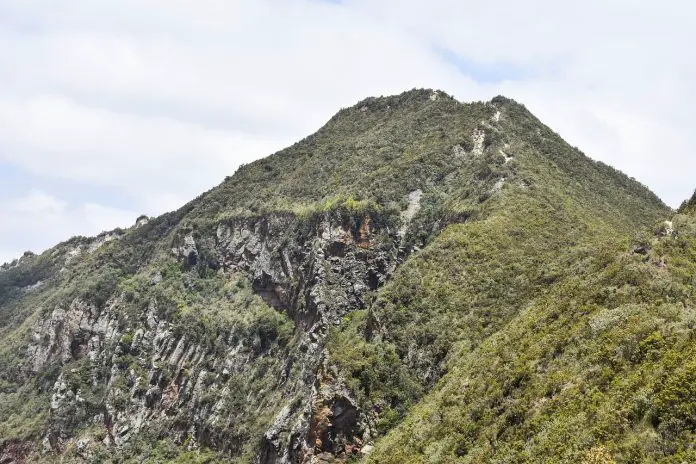 Mountain climbing is increasingly becoming a favourite activity for many Nairobians. Many gyms and travel companies always organize weekend mountain climbing trips for fitness. Hikers have also formed groups where they share mountains in Kenya and locations and organize trips to conquer each one at a time.
In Kenya, we have beautiful and scenic mountains with varying difficulty levels for any mountain-climber enthusiast to attempt. How many mountains in Kenya can you name, and do you know their height? Before you rake your brain, we made a for you.
Related: The Top 10 Game Parks and National Reserves in Kenya
The Highest Mountains in Kenya
| | | |
| --- | --- | --- |
| Mountain | Height (M) | Location |
| Mount Kenya |  5199 | Mount Kenya Region |
| Mount Elgon | 4302 | Border of Uganda and Kenya |
| Mount Satima |  4001 |  Aberdare Range |
| Mount Kinangop | 3902 | Aberdare Range |
| Cherang'any Hills | 3530 | Cherang'any Hills |
| Mount Kipipiri | 3349 | Aberdare Range |
| Mount Mtelo | 3336 |  North West highlands of West Pokot County |
| Mount Ng'iro | 2848 | North of Kenya overlooking the Suguta Valley |
| Mount Longonot | 2776 | Southeast of Lake Naivasha in the Great Rift Valley |
| Ol Doinyo Orok | 2548 | Southern Kenya next to the Tanzanian border in the Namanga Division. |
List of Highest Mountains in Kenya
1. Mount Kenya
As a novice mountain climber, you probably don't want to start with the tallest mountain in Kenya. Mount Kenya's highest peak, Batian, is 5,199 metres or 17,057 feet). It has two other high peaks at Nelion (5,188 m or 17,021 ft) and Point Lenana (4,985 m or 16,355 ft).
It is also the second tallest mountain in Africa and spans several Mount Kenya regions. These are Meru, Embu, Laikipia, Kirinyaga, Nyeri and Tharaka Nithi counties. This masterpiece creation with snow peaks also lies 16.5 kilometres (10.3 miles) south of the equator. It's no wonder that's where we get our country's name.
2. Mount Elgon
Many East African nations share several landmarks; Mount Elgon is one of them. It lies on the border of Uganda and Kenya. It is the second-highest mountain in Kenya. However, the highest point at 4,321 metres, named Wagagai, lies in Uganda.
Other points include Sudek, 4,302 metres at the Kenya-Uganda border; Koitobos, 4,222 metres in Kenya and Mubiyi, 4,211 metres and Masaba, 4,161 metres both in Uganda. Geologists have estimated this mountain to be at least 24 million years old.
3. Oldoinyo Lesatima
Oldoinyo Lesatima is a Maasai name for the mountain, which means '"mountain of the bull calf'. However, it is also known as Mount Satima or Lesatima. It stands as the highest peak in the Aberdare Range. You will find its peak on the Aberdares norther end bordering the Great Rift Valley's eastern side.
Around the mountain are very sharp volcanic cones, also known as 'the Dragon's Teeth. It also contains Moraines between 3600 and 3800 metres on the northwest side.
4. Mount Kinangop
Mount Kinangop is also one of the highest mountains in Kenya. It is part of the long Aberdare range on the southern side and 160 km north of Nairobi. It is a dormant volcano overlooking the Kinango Plateau to the west. Mount Kinangop is the second-highest mountain on the Aberdares after Mount Satima.
As you start a climb, you will see extensive bamboo forests. As you climb higher, the mountain is covered by tussock grasses. At the peak, you find rocky outcrop and open moorlands. The temperatures are cool during the day. However, the temperatures can drop to freezing at night.
5. Cherang'any Hills
Located in the western highlands of Kenya, Cherang'any Hills are one of the tallest mountains in Kenya. They are made of seven mountains divided by the Mau Escarpment that rises on the Tanzanian border.
The notable peaks are Nakugen 3530m, Chemnirot 3520m, Kameleogon 3500m, Chebon 3375 m, Chepkotet 3370m, Karelachngelat 3350m and Sodang 3210m. These hills span three counties; Trans Nzoia, Elgeyo Marakwet and West Pokot. These hills are some of the most important water catchment areas in Kenya.
6. Mount Kipipiri
Mount Kipipiri lies on Wanjohi Valley on the Kinangop Plateau, nearing the Aberdare Range. It is located 32km northeast of Lake Naivasha. Once you climb the mountain, you can view this breathtaking lake from the summit.
During the climb, you will find animals such as elephants, buffalos, birds, and the Colobus and Sykes monkeys. It forms part of the protected Aberdare National Park. The forest is approximately 43 square kilometres, home to about 13 elephants, and it's fenced to keep the animals from accessing farms.
7. Mtelo 
Mount Mtelo stands at 3336m in West Pokot's county North West highlands. It is about 120km from Kitale town. You can start exploring the mountain from the Marich Pass Field Studies Centre, where you can find guides for the ascent.
Generally, it takes about three days to hike the mountain. It is recommended for hikers to spend a night or two at Mount Mtelo Viewpoint Camp.
It is a campsite cottage accommodation run by the Ywalasiwa family. However, if you want to avoid the hike, you can drive to the campsite. You do not need specialized equipment or training for this climb; you can take various trails to the campsite. The terrain consists of cultivated Pokot areas, forests, bamboo, and open moorland. Additionally, you can view the eastern part of Uganda and the North-west region in Kenya on a clear day. West Pokot people consider the mountain to be sacred.
8. Mount Ng'iro
Take a trip to Nothern Kenya, where you will find this mountain. It overlooks the Sugutal Valley, part of the Great Rift Valley. A desert surrounds the mountain. However, it has deeply forested slopes where you will find the Samburu people. Some clans keep bees on the mountain and have exclusive rights to the land and water.
9. Longonot
Various mountains are located in the Rift Valley, and Mount Longonot is also one of them. You can find it on the southeast side of Lake Naivasha. It is a stratovolcano mountain that last erupted in 1860. Its name comes from Maasai Oloonong'ot, which means 'mountains of many spurs' or 'steep ridges'.
It is part of Mount Longonot National Park, meaning the KWS (Kenya Wildlife Service) protects this mountain. It can take about 4-5 hours to go through the whole tour of 13.5km. Some areas are heavily eroded and very steep.
The mountain attracts many tourists due to its location. It is near some of the most popular destinations in Kenya, like Nakuru and Naivasha.
10. Ol Doinyo Orok
Ol Donyo Orok is the Maasai name for Namanga Hills, and its located in Southern Kenya, Next to the Tanzanian border in the Namanga division. This mountain is triangular and looks like an arrow pointing north. Its short side is on the Tanzania side, and the highest peak is 2,548 metres.
The mountain forest reserve is one of the few areas with various herbs, plants and animals. The mountain has natural water catchments due to high-altitude rains and the humid climate. These catchments provide the Maasai communities with pasture and water.
Conclusion
That's the list of some of the tallest mountains in Kenya. You can add them to your picnic bucket list. With each region, each mountain has a significant impact on the social-economic aspect.
Please follow and like us: