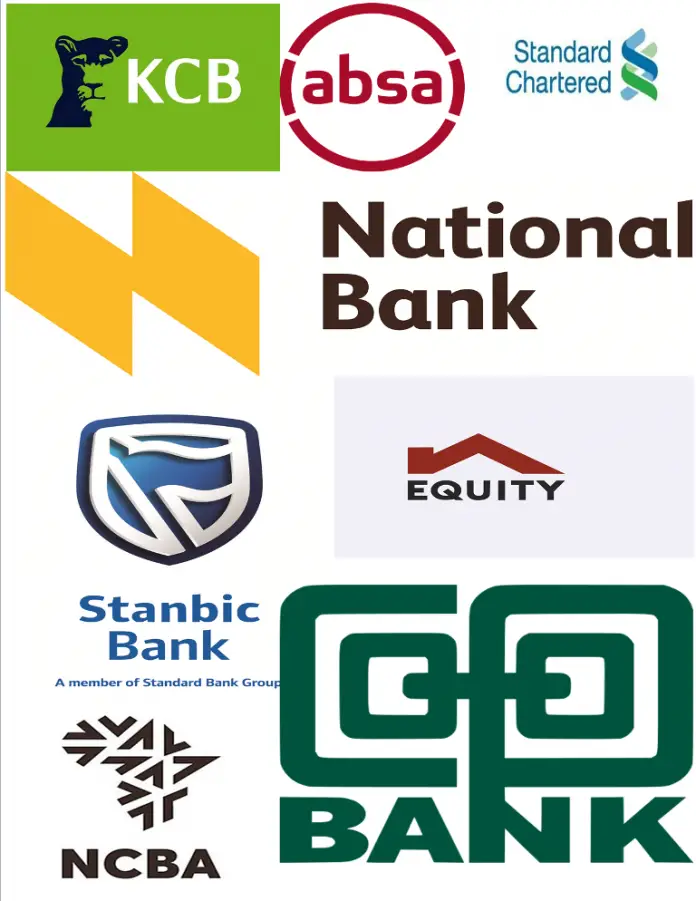 The Central Bank of Kenya controls Kenyan banks to stabilize prices by establishing a monetary policy. As more players continue enrolling in the banking sector, new evolutions in the industry emerge.
When you think of opening a bank account, saving, or borrowing money, the idea of an efficient bank crosses your mind. No one wants to do business with an unreliable financial institution.
Before choosing the best bank to work with, consider factors such as accessibility, banking systems used, and the customer services offered. Does the bank offer online, mobile, and USSD money transfers?
The Best Banks in Kenya for Loans & Savings
Bank
Products (Some)
Paybill Number
Asset worth by 2018
Kenya Commercial Bank (KCB)
Loans
Mortgages
Investments
522522
714.31 billion
Equity Bank
Loans & savings
Retail banking
Microfinance
247247
573.38 billion
Cooperative Bank
Debit cards
Loans
Checking account
400200
413.41 billion
I&M Bank
Insurance products
Asset finance
Custody & investment
542542
230.29 billion
National Bank of Kenya (NBK)
Debit and credit cards
Loans & Savings
Mortgage
625625
113.34 billion
Standard Chartered Bank
Transaction accounts
Credit cards
Savings
329329
285.40 billion
Diamond Trust Bank of Kenya
Insurance
Saving & deposit accounts
Asset finance
516600
377.72 billion
ABSA (formerly Barclays)
Loans
Savings
Investments
303030
324.84 billion
Stanbic Bank
Private banking
Asset management
Credit cards
600100
290.57 billion
NCBA
Transaction accounts
Debit and credit cards
Investment
880100
487 billion
List of the Top Commercial Banks in Kenya
It is one of the youngest banks in Kenya yet owns the largest banking network in the country. In the Cytonn Investment Financial Year 2019 Banking Sector Report, KCB Group was listed as the most attractive bank in Kenya.
The KCB mobile app is a digital, easy-to-use, and convenient application. You can install the app and use it 24/7. The app allows customers access to the account, save money, withdraw cash and even borrow.  Customers can also track credit and prepaid cards through the app.
This financial institution is a licensed commercial bank by CBK. It is one of the biggest banks in Kenya. The bank has an immense network of 173 branches in Kenya.
In 2019, Equity Bank won the Think Business Award. Recently, the bank did its rebranding. They changed their logo and focused on other industries as well. Now we have Equity Group Holdings.
Equity bank is renowned for the launching of Equitel and Eazzy Banking App. Customers can now access transaction accounts, credit & debit cards, loans, and savings easily. Shopping has also been made simple through Equity Visa Card.
Cooperative Bank is one of the best banks to open a business account with. Through the MCO-OP Cash, you can carry out a variety of transactions using the phone. Not only is loan application through the app trouble-free, but also sending money to other mobile services and paying bills is also simple.
The bank gives a business person a reason to smile through their small business facilities. They have several banking and ATMs across the country.
It is one of the banks that execute personal banking sufficiently. Through the Insurance Premium Financing (IPF) facility, a customer can access general or life insurance even though not an I&M bank account holder.
The bank allows investment through a wealth management portfolio. No one under the sun would not want to have bread and butter in their golden age through investment. I&M young savers account nurtures saving habits among children.
The National Bank of Kenya is government-owned and one of the largest banks in Kenya. The financial institution offers loans, savings, and checking accounts. You can also get debit and credit cards, individual, SME, and corporate investment plans.
The bank has both mobile and internet banking platforms. You can also access your bank account through the USSD code *625#.
It is the oldest bank in Kenya, established in 1911. In the 2019 Think Business Award, the bank was awarded as one of the banks with the lowest charge for individuals. This makes it efficient for loans to people who want to venture into business and self-employment.
Employee banking is a convenient employer-employee service provided by Standard Charted. The employer is allowed to process the employees' salaries through Straight2bank secured platform.
DTB Kenya began in 1945 and has grown rapidly, especially in East Africa. The bank has the best asset quality in the banking sector. The DTB 24/7 app is an easier way to access the bank online.
It has been at the forefront of the growth of East Africa's economy by facilitating more people to come under financial inclusion. This has been achieved through serving individual consumers, middle-sized, small businesses, and large corporations. DTB Kenya offers a full range of banking, investment, and asset management plans.
It was formerly known as Barclays Bank of Kenya. The bank has operated in Kenya for over 100 years. The financial institution fully changed to ABSA in February 2020. The bank facilitates internet banking, where you can access your accounts from the comfort of your home.
Their online loan service, Timiza, has gained popularity over the years. During the COVID-19 pandemic, ABSA has restructured loan payments by reducing monthly installments over a period of up to one year. This is good news for all the customers.
Stanbic bank is a subsidiary of Standard Bank-South Africa. It is one of the best banks in Kenya in trade financing. The bank uses modern technology to provide services to customers. Commercial, retail and private banking, asset management, credit cards, and mortgages are some of the services that Stanbic offers.
The merger between NIC and CBA to form NCBA caught many by surprise. It is the best asset finance bank in Kenya. NCBA has a digital platform called Loop for simple banking at hand. Through the app, you can check your account balance, conduct real-time transfers to any bank in Kenya, pay utility bills and generate mini statements.
NCBA has a personal budget planner that helps manage money effectively through income and expense.
You can have more than one bank account with different banks. A bank is a safe place to save, borrow, invest, get insurance, and many more for every Kenyan. Enjoy banking at your comfort using digital methods during this period.
Please follow and like us: