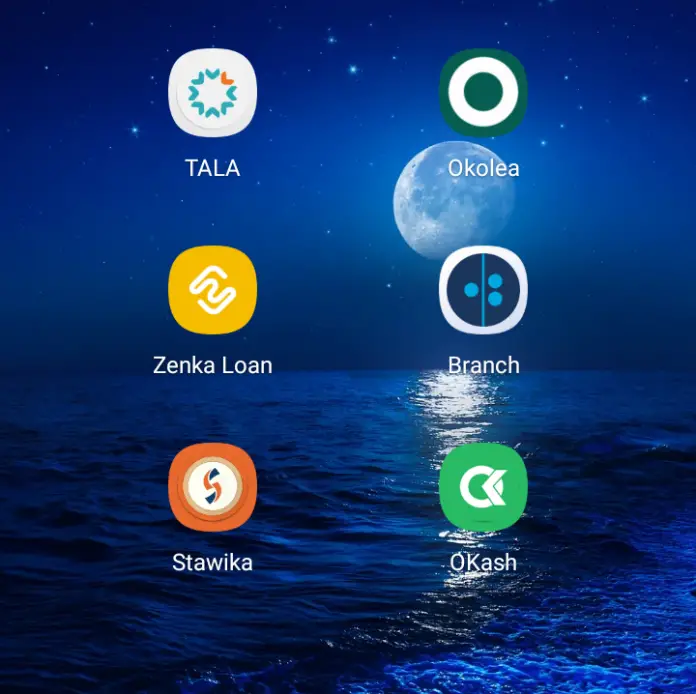 Mobile loan apps have become rampant in Kenya; no wonder digital lending apps are mushrooming. So what makes them these popular?
Unlike bank loans, where you have to deal with a lot of paperwork, brace for long queues, and have security, the online loan apps come in the comfort of your home. With just a few clicks, you get some cash on your smartphone. Other lenders support feature phones through USSD services.
These loans are unsecured, and most do not need guarantors.  So if you are in a fix and require instant cash, the online loan apps get you sorted immediately. All you need is a mobile phone powered by android or IOS, be 18 years and above, and own a registered Safaricom line.
However, it is essential to note that most lenders have come under regular criticism from borrowers and regulators like the Central Bank of Kenya. This is because they charge higher interest compared to conventional lenders. Apart from that, their repayment period is short. Considering these factors, you should opt for mobile loan apps when you have an emergency.
Instant Online Money Lending Apps in Kenya
Mobile Loan App           

Pros

Cons

Tala

-Fast disbursement
-Always notifies you about repayment  
-Can't register two accounts using the same device
-Late repayment attracts high interests

Branch

-Get free 200/= after the first timely repayment
-Adjustable interest rates
– Not fast, it can take up to 24 hours

Zenka

-First-time applicants get 1500 interest-free loans
-Low-interest rates
-The only app that supports iPhones & feature phones
-Short repayment period

Utunzi

-Fast
-Low-interest rate
-Requires guarantors
-Lists you with CRB immediately you default on payment

Okash

-Flexible repayment period
-It is fast
-High interest.
-Excessive reminders in case of default

Stawika

-Offer a 10% commission on referred loans paid on time
-Fast  
-High-interest rates
-10% additional charge for late payment 

Saida

-Long repayment period
-Gives a grace period of 60 days before adding a 10% additional charge
-High-interest rates

Pesazone

-Fast
-Low-interest rates
-Requires a verification fee

Okolea

-Fast
-Large maximum amount of KSh.500,000.
-Requires payment of appraisal fee

Jazika

-Fast
-Low-interest rates
-Short payback duration
Comparison table for online loan apps in Kenya
At the top of the list is the Tala lending app, formerly Mkopo Rahisi.  This app is a darling to many because it disburses its funds within five minutes and gives defaulters a grace period of two months before reporting them to the credit bureau. 
Tala always lets you know your repayment schedule from the word go. You get a discount when you refer a client who borrows and pays in due time. The lender offers a minimum loan of KSh. 500 and a maximum of KSh. 30,000.
Just like Tala, Branch also gives a commission on every referral that pays on time. However, unlike Tala, their processing time is a bit long and can take up to 24 hours, with an average time of 3 hours.
But with this mobile loan app, you can borrow up to KSh. 70,000. Branch interest rates are adjustable, and the payment period ranges from 1-12 months. So it is convenient for people with costly emergencies.
Although it is relatively new in the market, its incentives, such as giving interest-free long-term loans, have made Zenka popular. As a result, the lender won the most preferred non-banking platform award in August 2019 and first runners up for the fastest growing non-banking loan platform.
Despite its maximum lending amount being only KSh. 10,000, it's preferred by many borrowers and is growing fast. It takes only up to 5 minutes to have cash on your phone. Zenka is the only loan app that supports iPhones and feature phones. You can access the loan through USSD *841# on your "kabambe" or "mulika mwizi," as commonly known.
If your lending history with other apps is clean, this lending app is your best suit since it lends up to KSh. 100,000. The unique thing with Utunzi is that they require trusted referees before giving you a loan. But their interest is low and varies depending on the amount borrowed.
It will only take you around 3 minutes before receiving your cash. That's quite fast! However, be wary of defaulting on Utunzi loans because they will immediately list you with CRB and increase loan penalties.
The lender is renowned for the fast processing of loans to your M-Pesa. Unlike other mobile loan apps, Okash deducts interest after approval. Their interest rates a quite high, and the repayment period is flexible, ranging from 14 days to 2 months (61 days).
However, you should be ready for constant calls if you default on their loan. You should do your best to pay on time to avoid unnecessary embarrassment.
Like most online lending apps, stawika is fast as it takes less than 5 minutes to disburse their cash. Their maximum lending amount is KSh. 70,000, quite useful if you need some reasonable amount. If you refer someone for a loan and they pay on time, you enjoy a 10% commission.
Unfortunately, their interest is 1% per day. So, if you stay with the money for a month, you will pay 30% interest. Is it even worth it? Well, unless you are in a fix and have no other option.
The good thing with the Saida loan app is that their repayment period extends from  1-6 months. So if you are so tight, you will have enough time to pay. Their interest rate varies from 3% to 21%, depending on the payment period.
If you pay late by more than 60 days, they'll charge you a 10% penalty; besides, you get listed on CRB. Well, 60 days grace period is fair enough.
This mobile lending app is different from other apps discussed above. With the pesa zone, you'll have to pay Ksh. 40 as a verification fee, something we have not seen with the other apps.
Once you register, you must pay that verification fee before getting verified and being allowed to borrow. Their maximum amount is KSh. 50,000 with an interest rate of 12%.
Unlike other apps where timely repayment and keeping the app on your phone earn you an increase, with Okolea, you have to pay an appraisal fee. On the good side, their interest rates are low, up to 0.5% daily, and you can borrow more than one loan as long as you are within your limit.   Their loan limit is KSh. 500,000, and the repayment period stretches to a year.
Like the other online lending apps, Jazika gives you money straight to your mobile phone anytime, anywhere. So long as you meet their lending criteria, you are good to go. Although the lender is relatively new, they give up to a maximum of KSh. 100,000.
The good thing is, Jazika offers a range of payment duration, and you choose what is comfortable for you. However, note that their interest rates on smaller amounts are quite high; it can be costly to the borrower.
These mobile loan apps are readily available and give you instant cash, they are addictive, and if not careful, they can mess you big time. Don't make borrowing a habit; only borrow if you have to. I mean, when you are in a fix, and there is no other option. Do not borrow to buy clothes or other luxuries. Go for ones with lower interest rates.
Please follow and like us: