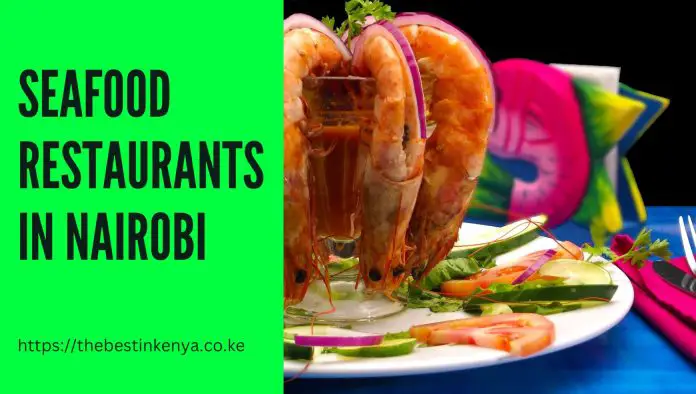 Nairobi is known for its seafood, and there are some great restaurants in the city where you can enjoy delicious seafood dishes. From classic seafood fare to more creative takes on traditional recipes, these eateries offer a range of options for any palate.
Whether you are looking for a restaurant where you can buy or eat lobsters, shrimp, crabs, octopus, or prawns or simply want to sample different fish dishes, these restaurants have something for everyone. Here are some of the best seafood restaurants in Nairobi.
Related: The Best Budget Restaurants in Nairobi CBD
List of the Best Seafood Restaurants in Nairobi
Sea Food Restaurant

Location
Phone Number
Google Rating
No. of Reviews
Longonot Place, Kijabe St, Nairobi
0758 956 805
⭐⭐⭐⭐⭐
1373
The Oval, Ring Rd Parklands, Nairobi
0733 689 965
⭐⭐⭐⭐⭐
1472
ABC Place, Waiyaki Way, Nairobi
0737 776 677
⭐⭐⭐⭐⭐
972
Ngong Road, Nairobi
0113 796 167
⭐⭐⭐⭐⭐
240
PrideInn Westlands, Nairobi
0713 469 988
⭐⭐⭐⭐⭐
268
Othaya Road, Nairobi
0737 345 667
⭐⭐⭐⭐
520

Oyster Bay

Valley Arcade Shopping Mall Kilungu Road, Nairobi
0114 048 934
⭐⭐⭐⭐
412
Nairobi Serena Hotel, Kenyatta Ave, Nairobi CBD
0202 822 000
⭐⭐⭐⭐
364
Hotel Fairmont The Norfolk, Harry Thuku, Nairobi
0202 265 555
⭐⭐⭐⭐⭐
91

Sea Villians Sea Food

Kikao place, 34 Gitanga Rd, Nairobi
0796 844 367
⭐⭐⭐⭐⭐
58

Mondo Grill

Haven Cottage, Othaya Road, Nairobi
0700 833 818
⭐⭐⭐⭐⭐
33
Kikao Place, Valley Arcade, Lavington
0111 606 174
⭐⭐⭐⭐⭐
9

Gropper Seafood Shop & Grill

Gigiri Courtyard (Craft Center) Gigiri Lane, Nairobi
0701 575 747
⭐⭐⭐⭐⭐
9
Village Market, Limuru Rd

00601, Nairobi

0717 587 587
⭐⭐⭐⭐
26
Top Seafood in Nairobi CBD & Neighbouring Areas
1. Mawimbi Seafood Restaurants 
There is a reason why this restaurant boasts several accolades. From the list of delicacies you can enjoy to the serene atmosphere that gives you a feel of a coastal environment. If you are looking for a place to start off your seafood experience, you will not go wrong with Mawimbi.
You can either reserve or check-in without booking. The restaurant's location makes it accessible from Westlands, Parklands, or Parklands without going through Nairobi CBD. The only downside is that you may have to wait a little longer to be served. And as it goes, everything good takes time.
2. Ocean Basket Westlands 
Are you looking for a seafood restaurant in Westlands? Then, Ocean Basket is the best option. Whether you want to enjoy prawns, calamari, or mussels, the restaurant has got your back.
Besides the main dishes, you can also go for kids-friendly seafood or a sushi diet. The dishes are prepared to leave your young ones licking their fingers. Some of the best options for kids include crumbed prawn tails, sushilicious, and saucy fish bites.
The restaurant is located in The Oval. They allow takeaway, dine-in, and deliveries to your home or office. From experience, you may have to wait for a few minutes for them to process the order. Apart from that, they might not have all the options you would expect from a seafood restaurant.
3. Seven Seafood Grill 
Experience the sweet seafood delicacies from the Indian Ocean in the city. The restaurant is unrivalled when it comes to preparing octopus, prawns, crabs, salmon, and oysters. Seven Seafood Grill is located along Waiyaki Way, ABC Place.
When it comes to seafood, you may have to part with more than a standard meal, which is no different from the restaurant. Apart from that, you can rest assured that you will entertain your taste buds in a good environment.
4. Everything Fish Restaurant 
If you are looking for an affordable seafood restaurant along Ngong Road, Everything Fish restaurant is the perfect destination. The restaurant has everything from red snapper, barracuda, prawns, and calamari, to kingfish.
The environment is also ideal for chilling out with friends as you enjoy cool music or live sports. Visiting the place when not in a hurry is advisable because it can take some time to prepare your order.
5. Rozina's Restaurant 
This is one of the oldest seafood restaurants in Nairobi. Rozina's Restaurants won't disappoint if you are looking for a place to enjoy prawns, oysters, crab, fish, or lobster. The restaurant is located along Westlands Road; therefore, a good spot if you want a place near CBD.
You can also get local delicacies, Indian cuisines, and Italian dishes from the restaurant. Rozina's is also a good option if you want to have a trial on a vegetarian diet. However, a few customers have complained about the ambiance of the place, but not a thing if you are not into such details.
6. Samaki Samaki Seafood 
A combination of good food and entertainment is not a bad option in the city. Located in Kilimani, this is one of the best restaurants in the prestigious location. The restaurant serves tuna, prawns, octopus, kingfish, and other assortments of seafood.
With its origin in Tanzania, you can be sure to enjoy the best Swahili delicacies. The restaurant's dance crew and DJs will keep you entertained as you enjoy your meal. Samaki Samaki is also a popular destination for watching EPL live. There are rumours that Trevor Ombija is one of the co-owners.
7. Oyster Bay 
Do you want a seafood restaurant with an open area to feel the breeze as you enjoy your meal? Oyster Bay is the best option. The restaurant is located in Valley Arcade Mall and will give you the city vibe.
If you love partying, this is one of the best spots to chill out. You can order your favourite prawn, fish, or lobster dishes and dine in or takeaway. They also do deliveries through platforms like Eat Out.
8. Cafe Maghreb 
Cafe Maghreb is one of the best seafood restaurants in Nairobi CBD. It is a branch of the renowned Serena Hotel. Therefore, you can guess the standards of the restaurant.
They offer seafood buffets on Fridays, allowing you to try out different varieties. The only downside is that you have to navigate through the city although the location has enough parking space.
9. Tatu Seafood Restaurant 
This award-winning restaurant has variety when it comes to seafood. They are renowned for their delicious prawns, lobsters, and crabs from the coastal cities of Kenya. You can reserve your table on the website.
Recently, the restaurant was temporary closed. Hoping they will resume operations soon.
10. Sea Villains Seafood 
Located along Gitanga Road, Kikao Place, this is one of the top seafood restaurants in Nairobi. Apart from dine-in option, they do deliveries through Uber Eats and Jumia Foods. You can get everything seafood from the restaurant.
The most popular dishes are octopus, prawns, kingfish, tuna, tilapia, and lobsters. The delicacies also come at affordable prices and the surrounding environment adds to the experience.
Other Popular Seafood Restaurants in Nairobi 
11. Mondo Grill
12. jiko Tamu
13. Gropper Seafood Shop & Grill
14. Oysters & More
Conclusion 
Seafood is renowned for its rich flavors, nutritional value, and versatility. With the variety of options available in Nairobi's seafood restaurants, it is easy to find a restaurant that suits your taste and budget. Try out one of these top-notch eateries for an unforgettable experience!
Please follow and like us: