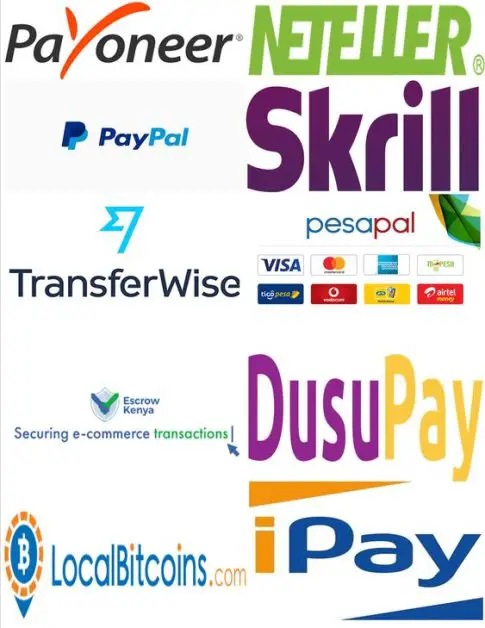 There are numerous online payment platforms you can use to sell or buy goods or services in Kenya. Whether you want to order a product on Amazon or pay for your monthly service subscription, there is something for you.
One advantage of these payment gateways is their coverage. Most cover almost all countries. You can be in Kenya and pay for goods or services in any part of the world.
Online Payment Gateways in Kenya
Online Payment Platforms
Rate to Transfer to Local Bank or M-Pesa
Transfer Maturity Period
Minimum Transfer
Maximum Transfer
Payoneer
No charges incurred for local bank transfer
2 to 5 business days
$20 to other users $50 to local bank
$1000
PayPal
Free transfer from PayPal Account to bank account.
 
3 to 5 business days
$1
$10000 per transaction
Skrill
Around 3% of the total amount
2 to 5 business days
N/A
Up to $25000 monthly depending on account verification
Neteller
2.99% of the amount transferred
1 to 6 hours
$0.5
$50000
LocalBitcoins
0.00013997 BTC
10 to 60 minutes
0.00000001 BTC
N/A
Escrow Kenya
Kshs. 200 for General Merchandise. Kshs, 1500 for vehicles.  
Depending on shipping duration
N/A
N/A
Trasferwise
For $300 and below, you are charged $3.
For more than $300, the charge varies.  
Up to 2 business days
No Minimum
No maximum for bank transfer. Limit for Mpesa
Pesapal
3.5% per online payment transaction and for point of sale is 2.9%.
3 business days
Kshs. 1000
Kshs. 70000
iPay
Free up to 15 transactions. More than 15 transactions monthly charges you $5.95.
1 business day
$1
$10000
Dusu Pay
Free for less than 50 transactions per month
Standard package for $9.99 & Enterprise package for $29.99.
Up to 3 business days
$2
$6000
List of Online Payment Platforms in Kenya
Payoneer is one of the best ways to make payments in the comfort of your home. It was launched in 2005 and has managed to capture a sizeable portion of the market.
The best thing about Payoneer, you can make direct payments to other users without involving a third-party such as a bank.
Once you sign up for Payoneer, you get a MasterCard debit card. You can use it to withdraw funds from any ATM that accepts MasterCard. You need a copy of your valid identification documents to complete the registration process.
The least you can transact on Payoneer is $20, and the maximum is $2500 daily. However, the minimum you can transfer to your bank is $50.
Transfer of any amount to your bank is free, and the exchange rate is attractive. The transfer maturity period is 2 to 5 business days internationally.
In the world of online transactions, PayPal dominates as one of the best and most reliable. This online payment platform has millions of users worldwide, both individuals and businesses.
Paypal has years of existence in the industry, always striving to provide its customers with the best. The platform also supports M-Pesa and Equity Bank transfer services.
All transactions through PayPal are secure, and you are kept aware of any suspicious activities in your account. Setting up a PayPal account is easy.
Once you create a profile, you must verify the account using a bank account or credit card. Then you can start transacting, making payments, and transferring funds.
PayPal Kenya boasts some of the fastest money transfers. For this, they control a good chunk of online transactions. The fact that you get faster checkouts by not retyping your financial details with every payment is a plus.
PayPal charges 4.4% plus $0.30 of the amount received as fees. Apart from that, the exchange rates are also adjusted to cater for Mpesa transaction charges.
It takes a few minutes to transfer any amount below $700. Any amount above $700 takes around 3 days to hit your account. The least you can transfer with PayPal is $1, and the maximum is $10000 per transaction.
For Paypal to Equity Bank transfers, it takes around 24 hours.
Skrill works with various currencies, hence, its popularity worldwide. You can use it to send money faster and securely. The money can be sent to another person's bank account, mobile wallet, or your own.
You can use Skrill from anywhere, and setting up an account is easy. The service has been available since 2001 and is part of the PaySafe Group.
Once you set up a Skrill account, you get a Skrill wallet that you can use to keep funds. The online payment platform is quite affordable, with swift and secure transfers. You only need the receiver's name, address, and account information to send money.
Transfer maturity when you send money by bank transfer is 2 to 5 business days. Sending money abroad is Free. Domestic transfers incur a fee of 2% of the total amount. Some banks impose additional fees for using Skrill.
Skrill supports M-Pesa transfer. You should make sure your Safaricom and Skill details match.
Neteller is a widely used online money transfer platform. Using a Net+ card, you can withdraw the funds from your account. Another option is to transfer the funds to your bank account.
Like Skrill, it's part of the PaySafe Group that specializes in online payment platforms. M-Pesa transfer from Neteller is also instant.
Neteller charges its customers a fee of 2.99% for money transfers. The minimum amount transferable is $0.50, and the maximum is $50,000. Enjoy fast transfers with this service lasting only 1 to 6 hours max.
Cryptocurrencies such as Bitcoins are common in online transactions, with many more embracing them. You can make payments or send Bitcoins using this platform.
You can sell or buy Bitcoins using your M-Pesa. That makes the platform compatible with mobile money transfers.
LocalBitcoin originates from Finland and acts as a market for Bitcoin traders. You can purchase Bitcoins that are deposited into your LocalBitcoin wallet. After the purchase, you can easily send the Bitcoins from your address to another.
LocalBitcoin charges 1% for every complete trade. The transfer takes only 10 to 60 minutes to reflect. The least amount you can send is 0.00000001 BTC (Satoshi), and there is no maximum.
Escrow Kenya comes in handy when making local transfers. When you sign up for Escrow, the payment gateway comes in between you and the seller.
This is the best option if you want peace when buying an academic writing account. Once you agree on all the terms with the seller, you deposit funds into your account, and they verify the transfer.
Once complete, the seller ships the goods or provides the service, and Escrow Kenya ensures the buyer receives them. After confirming they are in good condition, the buyer gives the go-ahead to release the funds to the seller.
Escrow Kenya charges a different amount depending on the item bought. You pay 3% of the purchase price with a minimum fee of Kshs. 200, and the maximum is Kshs. 15000 for General merchandise.
Car fees are 1.5% with a minimum fee of Kshs. 1500 and maximum Kshs. 15000. Transfer duration depends on how long the item delivery takes.
Trasferwise is another reliable online payment platform that you can use in Kenya. The gateway supports more than 700 currencies worldwide.
The official site has 10 versions to choose from when logging into your account. In Kenya, Trasferwise makes it easy to transfer funds to individuals or bank accounts.
Another option is to send it to the Mpesa wallet. If you send it to the bank, there is no applicable limit, but for Mpesa, there is a limit to keep in mind. Transfer can take up to 2 business days to complete.
Fees vary depending on the amount you transfer. For $300 and below, you are charged $3. For more than $300, the charge varies.
With PesaPal, you can make payments using several methods, including mobile banking, bank cards, and wallet.
It guarantees bank-level security for all transfers, making it a reliable payment service provider. Some online shopping malls also support PesaPal as a mode of payment.
Pesapal is one of the most widely used systems by hotels (over 500). It makes it easy to place online bookings without incurring extra costs.
You pay 3.5% per transaction and 2.9% for point of sale. Transactions reflect after 3 business days
With iPay, you can use several mobile wallets, including Airtel Money, Mpesa, and Equitel. Apart from that, you can also use MasterCard or Visa. The method is simple to sign up and receive payments as a seller.
It's free to set up, and payments reflect instantly. Using iPay to transact is free up to 15 transactions.
More than 15 transactions monthly cost $5.95. It takes 1 business day to complete a transaction with iPay.
For straightforward transactions with a service provider you can trust, opt to use DusuPay. It's taken up a huge chunk of the African market and is used by many companies. You are not charged any fee for less than 50 transactions per month.
For over 50 transactions, you require a standard package that costs £9.99 or an Enterprise package costing £29.99.
In Kenya, transactions are mainly through Mpesa, and you can incur additional charges. Transactions take up to 3 business days to reflect.
There you have it, the best online payment platforms in Kenya. Whether you want to transfer money abroad or pay for goods or services, you will never go wrong with these gateways. 
Please follow and like us: