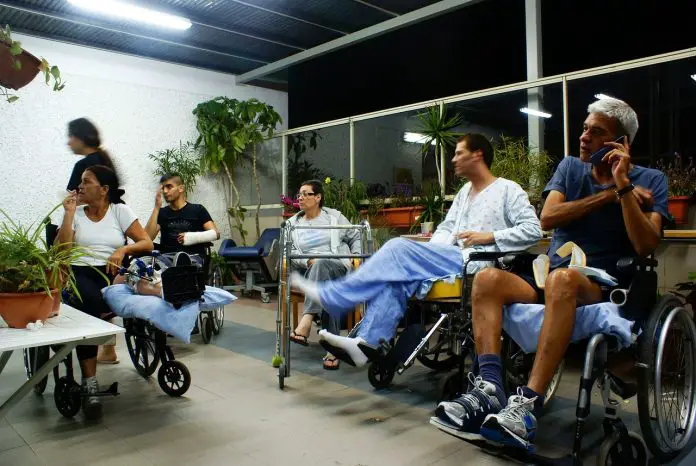 As the adage goes, 'health is wealth' – and that's especially true when it comes to musculoskeletal health. When faced with bone, joint, or spine injuries, it's advisable to seek out the best medical care. Fortunately, in Kenya, there are several high-quality orthopedic hospitals that can provide excellent treatment.
Nairobi hosts most of these hospitals, but there are also many outside of the city. Whether you are in Kiambu, Machakos, Mombasa, Kisumu, Nyeri, or Nakuru, you can find a hospital that is capable of providing specialized orthopedic care.
Related: The Best Dentists in Nairobi, Kenya 
The Top 10 Orthopedic Hospitals in Kenya
Orthopedic Hospital 

Orthopedic Services

Contacts

Location

St. Peter's Orthopedic & Surgical Specialty Centre

Knee replacement
Shoulder reconstruction, Achilles tendon treatment
Spinal surgery
Fracture care
Bone grafting procedures
Osteoarthritis treatment

0722 386 292
Muthiga, Waiyaki Way

Dr. Akil Fazal

Adult degenerative disease
Pediatric deformity
Spine trauma and infection

0771 587 025
Fortis Suites, 1st Floor, Hospital Road, Upper Hill

Agakhan University Hospital Doctors plaza 3rd-floor, room 301

Dr. Assad Mughal

Deformity correction
Fracture care
Injections
Joint replacement
Paediatric orthopaedics
Sports medicine

0727 484 567
Room S-6, 2nd floor, Doctors Plaza, MP Shah Hospital, Nairobi

Cure Kenya

Orthopaedic surgeries
Physio and rehab
Prostheses
Orthosis
Sports medicine

0733 770 653

0733 790 421

0705 942 334

Private Clinic Kijabe Hospital

Mobile

PCEA Kikuyu Orthopedic Unit 

Orthopaedic care
Physiotherapy
Occupational therapy
Prosthesis
Orthosis
Rehabilitation

0722 207 636

0733 606 133

0793 454 406

Thogoto, Kikuyu, Kiambu County

Tenwek Hospital 

Corrective bone surgery
Knee, hip, shoulder & elbow replacement
Hardware removal
Spinal laminectomy
Amputation

0728 091 900

020 204 5542

0710 602 013

Tenwek, Bomet County

St. Luke's Orthopedic & Trauma Hospital 

Fracture care
Joint replacement surgery
Spine surgery
Sports medicine

020 765 0333
Nandi Road, opposite the Moi University School of Dentistry in Eldoret Town

The Spine Clinic

Pain management procedure
Percutaneous/awake procedures
Surgeries
Spinal injury & rehabilitation
Physiotherapy
Backpain treatment
Physiotherapist – orthopedic surgeon
XRay-Pharmacy & blood test services

0737 588 676

0792 004 670

2nd Floor, B-Wing, Doctors Park, Parkland 3rd Avenue, Nairobi

Orthobridge Institute 

Minimally invasive surgery

Joint replacement
Platelet-rich plasma treatment
Pediatric orthopedic services
Conservative treatment
Joint reconstruction
Percutaneous laser disc decompression

0701 794 697 0733 720 198
Professor Nelson Awori Building, Ralph Bunche Road, 3rd Floor, Suite B6

The Bone & Joint Clinic

Arthroscopy
Joint reconstruction
Ankle replacements
Hip, knee & shoulder replacements
Trauma and fracture repair
Sports medicine

0720 797 450
Nairobi South Hospital, Muhoho Avenue, South C, Nairobi
List of the Best Orthopaedic Hospitals & Clinics in Kenya
If you are looking for an orthopedic hospital within Kiambu County, St. Peter's is the place to go. They specialize in small and complex orthopedic surgeries, and their consultants are highly qualified and experienced.
The centre offers a wide range of services like knee replacement, shoulder reconstruction, Achilles tendon treatment, spinal surgery, fracture care, bone grafting procedures, osteoarthritis treatment, and more.
They use the most advanced medical equipment to diagnose and treat various musculoskeletal conditions, ensuring excellent outcomes for each patient. Previously, they were located behind ACK Peter's Uthiru, but they relocated to Muthiga, near Kinoo.
Google Rating: 4.2 ⭐⭐⭐⭐ (85 Reviews)
Dr. Akil Fazal is one of the best orthopedic surgeons in Kenya. The fellowship-trained specialist has years of experience treating adult degenerative disease, pediatric deformity, trauma, and spine infection.
Dr. Fazal is a New York University graduate and one of the pioneers of minimally invasive spine surgery in Kenya. He currently practices in Parklands and is one of the most sought-after orthopedic surgeons in Nairobi.
The orthopedic surgeon is also an active lecturer at the University of Nairobi and Aga Khan University. He is also the treasurer of the Kenya Orthopedic Association.
Google Rating: 5 ⭐⭐⭐⭐⭐ (21 Reviews)
Our list won't be complete without mentioning one of the best orthopedic doctors in Kenya – Dr. Assad Mughal. The highly experienced orthopedic surgeon specializes in deformity correction, fracture care, joint replacement, paediatric orthopaedics, and sports medicine.
Dr. Mughal has extensive training and experience in orthopedic trauma, arthroscopy, and arthroplasty. He has treated thousands of patients throughout his career and is known for providing exceptional care to his patients.
He is a member of the Kenyan Orthopedic Association, South African Orthopaedic Association, South African Orthopaedic Trauma Society, American Association of Orthopaedic Surgeons, and AO Trauma.
Google Rating: 4.5 ⭐⭐⭐⭐⭐ (12 Reviews)
Cure Kenya is a Christian-based orthopedic clinic in Kijabe. The specialty hospital is dedicated to providing affordable healthcare services to disadvantaged communities in Kenya.
They offer comprehensive orthopedic care, including spine surgery, non-operative treatment of fractures, general orthopedic procedures, physical therapy, and rehabilitation services.
Cure Kenya also provides mobile medical clinics in rural areas – they screen, treat and refer patients to their hospitals.
The orthopedic hospital also provides prostheses and orthoses for infants, children, and adults.
Google Rating: 4.5 ⭐⭐⭐⭐⭐ (4 Reviews)
The Presbyterian Church of East Africa (PCEA) operates a well-equipped orthopedic unit in Kikuyu that offers advanced diagnosis and treatment options for various orthopedic conditions. Patients can access comprehensive services ranging from fracture care, joint replacement, and spine surgery to physical therapy and rehabilitation.
The hospital is in a peaceful environment, making it ideal for patients who want to heal in a calm and comfortable atmosphere. They also use the latest medical technologies to provide accurate diagnosis and better patient outcomes.
The clinic has over 50 qualified orthopedic specialists who combine experience and skill to provide the highest quality care.
Google Rating: 3.9 ⭐⭐⭐⭐ (23 Reviews)
Tenwek Hospital is a faith-based orthopedic hospital in Bomet County and offers state-of-the-art services. The hospital has a well-equipped orthopedic unit, providing everything from paediatric and adult broken bone corrective surgery, knee, hip, shoulder, and elbow replacement, hardware removal, and spinal laminectomy, to amputation.
The orthopedic hospital is home to a team of experienced surgeons and specialists who strive to provide the highest quality of care possible. They use advanced medical technologies, such as robotic-assisted surgery, allowing faster and more precise operations with fewer complications.
Tenwek Hospital also provides physical therapy services, including ultrasound, electrical stimulation, and hydrotherapy, to help patients recover from their orthopedic conditions.
Google Rating: 4.1 ⭐⭐⭐⭐ (98 Reviews)
Although the hospital offers other services, its orthopedic unit stands out. St. Luke's Orthopedic & Trauma Hospital in Eldoret provides comprehensive orthopedic services, including fracture care, joint replacement surgery, spine surgery, and sports medicine.
The private hospital is equipped with the latest medical technologies, such as digital X-rays, ultrasound, and C-arms, for accurate diagnosis and treatment.
They also boast a team of highly qualified orthopaedic specialists who are dedicated to providing quality care to all their patients.
Google Rating: 4.1 ⭐⭐⭐⭐ (69 Reviews)
This highly specialized orthopedic hospital is located in Nairobi and focuses on treating spinal injuries and physiotherapy services. The clinic provides various services, including minimally invasive spine surgery, rehabilitation therapy, and physical medicine.
They also provide pain management treatments like spinal cord modulation, pain block procedures, and radiofrequency ablation. Apart from that, they offer endoscopic and disc FX procedures.
If you experience persistent back pain, numbness, or radiating pain, The Spine Clinic has the best team to diagnose and treat your condition.
Google Rating: 3.7 ⭐⭐⭐⭐ (23 Reviews)
Orthobridge Institute is one of the best orthopedic hospitals in Nairobi. They have years of experience in sports medicine, fracture care, pain management, degenerative joint disease, and children's congenital disease treatment.
They specialize in arthroscopy, joint replacement surgeries, sports injury rehabilitation, orthopedic trauma care, and spine surgery. Orthobridge Institute is also well-known for its high success rate in reconstructive treatments.
Google Rating: 2 ⭐⭐ (4 Reviews)
Dr. Nicholas Okumu, an experienced orthopaedic surgeon, established The Bone & Joint Clinic in Nairobi. The facility specializes in arthroscopy, joint reconstruction, ankle, hip, knee and shoulder replacements, trauma and fracture repair, and sports medicine.
The orthopedic clinic also provides pain management, physiotherapy, and pre-operative and post-operative care. The facility takes most insurance covers, as well as NHIF.
The Bone & Joint Clinic also provides emergency services and home visits, allowing patients to receive quality care in the comfort of their own homes.
Google Rating: Not Rated Yet
Conclusion
There are several orthopedic hospitals in Kenya offering comprehensive services for a range of orthopedic conditions. From fracture care, joint replacement surgery and spine surgery to sports medicine and physical therapy, these facilities provide the highest quality of care.
Whether you are searching for a hospital for a routine check-up or need emergency orthopedic care, these hospitals have your back. It is important to research the various options to find the best one for your needs.
Visit any of these orthopedic hospitals and get quality treatment for all your musculoskeletal issues.
Please follow and like us: