Do you own a business and want to legalize its operation? The government of Kenya has made the business registration process convenient and straightforward for everyone. Whether you are a Kenyan or foreigner, you can register your business online.
In Kenya, Business Registration Service is under the Office of the Attorney General and Department of Justice. You have to follow several procedures to have your business recognized. It is also vital to have a permit to operate your business well. As a result, you can run your business smoothly and make profits.
Asking yourself how to register a business in Kenya? Here are the ten simple steps to register your business online:
1. Create an eCitizen Account
eCitizen is an online platform where the government of Kenya conducts most of its official roles. First, log in to the portal. Then feed-in your Kenyan ID number and a working email.
Besides, upload a passport-size photo of yourself. Provide a recent photo, one that has been taken at most six months before you register your business. Finally, navigate to the business registration service page to start the registration process.
2. Choose a Business Type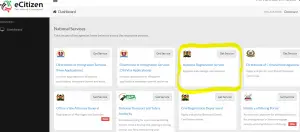 The eCitizen portal allows you to select the type of business you want to operate. From the Business Registration Service page, click on 'Make Application". Then, select 'Business Name Application.'
It is a crucial requirement for your business name registration. Depending on your business, you can choose;
Sole proprietorship
Registered companies (private or public)
Partnership
Limited liability partnership
A branch office of a registered foreign company
Business societies.
3. Business Name Registration
Your business needs a unique name. For, instance if it is a fashion company, you can call it Fleeky Fashions. Make sure that the name is not close to other registered business names. The government rejects similar business names. Fill in the business name in the indicated field.
You will get your business name's feedback after two days. Once the name is accepted, the Registrar will reserve it for 30 days. Therefore, you have a whole month to complete your business registration process.
Lastly, you need to pay Kes. 150 to file your name search to the government. You can pay online using your credit card. Enter your name and credit card number to complete the payment. Keep checking the payment approval daily.
4. Fill in Form CR1 (Business Registration Form)           
It is the fourth eCitizen business registration step. Please provide your company's name together with its office location. Also, the form requires the names and other personal details of the company's directors and shareholders. You should give the details for both local and foreign partners.
Besides, you need to scan the shareholders' IDs and their passports.  Afterward, attach them to the CR1 form. Make sure that you have filled in all the details and given accurate information.
5. Provide the Physical Residential Addresses of the Company's Director
Complete form CR8 that indicates the company's directors' official addresses. You can download the document online. On the form, fill in your company's name and its business type.
Also, for each director, provide the legal name and home address. If you have a foreign director, provide their details too. Finally, sign the form and date it. Your business registration process continues.
6. Complete KRA BN6 Form
The Kenya Revenue Authority (KRA) requires all newly registered businesses to provide their capital holdings data. Get your BN6 form (notice of cessation document)  and fill it. In the document, fill in your business's name together with your name.
Also, indicate how much Kenyan shillings your company owns during the time of registration. If your business has sold shares to the public, demonstrated the shares' division and their amount.
7. Pay for the Stamp Duty
It is a crucial step in your business registration process. You pay in consideration of your company's capital. Once your business is registered, the Kenya Revenue Authority (KRA) will reach out for the Stamp Duty fee. KRA will direct you on how to pay the price. Also, the KRA will request all your employees' and shareholders' Kenyan ID numbers.
The stamp duty fee you pay is equivalent to 1% of your business's nominal capital. However, the minimum you can provide is Kes. 2,140. Besides, KRA charges Kes. 100 for each document they approve to complete this business registration requirement.
8. Create a Memorandum and Article of Association
The Memorandum of Association shows your business's name, objectives, location, and value of each share. Also, it indicates the number of shareholders in your company. On the other hand, the Article of Association describes the rules and regulations of your company. It outlines the powers and responsibilities of each company's members together with their rights.
Draft the two documents because they are a requirement for business registration in Kenya. You can ask an advocate, your company's director, or an administrative assistant to create them. After completion, file the two documents.
9. File the Completed Documents and Pay the required Fee at Kenyan Registrar's Office
As you come to the end of your business registration process, have all the forms you filled. It would be best to have the CR1, CR8, BN6, Memorandum, and Article of Association documents. Make sure you have filled in all the details.
Once you have the document, seal them in a large envelope. You can send the documents to the Registrar's office through a postal office. Also, you can drop them at the Business Registration department in person. To complete the process, pay a fee of Kes. 10,650 through a credit card, eCitizen portal, or cheque.
10. Download your Business Certificate from the eCitizen portal
It is the final step for your business registration process. Once your documents are received, the government takes a week to review them. Also, the government registers your business with KRA and make copies and scans of the documents.
A successful review leads to your official business registration. Also, your business certificate goes online. You can download it from the eCitizen portal. However, you can wait for the certification for up to 21 days.
After a successful business registration process, you can run your business in Kenya. It is a step worth taking. Legalize your business today and make a profit.
Please follow and like us: