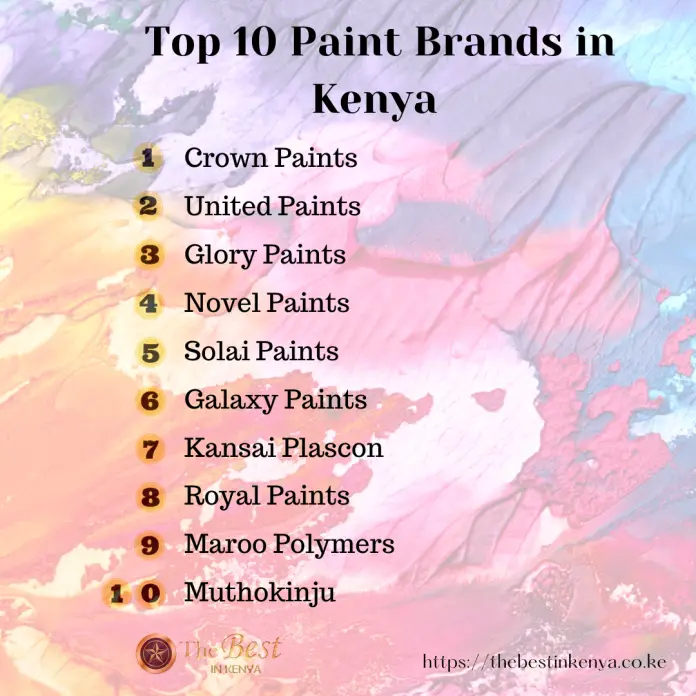 From using berries, flowers, and clay and binding them with animal fat, eggs, and cow's milk to produce the first paints, the paint industry has evolved a lot. There are meticulous binders, various finishes, and practically endless tints, tones, and shades. Kenya has several paint brands.
Choosing the best paint brand for your home doesn't have to be a headache. By the end of this blog, you'll have a detailed overview of Kenya's top 10 paint brands. Let's dive in!
Related: The Best Roofing Iron Sheets in Kenya 
The Best 10 Paint Brands in Kenya 
Paint Brand
Top Products
Contacts
Location
Crown Paints 

 

Vinyl Matt Emulsion Luxury
Ultraguard Silicone
Rockmaster

+254 722 763 395

 

Thika Road, Juja

 

United Paints

Acrylic Emulsion
Weather Guard Emulsion
Vinyl Matt

+254 722 879 121

 

Off Kangundo Rd, Nairobi
Glory Paints

Wood Finishes
Industrial Paints
Automotive Paints

+254 721 496 798
44 Enterprise Road,

Industrial area,

Nairobi, Kenya.

Novel Paints

Chlorinated Rubber Paint
Exterior Rough texture
Multipurpose Clear Vanish

+254 708 114 276

 

Off Garage Road, Dar es Salaam Rd, Nairobi
Solai Paints

Sure-Matt Emulsion
Matt Emulsion
Gloss Premium Paint

+254  206 761 838
Nairobi
Muthokinju

Wood Finishes Paints
 Roof Paints
Water Proof Paints

+254 726 368 060
Gatundu-Juja Road, Muchatha
Galaxy Paints

Silk sheen Emulsion
Vinyl matt Emulsion
Aqua Resist

+254 734 531 269
Kitui Rd, Nairobi
Kansai Plascon

Archi-Texture Graffiato
Acrylic Primer Sealer Undercoat
Roof Paint

+254 206 555 711
Jirore Rd, Nairobi
Royal Paints

Royal Floor Paint
Harmony Roof Paint
Royal Varnish Sunrise Synthetic Compound

+254 782 972 825
Moi Avenue
Maroo Polymers

Super Eggshell
Enamel Paint
Super Gloss Premium
Super Roof Paint

+254 734 411 544
Addis Ababa Road, Industrial Area, Nairobi, Kenya
List of Paint Brands in Kenya
Arguably the best paint brand in Kenya, Crown Paints has grown to a company with an annual turnover of Ksh. 10 billion in 2021, producing 4 million litres of paint per month and employing nearly 1,000 staff members. It's listed on the Nairobi Stock Exchange and has regional operations in Rwanda, Tanzania, and Uganda.
Crown Paints is the most innovative paint brand in East Africa, providing the best solutions to the retail and construction segments of the market with innovative paint products, services, and appraisal after-sales support.
Google Ranking: 4.1 ⭐⭐⭐⭐ (8 reviews)
United Paints was founded in 1997 and has grown to be one of Kenya's most popular paint brands. Having started as a hardware business, United Paints has innovatively transformed its product offering to meet the ever-changing consumers' needs.
United Paints is committed to providing you with the best quality coating solution at an affordable price. They have a wide range of products that are protective and decorative. United Paints has over 10,000 colour shades for your exterior and interior finishing.
Google Ranking: 4.4 ⭐⭐⭐⭐ (30 reviews)
From humble beginnings in 1992, Glory Paints has rooted itself in the Kenyan market as a key player in the coatings sector. They're dedicated manufacturers of rich, quality paints at affordable prices. Glory Paints continuously endeavour to provide the best quality products. Their high enterprise growth is credited to their quality managers, skilled personnel, and research department. Additionally, Glory Paints offers a paint calculator to help estimate how much you might need for the project ahead.
Google Ranking: 4.5 ⭐⭐⭐⭐⭐ (2 reviews)
Novel Paints is a famous coating and paint brand in Kenya. Dedicated to helping you succeed on your next project, they offer high-quality exterior and interior paints, precision rollers & brushes, and durable stains to make your painting job worthwhile.
Whether you're looking for the trendiest shades or tones suitable for you, their endless colour selection will help you find the best fit for your project. All their products will give you the exact feel and look you desire.
Google Ranking: 4.5 ⭐⭐⭐⭐⭐ (27 reviews)
For over 25 years, Solai Paints has focused on creating trend-setting paints that make you stop and stare. Details matter, and they rush nothing. Quality, not quantity, is what guides Solai Paints.
They have paint for interior and exterior use, and their products are known for their durability and high quality. Additionally, Solai Paints is one of the most affordable brands on the market, making them ideal for you if you want to save money without sacrificing quality.
Google Ranking: 4.2 ⭐⭐⭐⭐ (5 reviews)
On the 7th number of the paint brands in Kenya, Galaxy Paints is present. Its history dates back more than four decades, and the company's brand name is found in every corner of the country. Its culture of social responsibility is evident in its effort to create a better version of itself in every aspect of its operations.
As a result, Galaxy Paints has successfully launched various products in its decorative and industrial coatings ranges. The brand aims to meet diverse consumers' needs and give them 100% protection. With over 200 highly competent, well-trained, and committed personnel, Galaxy Paints has a well-established presence in the Kenyan paint industry.
Google Ranking: 4.3 ⭐⭐⭐⭐ (40 reviews)
Kansai Plascon is another paint brand pushing the boundaries of painting your home and offering updated, modern colours that can make your home look incredible. Their colours are epic, the quality of the paint is outstanding, and their tints, shades, and tones are lovely and thought-through. So, if you like to be unique, Kansai Plascon is your paint brand.
Google Ranking: 4.5 ⭐⭐⭐⭐⭐ (12 reviews)
Royal Paints gets the job done and gets it done professionally and quickly. If you're looking for a paint brand with thousands of colours, Royal Paints is it. They do eggshell, white, and white primer. Plus, all their products are available in different container sizes.
The company is committed to manufacturing, marketing, and distributing coatings and paints that deliver the best product performance, even for big projects. So, Royal Paints is an excellent brand if you have a lot of painting to do and want paint that offers excellent coverage at a pocket-friendly price.
Google Ranking: 4.8 ⭐⭐⭐⭐⭐ (4 reviews)
Maroo Polymers is likely a paint brand that you're unfamiliar with. However, check them out. If you're looking for a modern paint scheme, Maroo Polymers probably has an elegant colour you'll love.
They make some lovely paint perfect for a very high-end finish in your home. Maroo Polymers can provide an elegant feel and look for feature walls or an entire space.
Google Ranking: 4.4 ⭐⭐⭐⭐ (8 reviews)
How do you pick the best wall paint for your beautiful home? Muthokinju is the right place! Plus, whether you wish to repaint your space or walls for the first time, you can always count on Muthokinju products.
They're wholesale of paints, adhesives, cement, and decorating sundries. Their decorative range consists of products used in factories, offices, and residential and public buildings for protection and decoration.
Google Ranking: 4.1 (97 reviews)
Frequently Asked Questions 
What is the Difference Between Gloss Paint and Semi-Gloss?
Gloss paint is a type of paint that's very reflective and has a high sheen. It's often used on cabinets, trim, and other areas that need to be cleaned regularly.
Semi-gloss paint is a type of paint that's still reflective but has a lower sheen. It's often used on doors and walls.
What Colour Should I Paint My Walls?
The best paint colour for your walls depends on your preferences and the existing style of your home. Consult a professional painter or interior designer if you're unsure what colour to paint your walls. Meanwhile, here are the most popular colour choices for wall paint:
A bold colour like yellow, orange, or red
Pastel colours like light pink or light blue
Neutral tones like beige, cream, or white
Dark shades like charcoal grey or navy blue
What Colour Should I Paint My Ceiling?
When painting your ceiling, you'll first need to match the colour of your walls so they're perfectly blended. Ideally, you'll want to use an airy and light colour. This helps make the room feel more open and larger.
With that in mind, white is a good pick for ceiling paint because it reflects the light and makes the room feel lively and bright.
If you like vibrant colour, consider using a pale yellow or pink. These colours will add some warmth to your room without being overpowering.
What Is The Best Finish For Interior Paint?
The best finish for interior paint depends on your needs and the room you're painting. For instance, if you're painting a kitchen or a bathroom, you may want a high gloss finish as it's easier to clean. If you paint a living room or a bedroom, you may want to use a matte or satin finish as it's more aesthetically pleasing.
Bottom Line
There you have it! The best ten paint brands in Kenya. It would be best to visit them to see the paint colours up close and in person. Selecting a paint brand is an investment in your space, and doing your research will help ensure you get a good ROI on your money and time.
Please follow and like us: