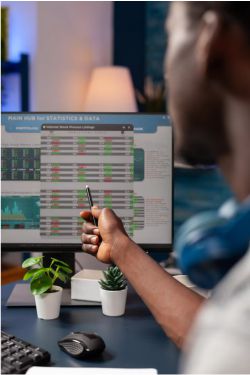 With the introduction of M-PESA, Kenya has been at the forefront of technological advancements in the financial sector.
Simultaneously, Forex trading has acquired traction in Kenya, providing an avenue for economic growth. This article examines the convergence of these two domains, focusing on how M-PESA facilitates Forex trading transactions in Kenya.
The Rise of Forex Trading in Kenya
As many Kenyans venture into this lucrative but volatile market, forex trading in Kenya has experienced phenomenal growth.
The allure of Forex trading stems from its accessibility, 24-hour operation, and potential for high returns. For Kenyan Forex traders, however, seamless transactions have been a difficulty. Here is where M-PESA comes into play.
Forex Trading in Kenya Using M-PESA
As we delve deeper into the world of Forex trading in Kenya, we discover a unique synergy that combines the strength of digital currency transactions with the global reach of Forex trading.
Integrating M-PESA, Kenya's premier mobile money service, with Forex trading platforms exemplifies this synergy. Below we will explore how forex trading in Kenya using M-PESA changes how Kenyan traders manage their funds.
M-PESA: A Game Changer in Forex Trading
M-PESA has been a game-changer in Kenya's financial landscape, offering a convenient, quick, and trustworthy method of money transmission. Its incorporation into Forex trading has simplified transactions, allowing traders to deposit and withdraw funds easily.
How to Use M-PESA for Forex Trading
You must have an active M-PESA account and a trading account with a Forex broker that accepts M-PESA remittances for Forex trading. Once these conditions are met, the procedure is straightforward.
How to Deposit Funds using M-PESA
Log into your Forex trading account.
Select the deposit funds option.
Select M-PESA as your payment method.
Enter the quantity you wish to deposit.
Enter your M-PESA PIN when prompted to authorize the transaction.
How to withdraw funds with M-PESA
Go to the withdrawal section of your trading platform.
Choose M-PESA as the withdrawal method.
Enter the desired amount.
The money will be withdrawn into your M-PESA account.
👉Open a Free Trading Account Now
Advantages of Using M-PESA for Forex Trading
Integration of M-PESA into Forex trading platforms has significantly altered how Kenyan traders manage their transactions. This combination of technology and finance offers numerous benefits, making Forex trading more accessible and effective. Here are some important benefits:
It offers unrivaled convenience by allowing traders to manage transactions from their mobile devices, eliminating the need for conventional banking methods.
The real-time processing of M-PESA transactions is a crucial advantage in the volatile Forex market, enabling traders to react swiftly to market changes.
M-PESA is renowned for its comprehensive security protocols, PIN-required transactions, and instantaneous confirmation messages.
Its extensive network coverage in Kenya enables access even in remote areas, making Forex trading available to a larger population.
The cost-effectiveness of M-PESA, with transaction fees that are frequently lower than those of conventional banks, makes it an attractive option for traders, particularly those with modest capital.
M-PESA's automatic record-keeping function facilitates the monitoring of trading expenses and profits, which is advantageous for tax and financial planning.
Our Final Thoughts
M-PESA's incorporation into Forex trading in Kenya exemplifies the transformative potential of financial technology.
It has facilitated transactions and increased the average Kenyan's access to Forex trading.  Furthermore, as M-PESA develops, we anticipate revolutionary Kenyan Forex trading landscape changes.
However, while forex trading in Kenya using M-PESA in Kenya simplifies the transaction process, it is crucial to remember that trading is a high-risk venture that necessitates a comprehensive understanding of the market.
Therefore, we urge Kenyan traders to invest time in learning about Forex trading and formulating effective trading strategies to navigate this dynamic market successfully.
Please follow and like us: