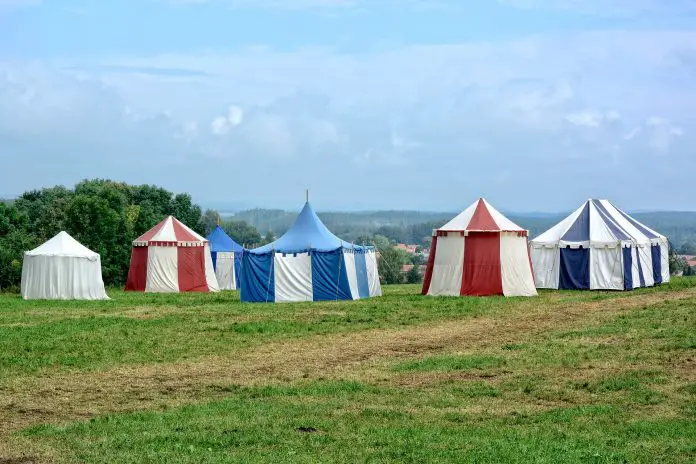 Tent-making companies manufacture, supply, and lend tents, tent equipment, and products. For example, if you have an event coming up, you need some tents to host your guest. Also, camping sites buy tents for their camping services.
There are different types of tents, including dome, cheese, hexagonal, canopies, and marquee tents. The tent-making companies in Kenya sell or hire them at an affordable cost. So to have the kind of tent that suits your need, you can work with these companies in Kenya.
Reputable Tent Making Companies in Kenya
Tent Making Company
Types of Tents
Contact
Location
Aquilla Tent Makers
Camping tents & shelters

Party tents

Unique tents

info@aquillatentmakers.com

+254 720 947408/ +254 738 287739

Kaloleni-Jogoo Rd, Nairobi
Luke Tents
Relief tents

Storage tents

Exhibition tents

info@luketents.co.ke

+254 713 361577

Ladhies Rd, Nairobi

 

Kenya Tents Ltd
Marquees

Isolation tents

Lodge tent

enquiries@kenyatents.com

+254 722 364844/ 020 2317984/6/7

Ruiru-Kamiti Rd, next to Tatu City.
Rockstar Tent Makers
Shade sails

Umbrella tents

Car parking shades

info@rockstartentmakers.com

+254 704 337736

Nairobi
Alma Tent Solutions
Garden umbrellas

Wedding/party tents

info@almatents.co.ke

+254 714 244242

Kiambere Rd, Upperhill, Nairobi
Shade Systems
Car parking shades

Camping tents

Luxury tent

Stretch tent

info@shadesystems.co.ke

+254 714 244242/ +254 725 702022

Kiambere Rd, Upperhill, Nairobi
Tarpo Industries
Accommodation tents

Event tents

Car shades

Tarpaulins

+254 722 204747/ +254 20 3561111/ +254 733 958400
Tarpo Building Road C, Industrial Area, Nairobi
Tent Technologies Kenya
Gazebo

Canopies

Car covers

Car shades

info@tenttechnologykenya.com

+254 722 419101/ +254 724 065159

Along Ladhies Rd, Nairobi

Jogoo Rd, Nairobi

Changamwe, Mombasa

Chogoria, Tharaka-Nithi

Kenya Canvas Ltd
Leisure tents

Party tents

Canvas

+254 710 875102

020 343262

Biashara Street, Nairobi
Golden Tent Makers
Promotional tents

Wedding tents

Canopies

Personal tents

+254 723 109681
Jogoo Rd, Nairobi
List of Tent Making Companies in Kenya
Aquilla provides tent manufacturing, fabrication, and installation services. Besides, you can get all kinds of tents, including a church, car park shade, family, camping, military, and events tents. Also, Aquilla has marquees, customized, school fabric and flat tents.
The tents are not only durable but also affordable. If you are looking for tents for sale in Nairobi, Aquilla is the solution. Finally, you can pay a visit to the tent-making company at Kaloleni-Jogoo Road in Nairobi.
Are you searching for gazebo tents for sale in Kenya? Luke tents have the best quality. The company designs, manufacture, fabricate and install them at a pocket-friendly price. Besides, you can high mobile tents and marquee when you have an event.
The tent-making company has other types of tents, including peak, garden umbrellas, car shades, camping, and flat. Besides, they have an office in Nairobi. Lastly, the office is open from Monday to Saturday between 9 am to 5 pm.
3. Kenya Tents Ltd
For more than 40 years, Kenya Tent Ltd has been manufacturing cotton canvas, tents, and fabric structures. Besides, they have served over 2,000 clients, including Kenya Forest Service, Kenyatta University, Safaricom, Ministry of Defense, and the United Nations.
The tent-making company has more than 100 professionals. Besides, it has more than 50 designs you can choose from for your tent. If you want high-quality vehicle covers, hospital tents, or marquees, visit Kenta Tent Ltd.
The tent-making company manufactures and supplies tents across Kenya. When it comes to car shade, the company designs, fabricate, supply and installs them to suit your home, office, school, hospital, or car shade needs. As a result, you can retain the value of your vehicle with Rockstar car shades.
You can also purchase eye-catching sail awnings. They are made with cutting-edge nautical technology to make them unique. They are made of stainless steel, Tempotest Star resin-treated polyester canvas, and Dacron and anodized aluminum for durability. Finally, the tent-making company has an umbrella, vehicle covers, and wedding tents.
5. Alma Tent Solution
Alma Tent Solution provides all types of canopy tents in Kenya and other East African countries. When making the shades, the company ensures it meets all the requirements. You can either buy or hire the Alma tents.
The tent-making company manufactures quality exhibition and activation gazebos. They have a team of tent-making professionals who are dedicated to their work. Besides, their price is competitive, and they deliver on time.
It was established in 2007 to provide a variety of shade solutions. The tent-making company manufactures marquees, restaurant canopies, lorry tarpaulins, swimming pool tents, and garden umbrellas. You can also get shade sails, retractable awnings, car and balcony covers from Shade Systems Kenya.
Shade System is located in Upperhill, Nairobi. Some of its clients include Fresha and NASSEFU Sacco Society Ltd. The company designs garden umbrellas in different styles and shapes, including square, rectangular and octagonal.
It is the leading provider of accommodation, events, and party tents. Therefore, if you are looking for dome-shaped tents in Kenya for your wedding, look no further. Also, you can access car shades, tarpaulins, soft roof shelter, and sail shades from Tarpo Industries.
Tarpo serves all industries, including mining, hospitality, NGOs, military, and disaster relief. Besides, the tent-making company is not only found in Kenya but also in Uganda and Tanzania.
Tent Technologies provides fully branded tents in Kenya. It also manufactures canopies, car shades and covers, marquees, garden umbrellas, and swimming pool tents.
Cocacola, African Inland Mission, and Safaricom are some of the tent-making company clients. You can find them in Nairobi, Mombasa, and Tharaka-Nithi County.
9. Kenya Canvas Ltd
The tent-making company has African-styled tents and canvas that suits your need. To make them durable, the company pins them down on a well-prepared floor that is either wooden or cemented.
The Kenya Canvas sells and hires their tents at an affordable price. If you have an occasion, you can invite them to provide you with your color choice's tents.
10. Golden Tent Making Company 
Golden is one of the leading tent makers in Kenya. The company provides wedding, personal and promotional tents. Also, you can get canopies. The tent-making company deliveries the tents to your doorstep and install them on request.
FAQs on the Best Tent Making Companies in Kenya
What are canvas tent prices in Kenya?
The price for canvas tents varies from one tent-making company to another. This is due to the materials used, cost of labor, among other things. You can get cheap yet high-quality canvas tents from Aquilla Tent Makers, Kenya Canvas Ltd, and Kenya Tents Ltd.
How much does a camping tent cost?
Different tent-making companies sell their camping tents at different prices. For example, if you are looking for a camping tent in Kenya, you can get 2-4 people camping tents below Ksh. 10,000 from well-known tentmakers.
How do I buy a tent?                                        
Before you purchase a tent, there are several things you should put into consideration. They include;
The use of the tent
The size of the tent
The weight of the tent which is affected by the material
Its storage
Durability
What are the different types of tents?                    
Tent-making companies in Kenya make a variety of tents. Some types include;
Dome tent
Multi-room tent
Teepee tent
A-Frame tent
Tunnel tent
Where can I get tent makers in Nairobi?        
Nairobi hosts numerous tent makers where you can get quality and affordable tents. Some of the tentmakers within Nairobi include;
Royal Tent Makers along Kangundo Rd
Tent technologies Kenya Ltd along Ladhies Rd
Golden Tent Makers in Embakasi South
Blessing Tent Makers along Jogoo Rd
Shade Systems (EA) Ltd in Upperhill.
Please follow and like us: