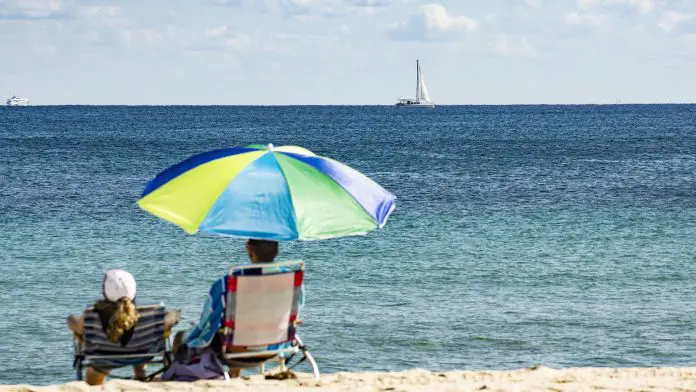 Are you about to tie the knot with your partner, and are you thinking about the best honeymoon destination in Kenya? Kenya has unique honeymoon destinations with privacy, romantic settings, sand beaches with clear water, and luxurious beds. Therefore, you don't have to travel to the end of the world to have a memorable honeymoon time.
You can choose to have a beach or safari honeymoon package. Besides, they suit everyone's pocket and taste. Let's look at some of the unforgettable honeymoon destinations in Kenya.
Memorable Honeymoon Destinations in Kenya
Honeymoon Destinations
Activities
Contact
Location
Baobab Beach Resort and Spa
Swimming

Sports such as tennis

Shuffling

reservations@baobaba-beach-resort.com

+254 709 154000/ +254 733 333303

Diani Beach Rd, Mombasa
Anga Afrika Luxury Boutique Camp
Bird watching

Safaris to Nairobi National Park

info@angaafrika.com

+254 759 607832

Rhino Park Close, Nairobi
Saruni Samburu
Game drives

Samburu culture activities

reservationsteam@sarunu.com

+254 735 950903

Kalama Conservancy, Samburu
Fairmont Mount Kenya Safari Club
Golfing

Horse riding

Kenya.reservations@fairmont.com

+254 62 2036000

Mount Kenya, Nanyuki, Nairobi
Hemingways Watamu
Fishing

Indian Ocean viewing

Reservations.watamu@hemingways.com

+254 709 188000

Watamu Marine National park, Watamu
The Sands of Chale Islands
Water sporting

Boat excursions

info@thesandsatchaleisland.com

+254 725 546879

Chale Island, Mombasa
Naibor Camp
Bush meals & sundowners

Hot air ballooning

+254 20 2679594/ +254 729 406582
Maasai Mara National Reserve
Sarova Shaba Game Lodge
Swimming

Nature walks

+254 709 111000
Shaba Game Reserve, Samburu
Sandies Tropical Village
Tsavo safari

Excursions

Info.tropical@sandies-resorts.com

+254 720 607075/ +254 735 955666

Casuarina Rd, Malindi, Kenya
Ol Tukia Lodge
Game drives

Bird walks

+254 706 612070
Amboseli National park
List of Honeymoon Destinations in Kenya
It is one of the best honeymoon destinations in the world. It is located on Diani beach, providing a clear view of the Indian Ocean. When it comes to Baobab guestrooms, they provide comfort and luxury as you would wish.
Are you a fan of seafood? The honeymoon destination dining facility provides fresh seafood from the Indian Ocean. Besides, it provides a variety of international and traditional cuisines.
Are you looking for one of the best honeymoon destinations in Nairobi? Search no further because Anga Afrika Camp has got you. It has six luxury tents that provide a serene environment. Besides, you will enjoy sweet melodies from the bird on the trees.
The camp offers honeymoon packages in Nairobi at a pocket-friendly price. It only costs Ksh. 35,500 for full board service in the deluxe tents. Besides, you can swim in their heated, clean swimming pool.
It is a honeymoon destination that provides a beautiful view of Mount Kenya and Kalama Conservancy. Besides, it has six lavish villas that are open and spacious to provide a relaxing environment after the hustle and bustle of making your wedding a success.
If you love wildlife, Saruni Samburu is a perfect honeymoon destination for you. This is because it sits on a 200,000 acres wilderness that hosts wild animals. Besides, you will have the Samburu warriors guide you during your safari.
The architectural design of Fairmont Safari Club reflects the 1950s colonial days, complemented by beautiful cottages. As one of the best honeymoon destinations in Nanyuki, Fairmont has 110 opulent villas and hotel rooms.
Besides, it offers outdoor activities that allow the two of you to bond. You can enjoy golf on the Equator, horse riding in the forest, and visiting the animal orphanage. Finally, you can access concierge, fast internet, and laundry services within this honeymoon destination.
Hemingways Watamu is a five-star beach hotel in the middle of Watamu Marine National Park. You can book on your own or hook up with Bonfire Adventures for your memorable honeymoon packages.
The rooms at Hemingway's provides the Indian Ocean view. Besides, you can easily access the beach and the botanical pool. You can get to this honeymoon destination through Moi International Airport in Mombasa from Nairobi.
It is one of the best honeymoon hotels in Kenya. Besides, it is the only individual resort Island in the whole country. It provides a white sand beach that is good for sunbathing. Besides, the honeymoon destination is open all year for bookings.
You can enjoy magical spa services and boat excursion activities inside Chale Island. Also, the hotel can organize a trip to the Diani Beach Shopping Center or the famous Nomad Beach Bar. Lastly, there are various watersport activities such as kayaking, game fishing, and beach snorkeling.
Naibor is a Maasai word meaning space. It is a luxurious tent located in the heart of Maasai Mara National Reserve and along the banks of the Talek River. It offers a beautiful environment to enjoy flora and fauna in Maasai Mara.
The honeymoon destination provides canvas tents for accommodation. They have king-sized beds, en-suite bathrooms, and sofas with bolster cushions. Also, it has a tent with a warm fireplace facing the river where you can see hippos.
It is one of the honeymoon destinations for couples on a budget in Kenya. It is inside Shaba Game Reserve in the east of Samburu. Besides, it lies along the banks of the Ewaso Nyiro River.
The honeymoon destination provides a free-form swimming pool, a fish pond, and a mini indigenous forest. You can get to Sarova Shaba Game Lodge through a 45 minutes flight from Nairobi or five hour's picturesque drive through the curving Mt. Kenya roads.
It is a resort in Malindi along the Indian Ocean. It brings out traditional architecture with modern comfort.   Besides, the honeymoon destination has 51 accommodation facilities, two restaurants, and 3 bars. You can book directly on their site or through your best tour agency in Kenya.
When you choose a honeymoon package at Sandies Tropical Village, you will have flowers in your room on arrival. Also, a basket of fruits and a bottle of wine will be available. Lastly, you will receive a 20% discount on the Mvua African Rain Spa.
10. Ol Tukia Lodge
It is in the heart of Amboseli National Park. Besides, it provided one of the best Bonfire Adventure honeymoon packages in 2020. Ol Tukia Lodge provides the best spots to see elephants.
Also, the honeymoon destination provides a beautiful view of Mt. Kilimanjaro. You will enjoy game drives, cultural lectures, and Maasai dancing from Ol Tukai Lodge.
Frequently Asked Questions about Honeymoon Destinations in Kenya
Which are the best places to visit in Kenya for a honeymoon?
Kenya is full of beautiful places where you can enjoy your honeymoon. The places you can't miss out on during your honeymoon vacation are Baobab Beach Resort and Spa, Saruni Samburu, and Heming ways Watamu.
Which are the cheapest honeymoon destinations in Kenya?
You can still afford a honeymoon package in Kenya when on a tight budget. Fairmont Mount Kenya Safari Club, Sarova Shaba Game Lodge, Ol Tukia Lodge, and Alfajiri Villas offer the cheapest honeymoon destination packages.
Which is the best time to go on a honeymoon in Kenya?                                                             
The best period to be on a honeymoon in Kenya is between July and September since the weather is dry. As a result, you can enjoy sunbathing at the coastal beaches and other major tourist attractions easily.
Which are the most romantic restaurants for your honeymoon in Kenya?
If you want to enjoy a romantic dinner, lunch, or breakfast with your spouse in Kenya, visit About Thyme Restaurant, Talisman Restaurant, Seven Seafood and Grill, and Tamambo Karen Blixen Restaurant.
Is Kenya safe for a honeymoon vacation?
Yes, Kenya is a safe honeymoon destination with tight security on the borders. You will have a peaceful holiday with your bae.
Please follow and like us: