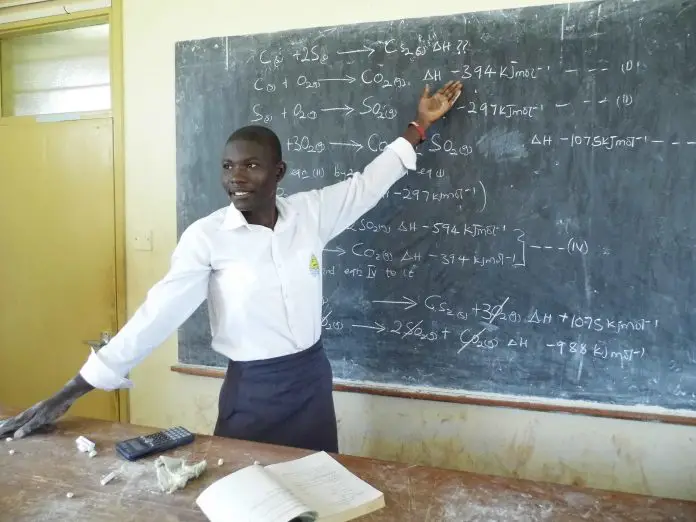 By 2019, public secondary schools in Kenya had 105,200 teachers. Teachers in secondary schools teach different subjects, and mostly, a teacher should teach two subjects. According to the Kenya Secondary Schools Heads Association, teachers with the most marketable TSC subject combinations are the ones who graduated with science, mathematics, or technical subjects.
On the other hand, teachers who did History, CRE, Kiswahili, and other humanities have flooded the market. Secondary schools in Kenya are struggling to fill these TSC subject combination vacancies. Therefore, when you pursue a degree or diploma in these subjects, you stand a chance to get TSC employment quickly.  
The Best TSC Subject Combinations
| | | |
| --- | --- | --- |
| TSC Subject Combination | Duration to get TSC Employment | Other Opportunities Besides TSC Employment |
| Physics/ Mathematics | Less than 1 year-2 years | Homeschooling |
| Chemistry/ Physics | 1-2 years | Homeschooling |
| Chemistry/ Mathematics | 1-3 years | Homeschooling |
| Biology/ Agriculture | 1-2 years | Agriculture |
| French/ Any Subject | 1-2 years | Translation |
| Chemistry/ Biology | 2-3 years | Homeschooling |
| Geography/ Arts& Design | 1-3 years | Art & Design |
| Biology/ Mathematics | 2-3 years | Homeschooling |
| Home Science/ Any Subject | 1-3 years | Homemaking Cooking |
| Computer Studies/ Any Subject | 1-2 years | Cyber business |
List of the Most Marketable TSC Subject Combinations
1. Physics and Mathematics
It is one of the subject combinations for university courses in Kenya. Physics and Math graduates are a hot cake in the education industry in Kenya. This is because it is a rare subject combination that students take in the university.
To pursue this TSC subject combination, you need to have achieved at least a C+ in KCSE for Physics and Mathematics. Also, a passion to teach is a personal requirement to deliver in school.
2. Chemistry and Physics
Chemistry/ Physics is a demanding TSC subject combination across Kenyan Secondary schools. Young people securing positions in universities and colleges to pursue education hesitate to take this combination.
The UON School of Education offers opportunities for students to pursue this subject combination. Pursuing this course requires only a C+ and above in KCSE for your Chemistry and Physics. After graduating, you can secure a TSC job after one or two years. 
3. Chemistry and Mathematics 
Most teachers fear calculations and do not go for Chemistry/Math TSC subject combination. As a result, Kenya has few students with this combination in universities and colleges. Also, 2019 graduates with these subject combinations are securing TSC jobs across the country.
If you get a chance to pursue a bachelor of education science at the university, you can select the Chemistry and Math subject combination. It is one of the best opportunities to enjoy lucrative government jobs in Kenya.
4. Biology and Agriculture
It is a TSC-approved subject combination in 2018. You can easily land a TSC job shortly after your graduation. Besides teaching, the TSC subject combination can allow you to work in other fields.
Some Biology/Agriculture graduates have secured jobs in agriculture industries like KARI. Also, you can employ yourself through farming. You can look for land and plant profitable crops to supply to the market. It is possible to make millions of money through crop farming.
5. French and Any Subject
French is one of the foreign languages taught in secondary schools, and teachers are in short supply. You can take French with subjects like Kiswahili and English. You will stand an opportunity to get employment through the Teacher Service Commission after 1-2 years of graduation.
Primary private schools in Kenya are also searching for graduates with this TSC subject combination to teach French. Besides, you can land translation jobs when you are a French graduate.
6. Chemistry and Biology
Any subject combination that goes with chemistry is among the most marketable TSC subject combinations. This is because you can only pursue chemistry with physics, biology, or mathematics.
Therefore, you can join Kenyatta University to take the subject combination if you want to start enjoying TSC salary early. Also, the subjects offer the best opportunities for tutoring during the school holidays and weekdays. You can do homeschooling during such periods and earn extra cash.
7. Geography and Art & Design
Most teachers are hesitant to take a combination with Geography due to its complexity. Also, in schools, Geography is not for faint-hearted students. Most drop it if it is an optional subject.
When it comes to Art & Design, only a few understand its opportunities in the education sector and other fields. Therefore, the TSC subject combination is a good deal. If you took Geography and Arts& Design in high school and managed to get a C+ and above, you can go for the course.
8. Biology and Mathematics
Over the years, most students get cut off from enrolling in Biology/Mathematics subject combination in teaching. This is because they did not manage to score a C+ and above in these subjects.
Hence, if you are lucky enough to be a Biology and Math guru in high school, you can take advantage of the opportunity. The degree qualification will lead you to a TSC job quickly after graduating. Besides, Biology and Mathematics are some of the most tutored subjects in Kenya. Therefore, you can tutor students during the school holidays. 
9. Home Science and Any Subject
Home Science and any other subject combination is also a marketable TSC opportunity. Besides, you can go for the course even if you did not take Home Science in secondary school. You only need to have scored a C+ and above in Biology.
The TSC subject combination is also essential for home skills. You learn skills like cooking, stitching clothes, cleaning, and making your home. For sure, it is one of the best deals to go for at the university or college.
10. Computer Studies and Any Subject
In this era of ICT and NEMIS integration in schools, Computer Studies teachers are a hot cake. Secondary and private primary schools are after this TSC subject combination at a high rate.
Also, Computer Studies teachers venture into businesses like cyber cafes. This is because they have the skills to run computer operations. Hence, if you took computer studies in secondary school and passed, you can take advantage of the opportunity.
Please follow and like us: