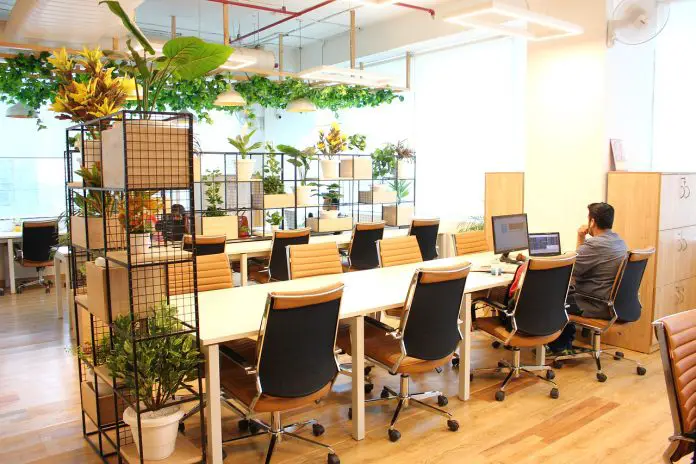 Kenya is becoming a home for more freelancers, startup business owners, and entrepreneurs as the world evolve. As a result, the demand for coworking spaces is rising. According to coworking booking, Nairobi hosts over 35 shared offices, and more are opening outside the city.
And what is co-working space meaning? It is a shared workspace where different people rent to carry out their work duties depending on their budget and business needs. It provides an interactive environment where you can learn and collaborate with other business owners.
If you are searching for such a working environment, here are the best coworking offices in Kenya.
Related: The Most Reliable Office & Home Delivery Companies in Kenya
Coworking Space
Pricing
Location
Contact
Diba Studios Co-working Space
Team package – Kshs. 46,000+VAT per month

Dedicated Individual package – Kshs. 16,200+VAT per month.

Shared Individual package- Kshs. 13,000+VAT per month

Dennis Pritt Road, Kilimani, Nairobi.
sales@dibastudio.co.ke

+254758662225

www.dibastudio.co.ke

Nairobi Garage
Dedicated desk – Ksh. 25,000 per month

Club space- Ksh. 11,000 per month

Meeting rooms- Ksh. 2,000 per hour

Waiyaki Way, Westlands, Nairobi

Gen. Mathenege, Spring Valley, Nairobi

Ngong Rd, Kilimani, Nairobi

Ndege Rd, Karen, Nairobi

join@nairobigarage.com

+254 755 556955/ +254 708 556955

The Mint Hub
Standard desk package- Ksh. 25,000 per month

Shared private office package- Ksh. 30,000 per month

Virtual office package- Ksh. 12,000 per month

Day pass package- Ksh. 2,000

Karuna Rd, Westlands, Nairobi
team@theminthub.com

+254 796 752502

The Twig Cowork Limited
Private office package- Ksh. 30,000 per month

Dedicated package- Ksh. 20,000 per month

Day pass package- Ksh. 2,500

West End Towers, Waiyaki Way, Nairobi
info@twigcowork.com

+254 20 4214100

Ikigai Coworking Space
Daily membership- Ksh. 2,000

Dedicated desk membership- Ksh. 25,000 per month

Communal membership- Ksh. 20,000 per month

James Gichuru Rd, Lavington, Nairobi

Riverside Rd, Riverside, Nairobi

lavington@ikigai.co.ke

+254 768 376408

+254 748 602 731

Gaze Spaces
As per request on a daily, weekly, monthly, and quarterly basis
KMA Center, Upperhill, Nairobi
+254 785 019238
Kofisi Africa
Dedicated desk- Ksh. 25,000 per month

Flexible desk- Ksh. 15,000 per month

Keystone Park, Riverside, Nairobi
info@kofisi.africa

 

 

 

Stephen Freelance
Dedicated desk- Ksh. 3,000 per month

Day Pass- Ksh. 200

Weekly Package- Ksh. 1,000

Sifa Dent Building, Mwiki Town, Kasarani
+254 746 067760
iHit Kenya
Individual package- Ksh. 13,000 per month

Team package- Ksh. 46,000 per month

Day pass- Ksh. 1,500

Dennis Pritt Rd, Kilimani, Nairobi
info@ihit.co.ke

+254 786 746476

Workable Nairobi
Price upon request
Sanlam Tower, Waiyaki Way, Nairobi
hello@workable.space

+254 709 324000

The Foundry Africa
Dedicated desk- Ksh. 20,000 per month
Nelleon Place, Rhapta Rd, Westlands

Viking House, Waiyaki Way

+254 792 651071
List of Coworking Spaces in Kenya
Located in Kilimani, Nairobi, Diba Studios co-working spaces offer entrepreneurs, freelancers, and small business owners a professional environment to work and network with like-minded individuals. You can get their conference halls, which are equipped with state-of-the-art technology. This makes the facility perfect for hosting seminars, workshops, and large-scale events.
The beautiful and serene garden transforms the working space into a peaceful haven where you can get maximum concentration and optimum productivity. Diba Studios Twin package for 2 people goes for Kshs. 25,000 +VAT per month. They also have day passes going for Kshs. 1,500 per person per day.
Nairobi Garage is one of the top coworking spaces with branches in Karen, Kilimani, Westlands, and Spring Valley. You can rent a private office, a fixed desk or an open seat. The pricing ranges from Ksh. 11,000 per month for the club space and Ksh. 25,000 for a dedicated desk.
The facility offers a tea and coffee bar, communal lounge, high-speed internet, and a members' kitchen. If you want presentation equipment for your business project, you can also get them.
It is one of the most affordable coworking spaces designed to offer a comfortable work environment. Members enjoy amenities such as filtered drinking water, high-speed internet, receptionist services, skype booths, and cleaning and security services.
The Minthub prices range from Ksh. 10,000 for a virtual office package and Ksh. 20,000 per month for a standard desk package. You can also join the membership club, which costs Ksh. 10,000.
The Twig workspace is a perfect workplace for freelancers and founders. It provides meeting rooms where business owners can meet with their clients. Besides, you can enjoy tea or coffee to rejuvenate after some work hours.
The offices are connected to the fast internet to help you complete your duties on time. Also, they are available within the facility if you want printing services. The charges are from Ksh. 2,500 per day.
It is one of the best workspace solutions in Nairobi that focuses on providing a working environment and the holistic well-being of its members. As a result, it offers a meditation and prayer room, a mother's room, and complimentary yoga sessions.
Ikigai coworking space has four locations in Nairobi that are accessible 24/7. The prices range from Ksh. 2,000 per day and Ksh. 25,000 per month for a dedicated desk membership.
6. Gaze Space
It is an accessible coworking space located in Upper Hill, Nairobi. If you want a meeting room, private office, or coworking space, Gaze Space is the place for you. The facility provides free drinking water, coffee, and tea. Besides, there is a restaurant on site where you can buy food and snacks.
Therefore, if you are looking for a coworking space near me, you can check out Gaze. The offices are open from Monday to Friday from 8 AM to 5 PM. However, members can access it 24/7.
It is one of the coworking spaces in Nairobi CBD. You can access it 24/7 and enjoy high-speed internet, clean working space, complimentary refreshments, and storage spaces. In case of power loss, Kofisi Africa provides a power backup to ensure you meet your daily targets.
A dedicated office costs about Ksh. 25,000 per month, while a flexible one goes for Ksh. 15,000 per month. Once you become a member, you can access all the 5 Kofisi Africa offices in Nairobi.
8. Stephen Freelance
Stephen Freelance has got you if you reside in Kasarani and its environs. It is an affordable coworking office space in Nairobi for freelancers and small business owners. It provides an environment where you can mingle with other professionals and exchange business ideas.
The coworking space provides a clean working environment, fast internet, and refreshments. The charges start from as low as Ksh. 3000 per month or Ksh. 200 per day.
iHit Kenya is a modern coworking space that accommodates startup owners, freelancers, and companies that need privacy. Its Dibas Studios space has fast blazing internet, a lounge, and elegant boardrooms. You can book a team, individual, or day pass package.
The team package goes for Ksh. 46,000 per month. The individual package costs Ksh. 13,000 per month, while the day pass package goes for Ksh. 1,500. You can also book a private office.
It is a coworking space in Westlands, Nairobi, with 24/7 access for members. It offers spacious office spaces with modern decor to light up your working mood. You can access sound insulation, individual temperature control, and electric sit/ stand desks while enjoying the stunning working environment.
Workable Nairobi also provides amenities such as free coffee/tea, high-speed internet, concierge services, receptionist services, and a coffee lounge. The prices depend on your request.
11. The Foundry Africa
The Foundry Africa is a shared office space that promotes networking, business growth, and creativity. If you are a freelancer or a founder, you can book this space to take your business to the next level. The charges range from Ksh. 20,000 per month.
Apart from the coworking space, you will access the parking lot and complimentary coffee/ tea. Besides, the space has a fantastic office view that facilitates peace of mind as you work on your projects. Finally, there are meeting spaces plus printing and photocopy services.
Please follow and like us: