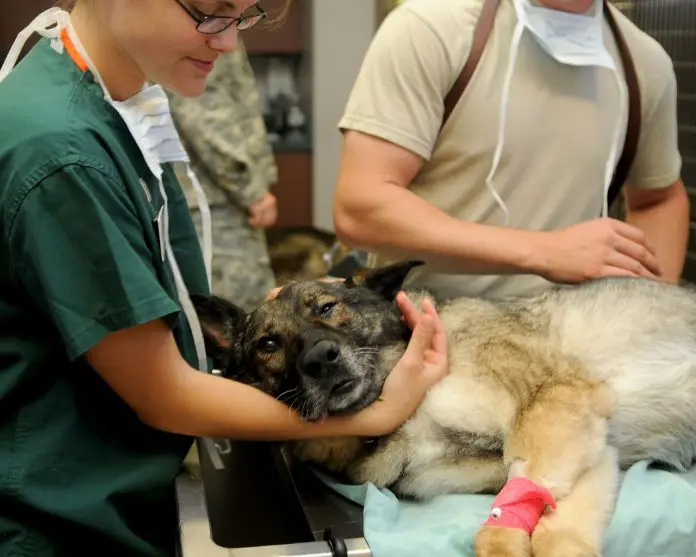 There is no denying, pets add value to our lives. Hence, these companion animals require special attention, like how you care for yourself. And since you are not an animal health professional, you need the help of pet veterinarians because they understand animals better.
Pet vets provide a range of animal health management and clinical services. They help in pet training, grooming, artificial insemination, disease control, and treatment. They also provide consultancy services.
If you are searching for the best pet veterinaries in Nairobi, we have compiled a list for you. Stay tuned!
Related: The Best Online Pharmacies in Kenya
The Top Pet Vets in Nairobi
Pet Veterinarians
Products & Services
Location
Contact
The Andys Veterinary Clinics

Medicine & wellness care
Dentistry
Veterinary pharmacy
Pet and equine travel
Ambulatory services

Ngong Rd, Next to Meteorological Department, Nairobi
info@andyvet.co.ke

+254 202 044 155

+254 722 752 182

Poseidon Veterinary Clinic

Veterinary services
Ambulatory services
Pet grooming
Pet Boarding
Aquarium construction

Mai Mahiu Rd opp. Magharibi Place, Nairobi
info@poseidonvet.com

+254 721 797 097

+254 722 699 921

Nairobi Small & Companion Animal Hospital

Emergency care
Internal medicine
Education
Digital radiology
Flea & heartworm preventive

Kiambu Rd opp. KIST, Nairobi
info@nascah.co.ke

+254 722 356 780

+254 788 356 780

Jakaranda Veterinary Clinic & Surgery

Spay and neuter
Artificial insemination
Dental care
Radiology
Import & export

Rhapta Rd, Westlands, Nairobi
jacarandavetclinic@gmail.com

+254 720 486797

Rwaj Veterinary Clinic

Pet foods, accessories, treats
Disease diagnosis and treatment
Boarding
Microchipping
Surgeries

Off Rabai Rd, Nairobi
info@rwajvetclinic.co.ke

+254 705 575 744

Cockar Veterinary Clinic

Digital radiography
Vaccination
Dentistry
boarding
Pet consultations

Rosslyn Lone Tree Estate Rd, Nairobi
cockarvet@cockarvet.co.ke

+254 733 666 447

+254 733 666 448

The Royal Pets

Live pets
Pet supplies for dogs, birds, cats, and fish
Pet services such as pet grooming, boarding and training

Geoffrey Luruti Rd, 1st N Ave, Nairobi
royalpets254@gmail.com

+254 1110 064 555

Sarit Vets Clinic

Emergency care
Pet grooming
Treatment

Sarit Centre, Westlands
saritvet@gmail.com

+254 711 654 615

Four Paws Veterinary Clinic

Veterinary ambulatory
House/ farm visitation
Hospitalization services

Lower Kabete Rd, Nairobi
fourpawsvetclinics@gmail.com

+254 722 103390

Nairobi Veterinary Centre

Animal health products such as foods, farm appliances, pet care, surgical equipment, and drugs
Animal health services such as vaccination, artificial insemination, and veterinary consultation

Development House, Tom Mboya Street, Nairobi
vetinfo@nairobivet.co.ke

+254 729 852658
List of the Best Pet Veterinarians in Nairobi
It is a mixed veterinary hospital offering services in Nairobi, Mombasa, and Nanyuki. The clinic is known for its diagnostic and surgery services with the help of senior veterinarian doctors. As a result, you can get 24-hour emergency pet care, surgery and rehabilitation care, pet and equine travel, and a vet pharmacy.
If you have a question, a doctor is on call for 24 hours to respond. Besides, the hospitalized patients receive round-the-clock nursing care.
Google Rating: 4.2 ⭐⭐⭐⭐⭐ (222 Reviews)
Poseidon Veterinary Clinic Nairobi is an animal practice hospital providing various clinical and health management services. You can get medical consultations, laboratory, and mobile vet services. They also offer pet grooming, training, and RFID dog-tagging services.
The pet veterinarians ensure you get the ongoing professional and personalized care you and your pets deserve. Also, if you want to purchase a pet, they help in pet procurement and the construction of aquariums.
Google Rating: 4.4 ⭐⭐⭐⭐ (98 Reviews)
As their theme states: your pet, our passion; NASCAH is dedicated to providing exceptional and personalized services. The professionals offer veterinary services, ambulance services, internal medicine, pet education, and emergency care. Also, you can access dentistry services and flea & heartworm preventive services.
If you are looking for the best vets in Nairobi, NASCAH is the place for them. You can also get consultation services from verified doctors daily from 7 A.M. to 7 P.M.
Google Rating: 3.9 ⭐⭐⭐⭐ (162 Reviews)
Jakaranda Clinic has highly trained and motivated pet veterinarians who aim to enhance your companion animal's growth, well-being, and health. They provide high-quality routine, preventive, and critical care to your pet with the highest standards in vet medicine.
The facility has two branches; one in Westlands and the other one in Thika. They have four departments, and over the years, they have served more than 1000 patients.
Google Rating: 4.6 ⭐⭐⭐⭐⭐ (82 Reviews)
5. Rwaj Veterinary Clinic
It is one of the clinics with the most affordable vets in Nairobi. You can visit them for pet vaccination, flea & tick control, disease diagnosis, and treatment. They also help in microchipping and surgery.
To access their services, you can book an appointment. Also, if you need any animal welfare and health consultation, Rwaj professionals will help you.
Google Rating: 4.3 ⭐⭐⭐⭐ (66 Reviews)
Dr. Z.A. Cockar is the man behind Cockar Veterinary Clinic and has more than 30 years of experience in the pet industry. With his team, they offer general surgery, vaccination, spay and neuter, boarding, and dentistry services.
The clinic invests in quality machines to provide the best veterinary services in Kenya. Sometimes, they go the extra mile by investing in international standards to offer the best care to your companion animal. You can visit the clinic for consultation from Monday to Friday, 9 AM to 11.30 AM, and 4 PM to 6 PM.
Google Rating: 4.7 ⭐⭐⭐⭐⭐ (45 Reviews)
The Royal Pets is one of the veterinary shops in Nairobi. You can purchase supplies for your cat, dog, fish, bird, and other small pets. Besides, you can get vet medicines from the pharmacy. Delivery is done within 48 hours maximum after making an order.
Apart from the supplies, you can also access pet grooming, pet boarding, and dog training services. They also help in sourcing pets. For example, if you want a bird, you can contact them and tell them the kind of bird you want, and they will assist you in finding one.
Google Rating: 4.5 ⭐⭐⭐⭐⭐ (351 Reviews)
8. Sarit Vet Clinic
It is a veterinary clinic that has been around for a long time. Their experienced pet veterinarians help your companion animal live life to the fullest. You can access pet grooming, vaccination, treatment, and emergency care services.
They also do house visits from Monday to Saturday on booking. The Sarit Vet Clinic offices are open Mondays to Saturdays from 9 AM to 6 PM and Sundays from 10 AM to 1 PM.
Google Rating: 4.8 ⭐⭐⭐⭐⭐ (18 Reviews)
Four Paws Veterinary Clinic is a full-service clinic where professionals adore their animal friends and understand the value these animals bring to life. As a result, they take time to educate you on how to take care of your pet and provide them with the best care possible.
You can get veterinary ambulatory, house/farm visitations in the Nairobi area, and hospitalization services for your pet. They also provide informative content on their Facebook page, such as pet insurance.
Google Rating: 4.8 ⭐⭐⭐⭐⭐ (4 Reviews)
If you are searching for a vet near me, Nairobi Veterinary Centre has them. They are just a call away; you can contact them for pet drugs and supplies. They sell all drugs for Veterinary use, farm appliances, pet care products, surgical instruments, and breeding equipment. You can also get dog, fish, and chicken food.
The pet vets provide vaccination, artificial insemination, health management, and veterinary consultation services. They have four branches across Kenya: Nairobi, Machakos, Nyeri, and Nakuru.
Google Rating: 4.2 ⭐⭐⭐⭐⭐ (176 Reviews)
Please follow and like us: