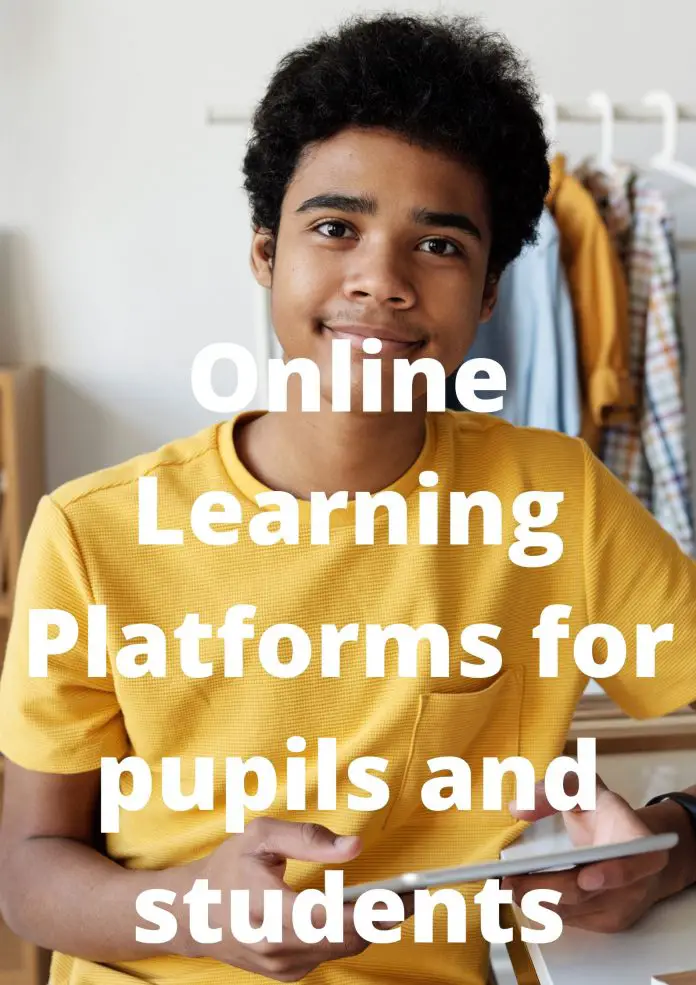 The most significant inheritance that any parent can pass to their children is education. A conducive environment and enough resources contribute immensely to the performance of any student. But have you thought about online learning platforms for primary school pupils?
Now that the world is shifting to the use of technology, it is a no-brainer we need to leverage technology in school. Today, there are numerous online platforms where students can study at home. But to get the best out of the opportunity, you should have a reliable internet provider.
These platforms make learning more enjoyable. They use visuals to help students and pupils grasp concepts faster, unlike when reading books. Noting this, don't let your kids stay on their computers or mobile screens all the time playing games.
Related: Free & Paid Online Learning Platforms for Courses
Online Learning Platforms for Pupils
| | | |
| --- | --- | --- |
| Name of Online Learning Platform | Classes Covered | Fee/Premium Charged |
| Kytabu | National Exams Revision | Free |
| Eneza Education Platform | Class four to Form Four | Airtime for dialing *291# |
| E-limu Platform | KCPE Exam Revision | Free |
| Zeraki Learning App | Biology Physics Chemistry Geography | App charges |
| Khan Academy | Math Science | Free |
| MyMlango E-learning | Math Literature | Free |
| Chuoni | KCPE/KCSE Revision papers Entrepreneurship course Business Finance course | From Free to Kshs. 5000 |
| Dawati | KCSE Revision | Paid lessons |
| I Mlango | Math Literacy | Free |
| E-Soma KE | Kenyan 2663 curriculum | Kshs. 10 for 24 hours 50 for 7 days 500 for 3 months 1800 for a year |
List of Online Education Platforms for Students
Kytabu is a new primary and secondary school learning platform that has revolutionized learning. You should download this application on the Google play store, and you will access numerous learning resources. As a student, you get the textbook you require to revise for your national exams. You can rent a book for a specified duration with mobile money. The platform provides audiobooks and videos.
This ensures you learn the content you got in a class in a more elaborative, fun, and engaging manner. When using Kytabu, it is easy to keep track of your performance thanks to the super school management system. Kytabu is mobile money-friendly and definitely gives you value for your money.
Eneza education platform operates in three countries to help students realize their learning capabilities. The platform seeks to help students in rural areas upscale their learning through the provision of revision materials. If you are a student, it is time you join this platform and be among the 5 million users learning with shupavu291. 
So how do you go about it? The steps are straightforward. Dial *291# from your Safaricom line to take online classes, take quizzes, access revision papers, ask a teacher, and Wikipedia.  The platform has qualified personnel who curate content for class four to form four students. Get here and learn.
AMREF Primary can tell it all how this platform has significantly helped their students. By using this platform, they recorded a 15% improvement in science performance. As a student, it feels good giving such testimony. E-limu digital learning platform works jointly with Moran Publishers to put six bestselling revision books on the app.
You have numerous past KCPE papers that date back to 2000. Also, there are videos on complex subjects such as the Kenyan constitution and algebra to make learning fun and memorable. The good thing about this platform is that you can take all KCPE exams against the stipulated time and get answers instantly.
Zeraki Learning App is a student-focused learning platform that ensures you perform exemplary in your studies. It is easy to download and install the app from the play store.
Unfortunately, the app is yet to be listed on the App store. As a student, you are sure of getting all the necessary support from experienced high school teachers. The platform applies three simple processes; learn, practice, and track.
It has five lessons, which include; biology, physics, chemistry, and geography. However, you find other subjects such as Agriculture and Aviation. What you should expect from the app:
Video lessons of qualified online tutors in Kenya covering high school syllabus
Assessments tests
Performance tracking
This is a nonprofit organization with a mission to provide free, world-class education to anyone anywhere. Even though the platform does not integrate the Kenyan education system, it is a perfect platform to build a deep, solid understanding of math, science, and more. Mathematics and sciences are two subjects that most students both in primary and secondary perform poorly. 
You can change this trend by encouraging students in primary and secondary schools to log in and grasp hard concepts. The process of signing up is easy. You can do it using Gmail or Facebook account. If you don't have any of them, you can use your parents Gmail or Facebook account
MyMlango E-learning is a platform for online learning for pupils and secondary students. It offers curriculum-aligned learning content, revision tools, plus much more. MyMlango E-Learning helps you improve in Math and literature, prepares you for key tests and exams such as KCPE and KCSE, and helps you develop communication and digital skills.
Just like other learning platforms, this platform helps you in tracking your performance. The data and reports provided give you a clear insight into your progress. The downside of this E-learning platform is that it does not come free. But their rates are quite affordable.
This is online learning for candidates that closely resembles kytabu platform that we discussed at the beginning of this article. Ekitabu is a productive tool for any student who wants to excel in their studies. 
You can buy books for a specified period at a reduced cost. After using the platform, you are sure to reap numerous benefits.
Your search for an online learning platform that incorporates the best features for online learning ends now. Welcome to Chuoni, the latest newcomer in the ever-growing industry. Join many others seeking knowledge amidst a call for self-quarantine and social distancing. The creators of this platform have come together to bring you the latest in LMS (Learning Management Systems).
By using the best version of LMS, both students and trainers get the best from online learning. Chuoni gives you a chance to learn from anywhere at any time. Trainers get a chance to earn some income through sharing their training skills.
The site has numerous courses that charge differently. The most popular is The Online Entrepreneur Course for Kshs. 5000. Also, you get KCPE/KCSE past revision papers & FREE answers, Step by Step Guide to Managing Business Finances @Kshs. 500, Instruction to Facebook Marketing @Kshs. 100 among others.
As online learning gains structure globally, Kenya remains resolute on having the national exams at the end of 2020. Candidates are getting ready by catching up with their studies and revision work. Dawati is one platform that caters for their needs with a focus on upcoming exams.
The platform plays host to more than 16,000 students from across the country. They have access to 749 videos and e-books with relevant content to get them ready. The content is divided into courses covering a wide variety of topics in the curriculum. Students get to download the e-books and videos. On top of that, the instructors are ready to guide them.
To test their knowledge, the instructors provide students with assignments, tests and quizzes. It's important to note what a student understands and where they need further assistance. The lessons in Dawati cover the whole secondary school syllabus. Students attend classes after they sign up.
No deadlines are applicable here, which gives candidates room to study at their pace. You can opt to preview a course before you sign up for it and make payments. Free lessons available give you a better understanding of what to expect. Download the Dawati app on your Android phone to access lessons easily on your smartphone.
The program is working in collaboration with over 190 primary schools in the country. The aim is to reach more pupils and provide them with satellite internet access. In this way, they can better attain e-learning and learn about the digital economy. The program helps monitor the attendance of member students using an electronic system. Installing computers in these schools exposes not only the students but surrounding communities to a whole new world.
The main aim is to focus on two main areas of learning which are mathematics and literacy. By using education technology, the organization partners with both the private and public sectors. Math and literature tutorials are via digital learning. Teachers are not left behind. They get to benefit from continuous support in terms of education materials.
Currently, the program supports schools in Uasin Ngishu, Makueni, Kilifi, and Kajiado. Being an NGO, it charges no fees to member students of the program.
The platform Motto is 'A new fun way to learn, and they provide e-learning that is in demand now. The platform works to break down barriers and provide learners with all the support they need. With the change of the Kenyan curriculum from 8-4-4 to 2-6-3, E-soma strives to provide revision materials that meet the set standards.
Quality is the main aim of the company, ensuring students get the best. They seek the latest and best technology to make the delivery of education easier for students. For E-soma KE, learning should be informative and fun to produce desired results.
The program charges a fair amount depending on duration. You pay Kshs. 10 for 24 hours, 50 for 7 days, 500 for 3 months, and 1800 for a year. Classes are from Pre-unit to Secondary.
It is time we appreciate technology and allow students and pupils to enhance their skills through online learning platforms. Do not let your kid stay idle while at home; engage them by choosing the right platform that works for them.
It feels great to see your child excelling in their studies and becoming whatever they have ever wanted in life as a parent. However, do not shy off from investing a few of your resources for that to be realized.  For those studying at home, learning has never been this easy. 
Online Learning Platforms FAQs
Q: How do I know the right online learning platform for my child?
A: You should consider a few factors such as the level of your child's education, subjects they are interested in and what type of learner they are. Once you have this information, it becomes easy to find the right platform that caters to their needs.
Q: What if I don't have a computer or internet access?
A: Many online learning platforms provide materials that can be accessed without the need for a computer or internet access. You can download the material in a cyber cafe and print it for your kid.
Q: What is the best online learning platform for primary school students?
A: There are many online learning platforms suitable for primary school students. Some of these platforms include E-soma KE, Dawati, and iMlango.
Q: What is the best online learning platform for secondary school students?
A: Secondary school students can use various online learning platforms, including E-soma KE, Dawati, and Chuoni. Each of these platforms offers different subjects and levels.
Q: What are the benefits of using online learning platforms?
A: There are many benefits to using online learning platforms, including increased engagement, improved grades, and exposure to new technologies. Additionally, many online learning platforms offer free materials and tutorials.
Q: How much do online learning platforms cost?
A: The cost of online learning platforms varies depending on the platform. Many platforms offer free materials and tutorials, while others charge a fee for access to materials and classes.
Q: What subjects can be studied through online learning platforms?
A: Online learning platforms offer different subjects at all levels, from pre-unit to secondary school. Additionally, many platforms offer courses in new technologies and computer skills.
Please follow and like us: