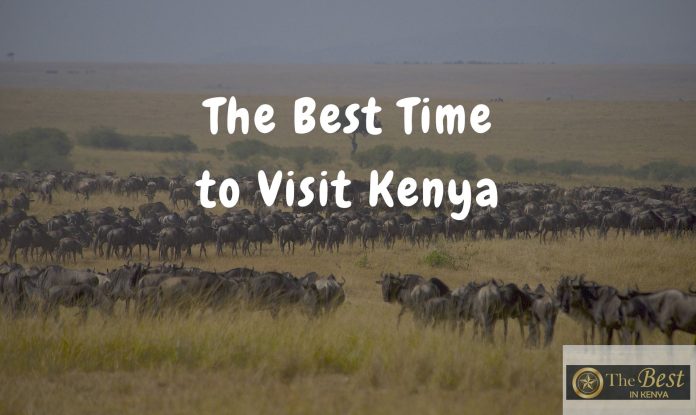 While Kenya has some of the most beautiful and diverse landscapes in the world, it's important to keep an eye on the weather when planning your visit. Depending on what you want from your trip, some months may be better to visit Kenya than others!
The best time to visit Kenya is during the dry season, from mid-July to early October. You will get the most out of safari experiences and wildlife spotting. This season coincides with the wildebeest and zebra migration, one of nature's greatest spectacles.
After answering your question in summary, it's time to get into the nitty-gritty. This guide on the best and worst times to visit Kenya breaks it down month-by-month.
The Best Time to Visit Kenya 
 
 
Jan
Feb
Mar
Apr
May
Jun
Jul
Aug
Sep
Oct
Nov
Dec
Maasai Mara
☀
28
28
28
27
26
26
25
26
27
28
27
27
🌧
82
95
124
166
110
59
28
44
52
56
100
111
Coast
☀
27
28
28
27
26
25
24
24
25
26
27
27
🌧
24
16
59
145
228
101
81
64
55
88
79
57
Amboseli
☀
30
31
30
28
26
25
24
25
27
29
29
28
🌧
45
56
87
146
68
13
4
5
7
31
103
80
Nairobi
☀
26
27
27
25
24
23
22
23
25
26
24
25
🌧
48
49
95
200
151
37
15
21
22
52
132
83
Samburu
☀
32
34
33
32
32
32
31
31
33
33
31
31
🌧
15
21
58
113
47
4
5
5
5
53
140
57
Mt. Kenya
☀
23
24
24
22
21
19
18
19
21
22
21
21
🌧
59
71
146
227
143
50
50
83
85
207
220
133
Kenya Weather across the year (all numbers in °C & mm)
If you want the best chance at seeing the wildebeest and zebra migration, visiting Kenya from July to September is ideal. This season is generally dry, with temperatures from 20-25 degrees Celsius (68-77 degrees Fahrenheit).
During this time of year, you'll make the most of your Kenya safari experience, as animals are easier to spot because of the diminished foliage.
Apart from that, most animals congregate around water sources during this season, making them easier to locate. It's also the best time to go on a hot-air balloon ride over the Maasai Mara National Reserve.
It is good to note that this season has the highest tourist numbers, so prices for accommodation and activities can be a bit higher.
April to June is also a good time of year to visit Kenya. Even though it is the wet season, there are fewer tourists, which means you can get great deals on hotels and activities. Just remember to pack for the rain!
The Worst Time to Visit Kenya
I wanted to avoid this question as much as possible because I believe there is no bad time to have your Kenyan safari. However, if there is a time to avoid, it would be during the wet season (mid-March to May).
Heavy rainfall and flooding can hinder your safari experience. Animals tend to scatter away from rivers with the increased water levels, making them harder to spot.
During this season, some regions may become inaccessible due to the rains, limiting your sightseeing opportunities. Activity and hotel prices are often lower during this time of year, so that is a plus!
It is good to note that places like Maasai Mara and Kenyan Coast still experience average temperatures ranging between 20-30 degrees Celsius (68-86 degrees Fahrenheit), even during the wet season.
Travelling to Kenya in Different Months 
Kenya has a diverse climate. Therefore, the weather varies from one region to another. However, there are primarily 2 rainy seasons. The long rains occur between mid-March and May, while the short rains occur from November to December.
January & February Travel Advice 
If the wildebeest migration isn't your thing, January and February are great months to visit Kenya. Temperatures are quite high in most places, and the season follows short rains, meaning there is plenty of vegetation.
These months are the best time to go on a beach holiday in Kenya because the ocean is at its clearest. The coast has warm temperatures and little rainfall, so you can relax and enjoy the sun.
Early March Safari Advice 
Early March is another great time to visit Kenya, but the long rains are about to start. The vegetation is still lush, and the temperatures are pleasant. Occasional showers may occur during this time of year, especially in the afternoon.
The biggest pro of travelling in March is that there are fewer tourists and prices are generally lower.
Late March, April & May Travel Advice 
This period is not ideal for a safari as most of the country experiences heavy rainfall. There may be flooding in the Western and Rift Valley regions. However, if you decide to go during this time of year, you'll get great discounts on activities and accommodation. The coastal areas experience warm temperatures and heavy rainfall.
June Kenyan Safari Advice
In June, there is dense vegetation as the long rains have just ended. Some days may be sunny, while others can be overcast with short showers. Wildlife spotting is not ideal this month because the grass is too tall.
July, August & September Kenyan Holiday Advice 
This is the best time to go to Kenya. The weather is dry and warm in most places. Temperatures can reach up to 30 degrees Celsius (86 degrees Fahrenheit) during the day, so it's best to bring a hat and sunscreen!
The Great Wildebeest Migration from Serengeti to Maasai Mara usually occurs between July and October. August is the peak of the migration when millions of herds traverse the border.
October Travel Advice
October presents one of the best times to visit Kenya because the crowds are fewer and the weather is still dry. It's also a great time to visit the national parks because the vegetation has become sparse, making it easier to spot wildlife.
November & December Kenya Holiday Advice 
In November and December, short rains usually start in some regions. The temperatures are still warm, but the vegetation may be dense in some areas.
Most animals also give birth during this period, making it a good time to see newborns. If you're lucky, you may spot a lion cub or two.
Key Takeaways 
January and February are great months to visit the Kenyan coast.
Early March is a good time to visit, but long rains are about to start.
Late March, April, and May are not ideal for safaris due to heavy rainfall.
June has dense vegetation after the long rains.
July, August, and September are the best times to travel to kenya.
The Great Wildebeest Migration usually starts in July and ends in October.
October has fewer crowds and dry weather.
November and December have short rains, making it a good time to spot newborn wildlife.
Please follow and like us: