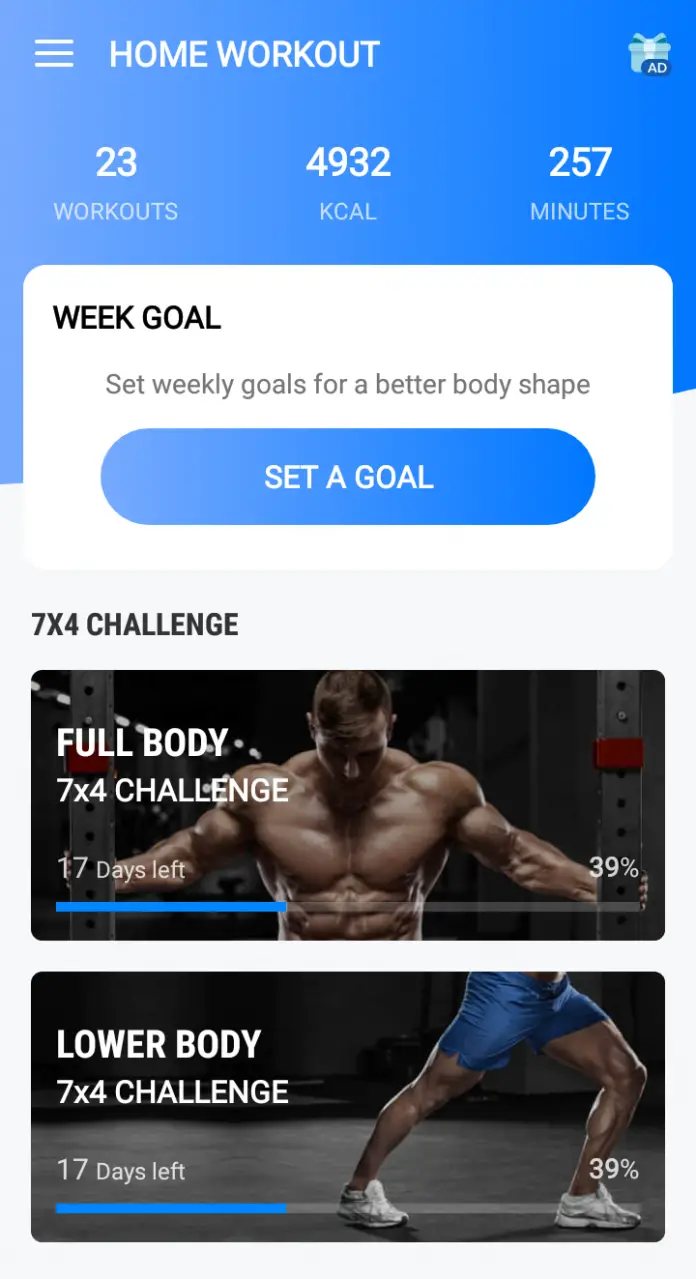 According to statistics, less than 5% of adults engage in at least 30 minutes of daily physical exercise. Engaging in physical activities is one surest way to keep yourself healthy. At least, you reduce the risk of getting terminal illnesses such as diabetes, hypertension, and heart attack, to name a few.
So if you can't make it to the gym for one reason or the other, we have a solution.  You can perform body workouts at home. You only require a smartphone or get a laptop.
The problem may arise when choosing the right application. On Google play store or AppStore, you find home workout apps that promise wonders. However, only applications made by qualified professionals who have a good understanding of this topic guarantee you the safety and effectiveness of your workouts.
List of the Best Free Home Workout Apps
1. Nike training club
You can download the Nike Training Club from your android or IOS. This home workout app is right for everyone aiming to achieve his fitness goals. It has a vast workout library with exercises to enhance your body's endurance. On average, workouts will take you between 15 to 45 minutes and tend to vary in intensity.
Nike Training Club is a perfect platform to launch your workout sessions. Immediately after downloading the app, you enter a few details about yourself and your activity levels. Shortly after, the app presents you with workouts that address your needs. It is easy to navigate through the workout sessions you love, such as yoga, strength, or endurance. The app has videos and music to spice up your workout experience
2. Daily Workouts Fitness Trainer
Your search for an effective personal trainer ends here. This is one of the best home workout apps that contains 100-plus exercises. These workouts comprise ten different targeted workouts and 10 to 30 minutes randomized full-body workouts. The app was developed by a certified trainer and hence an excellent choice for both men and women.
On-screen timer, instructions, and videos ensure you understand how to undertake each excercise. You don't have to use the internet when using the app to do most workouts unless you are streaming videos. The upside of this app is that it integrates the health app to help you track how well you burn calories. On the downside, the app has fewer workouts than the pro version.
3. J & J Official 7 Minute Work Out
This is a fast, simple, science-focused way to ensure every minute counts. It is an app developed by Chris Jordan and has helped many people worldwide. You are closer to being among the beneficially of this app.
Download the app from the Google play store or AppStore for free. It has a rich library of workouts to leave your body in good shape. All these workouts come in different intensities and duration. It has the following features:
Workouts range from 7 to 32 minutes.
Smart work feature to gauge your fitness and motivation level, thereby creating workouts specifically for you
Easy to control music and audio prompts
72 high-definition tutorial videos
Inactivity reminders to remind you to be on track
Easy to integrate your workouts with your health apps
You can share your workouts with your friend via Twitter and Facebook
4. Home Work Out- No Equipment
At times you might be interested in performing home workouts, but you lack the necessary equipment. Well, you should not worry about that, not when you can slide to the Google Play Store and download the home workout app.
It is the best workout for abs, chest, and legs, as well as full-body workouts. Qualified experts have developed all these workouts. The upside of this app is that none of the workouts requires you to use any machine. How awesome is that? No excuse!
5. 30-Day Home Work Out App
This app seeks to help you lose weight, improve your health, and put your body in shape without stepping outside your home compound. It is easy to use the app, plus you require no machine to achieve your body goals.
If you strictly follow all the rules laid down, you should feel some changes after 30 days. During the 30 days, you realize the intensity of the workouts increases day by day. Hence, it is vital to adhere to the plan strictly. The downside of the app is that the app should improve on the graphics used in the training sessions.
6. Six Pack In 28 Days
Nothing builds a man's confidence like having abs. You can have them in 28 days using this application.  The app is customized to give you numerous effective home workouts that you can perform from the comfort of your home. You can download it here.
It is designed to train your core abs and contains instructional videos to train specific muscle groups. The app consists of three levels: easy, intermediate, and advanced. This helps you to advance from a newbie to an expert, all along maintaining the effectiveness of the workouts.
7. Workout For Men At Home, Weight Loss In 30 Days
As mentioned earlier, the main goal of any workout is to achieve several goals, such as weight loss. This app ensures you achieve this goal without incurring any monthly fees.
The good thing about this app is that you don't have to invest in equipment. If you are a man looking forward to having some good abs, download this app. Please be sure to come back and leave a comment about the app's effectiveness.
8. Fitify: Workout Routines & Training Plans
Getting in shape from your home has never been this easy, thanks to Fitify: Workout Routines & Training Plans App found on Google Play Store or App store. Fitify is the ultimate body workout app. it helps you lose weight, burn fat, and build muscles.
The downside of this app is that it might not work for bodybuilders. However, it is an excellent option if you want to keep fit.
9. Home Workout: Gym Fitness Everyday
This is an easy-to-use mobile gym workout planner. The app gives you free workout plans, workout programs, and detailed video explanations. This ensures your home workouts are effective.
This app wants you to achieve your desired results in the shortest time possible. We know that your goal. You don't want to spend eternity to shed a kg of your weight. Here is a link for IOS.
10. Women Workout From Home
Ending our review without suggesting a workout app that works specifically for women would be discriminatory. Well, to most women, body fitness is a top priority.
You can achieve that body you have desired for a long time using the Women Workout from Home app. This app makes you sure to sweat 7 minutes a day. But in the end, you get a perfect bikini body. Visit your Google play store and download this app.
Final Thoughts
It feels heavenly getting that body you have desired for long. However, it is important to be cautious when performing some of the workouts listed in these apps. You might end up hurting yourself if you don't have a clear room for the exercises.
Injuring yourself during exercises may go against the idea behind workouts.  Take care, be disciplined, and we guarantee you that these home workout apps will greatly help you.
Please follow and like us: