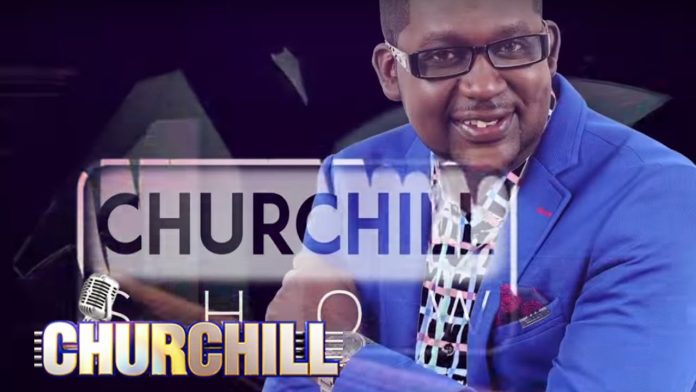 Imagine you experienced a tiresome day at the workplace. You want to forget about the day's activities, such as the stupid things you did and the long office meetings. Stack yourself on a couch and relax your mind. You also want to enjoy the best comedy shows. But do you know where to tune in?
With Kenya comedy videos, you will laugh at small things you think are silly. Watching the shows will make you feel better and relaxed. Furthermore, laughter is essential as it relieves stress.
The Top Kenyan TV Comedy Shows
| | | |
| --- | --- | --- |
| Name of Comedy Show | TV Stations it's Aired | Genre |
| The Churchill Show | NTV Kenya | Standup Comedy |
| Jeff Koinange Live | Citizen TV | Live Interview |
| The XYZ Show | NTV Kenya | Political Satire |
| The Trend | NTV Kenya | Magazine Comedy show |
| Nairobi Diaries | K24 | Reality |
| Hapa Kule News | KTN | Parody TV Comedy show |
| Bulls Eye | NTV Kenya | Political Satire |
| The Real House Helps of Kawangware | KTN | Comedy show |
| The Wicked Edition | NTV Kenya | Political satire |
| Auntie Boss | NTV Kenya | Comedy Show |
List of Comedy Shows in Kenya
Ardent fans of this comedy can swear that the stand-up of this show is one of the best things on national TV. This program is in its 6th season and features influential personalities and politicians with great entertainment names.
This program has developed a fresh and new style of comedy in the Kenyan mainstream media since early 2000. This has garnered the show millions of fans. Apart from being hilarious, this show attracts famous personalities from various fields, making it enjoyable to watch.
It's held at the carnivore every Thursday and currently ranks as the best comedy show in East and Central Africa. It's presently a Kenyan household name and your "must-attend" show if you want to relieve stress.
This TV show can only be attributed to one thing: Jeff Koinange Live. This charismatic journalist has a way of changing every boring, mundane discussion into heated debates by pitting the opposing opinions on his 'hot bench.'
JKF live is among the most discussed live TV programs that keep Facebook, Twitter, and other social media platforms a buzz. Held occasionally by award-winning TV great shot, Jeff Koinange hosted 'the bench,' a show that's always aired on citizen TV every Wednesday from 9 pm.
He has cut himself a great niche by attracting many viewers who want to get a glimpse of the next big topic.
This is one of Kenya's comedies that has attracted many viewers. Starting from the old to the young ones. It's held on Sundays. The show by Buni TV is one of Kenya's great political satire that pokes fun at the Kenyan elite.
This comedy features custom-made life-size puppets. The acclaimed cartoonist (Gado) controls the puppets to be versatile.
XYZ portrays the popularity and consistency of all the satirical shows that mock politicians on NTV. Its various parts include 'Jeff Koinange' and 'political hits' that add diversity.
4. The Trend
Amina Abdi holds this magazine comedy show. The TV personality took over from Larry Madowo, who was hosting the show. The program airs the latest trends and popular culture worldwide and in Kenya.
Amina brings a certain panache to this show. If you want to keep yourself abreast of what is happening around you in a satirical nature, don't miss The Trend.
5. Nairobi Diaries
This eye-catching TV comedy show is always aired every Monday from 10–11 pm10–11 pm on K24. The show describes the regime of young socialites, a love story, a drama here and there, catfights among the girls, and, frequently, a love narration among the girls.
With all these, this TV show has grasped the attention of Kenyans, more so the urban youth.
6. Hapa Kule News
This's satirical news that's hosted by the famous actor Fred Omondi. It's among the ultimate parody TV comedy shows that poke daily life situations in Kenya. The fact that they use Swahili and sheng resonates with numerous Kenyans.
By the way, the real housewives of Kawangware was a section Of Hapa Kule up to when the producers thought of spinning off this TRHK in a separate comedy. The actors and producers accredit the success of the two comedies.
However, Hapa Kule news is a comedy in Kenya on YouTube that features more than 15 000 subscribers, and it's two years old on KTN.
7. Bulls Eye
Emmanuel Juma is an NTV narrator and producer of Bullseye and is considered the father of political satire by many. The show comes on Fridays immediately after the 9 pm news with a loyal following from those who have tuned in for the past seven years since its launch.
Kenya's comical politicians provide adequate content for Bull's eye. With creative editing that comes with original and exciting edited titled episodes like Dialogue in the politicians' vocabulary and 'just what the governor ordered' and that's the reason why it's gathered thousands of YouTube views.
Kenya can now boast of having produced its kind of Real Housewives comedy. This comedy illustrates the lives househelps in Kawangware. It's aired on KTN and created by Protel studios.
This is among the Kenyan comedy videos that not only entertain young people but also show a true reflection of the regular lives of domestic workers. It's produced by unique characters like Trufena and Njuguna, who have to face the hard life of being domestic workers. But humor comes in between their situation.
This is another excellent comedy featured on NTV. It's hosted every Tuesday at 8:00 pm by Dr. King'ori. The Wicked Edition is an informative and great show that uses comedy to discuss political and social issues.
It's a funny program that you can watch with your family.
10. Auntie Boss
Auntie boss, Voila! A tremendous Kenyan comedy that has been participating in comedy auditions in Kenya and delves into the lifestyle of househelps. The setting is on a fictional Green estate (Taifa estate), and it spins around families in which the househelps work and their activities.
It reflects the ordinary Kenyan culture concerning the relationships these people have with their bosses. This comedy also illustrates a high-class lifestyle for different people in Kenya.
This list features a combination of the 10 best Kenyan comedy videos. All come with a high degree of unique features. You can only choose your best comedy in Kenya if you want to experience some funny moments after a long workday. The listed TV comedies will uplift your moods after a busy day.
Please follow and like us: