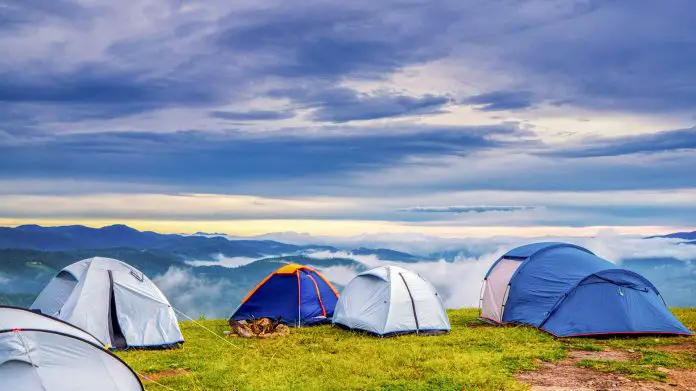 Do you love camping when on holiday? Kenya offers beautiful tented camping sites across the country. From Shaba in the North to Lake Amboseli in the South, you can enjoy camping. Both local and international tourists engage in camping to view the charming nature of Kenya.
The beauty of camping is that you are in charge of your day's schedule. You have your meals, bath, and sleep at your pleasure. In Kenya, you can enjoy both public and special camping sites. Besides, the sites offer adequate facilities that will make your stay comfortable.
Enjoyable Camping Sites in Kenya
Camping Site
Services & Activities
Contact
Location
Wildebeest Eco Camp
Infinity swimming pool

Communal fire pit

Relaxing gardens

info@wildebeesttravels.com

0734 770733

Near Galleria Mall, Nairobi
Rapids Camp, Sagana
Bonfire

Nature walks

Water rafting

info@raftingkenya.com

0732 308 026

Sagana-Muranga Rd, Sagana Town
CITAM Kadolta Resort
Night bonfire

Conferencing

info@citamkadoltaresort.com

0738 448304/ 0709 861285

Near Ngong Hills, Nairobi
Camp Carnelley's
Local tours & walks

Boating & water sports

Restaurant & bar

info@campcarnelleys.com

0796 841149/ 0722 260749/ 0715 209931

Lake Naivasha
Malewa Bush Ventures
Restaurant

Parking

Lake Nakuru and Hell's gate tours

christinemalewa@gmail.com

0721 941494

Gilgil, Nakuru
Amboseli Bush Camp
Outdoor fireplace

Private kitchen

Lounge

Mt. Kilimanjaro and wildlife viewing

camp@amboselibushcamp.com
Kimana, Kajiado
Indaba Campsite
Group lunch and dinner

Bomas of Kenya and National Museum visits

0720 892217
16 Muiri Lane, Nairobi
Bamba Kofi Tented Camp
Sun terrace accommodation

Outdoor swimming

WIFI

info@bed-breakfast.co.ke

0735 646262

Kilifi, Watamu
Ngare Ndare Camping
Forest adventures
ngarendare@nrt-kenya.org

0722 886456

Nanyuki
Samburu Riverside Tented Camp
Game drives

Cultural & birding tours

info@sambururiversidecamp.com

0710 699789

River Ewaso Nyiro, Samburu National Reserve
List of Camping sites in Kenya
1. Wildebeest Eco Camping Site 
Make your stay in Kenya comfortable by staying in one of the cheapest camping sites in Nairobi-Wildebeest Eco Camp. It is a permanent camp that provides your choice of accommodation. You can opt to have a deluxe cottage, family garden tent, or deluxe safari tent.
The camping site has free WIFI that you can use all day. Besides, you can gaze at the well-manicured tropical gardens that are homes to varieties of birds and plants. Finally, Wildebeest Camp offers an infinity swimming pool because it is set on an oasis.
Rapids Camp Sagana offers a thrilling experience through white water rafting and kayaking in River Sagana. Also, you get to enjoy the Rapid waterfalls along river Sagana. The camping site in Sagana is a good place for team-building activities.
The award-winning camping sites also provide moonlight walks. Besides, you can have memorable honeymoon Safaris and picnics.  Rapids Camp provides nature walks to allow you to learn about flora and fauna.
CITAM Kadolta Resort is one of the camping sites in Ngong. The resort provides camping tents. You can enjoy sleeping under the open skies as you watch the twinkling stars.
Besides, the camping site offers a bonfire at night to give you warmth. It is a place where you get to relax from all your daily activities and appreciate nature. After a night of fun, you can get delicious meals from the CITAM Kadolta restaurant.
The African beauty is found at Camp Carnelley's. From the accommodation, food, and activities offered, the tranquility of Kenya is revealed. The camping site offers all forms of accommodation, from traditional camping, bandas, and twin rooms.
As you enjoy camping from one of the best camping sites in Naivasha, the lake brings life. You enjoy watching hippos graze on the green grass and monkeys swing on the trees. Camp Carnelley's is full of amusements.
5. Malewa Bush Ventures
It is a unique destination in the Rift Valley of Kenya. The camping site specializes in team-building and leadership activities. You can pay as low as Ksh 2, 426.84 per night for two guests. It all depends on your budget.
If you want camping for a large group, the campsite is equally able. You can get as many tents arranged on the lawns as possible. You can book a luxury or dome tent. Besides, Malewa Bush Camp provides catering and wedding services.
It is a private camp located outside Amboseli National Park with two self-catering camps: the main and upper camp. The main camp has three tents while the other has two.
Both camping sites have an outdoor fireplace, a private kitchen, and a lounge. Also, you can bring in your food and drink. Amboseli Bush Camp is an exciting place to experience the beauty of Mt. Kilimanjaro. You can also pay $ 125 per night in the main camp, while the upper camp costs about $165.
7. Indaba Camping Site
It is one of the best camping sites in Nairobi, just behind the Bomas of Kenya.  Indaba Campsite can host about four camping groups simultaneously. Besides, it has a kitchen where you can order special meals. For a group, you can order for your dinner or lunch.
If you want to appreciate the beauty of Nairobi and enjoy your nights under the open blue skies, Indaba Camp has got you. The camping site is near attractions like Nairobi National Park, The National Museum, and Kenya's Bomas.
8. Bamba Kofi Tented Camp
Bamba Kofi Tented Camp is in Watamu, Kenya. The camping site provides an outdoor swimming pool and a shared kitchen. Besides, it has a garden, WIFI, and ample private parking.
The camping site offers sun terrace accommodation to the guests. For food, you can enjoy a full Irish/English breakfast from the campsite. You can visit nearby amusement like Mida Creek and Jetty Launch.
9. Ngare Ndare Forest Camping Site
Ngare Ndare is an excellent place for camping outside Nairobi. It is a 40 minute drive out of Nanyuki and a good stopover as you travel to Samburu. The best time to visit the camping site is in the dry season due to the cold weather. However, you can collect firewood in the forest and create a bone fire at night.
One of the heart-melting features near the camping site is the canopy walkway, one of the only three in Africa. Also, there are waterfalls and pools from the Ngare Ndare River.
Samburu Riverside Camp is a host of beautiful birds, tortoises, elephants, and monkeys. It is located inside Samburu National Reserve along the Ewaso Nyiro River.
The camping site provides eight private tents. Each tent has a private shower, toilet, double beds, and a seating area. You can have cultural tours, bird tours, and game drives from the camping site.
Camping in Kenya is memorable.
Please follow and like us: