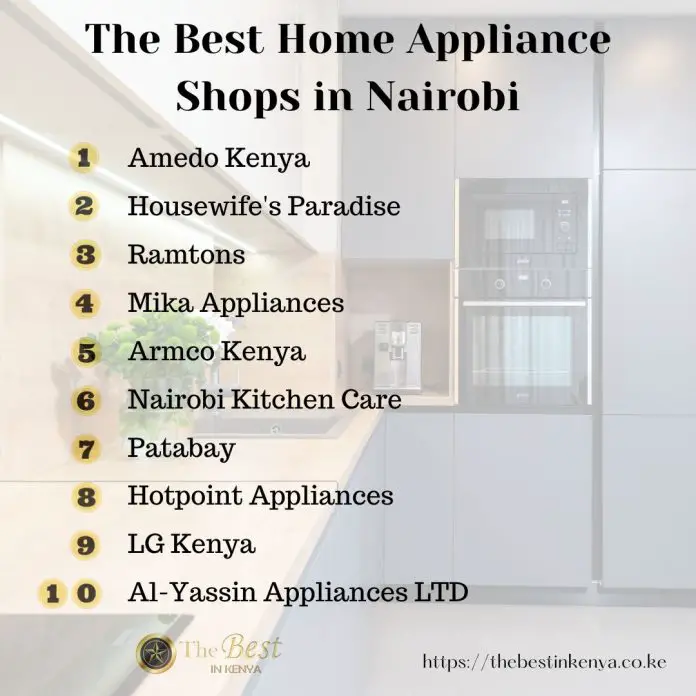 You will see appliance stores in Kenya across every street. With so many choices, it can be overwhelming to visit every one of them or search appliance dealers near me.
We evaluated the best appliance shops in Kenya based on:
Customer-friendly delivery terms
Product selection
Installation services
Clear return policy
Whether you're a local or visiting Nairobi for the weekend, these stores are the crème de la crème for home appliances. Let's dive in!
Top 10 Home Appliance Shops in Nairobi, Kenya
Store
Appliances
Contact
Location
Amedo Kenya

 

Air conditioners
Dishwashers
Clothes dryers
Drying cabinets
Freezers
Refrigerators

+254 110 837 147
Kirinyaga Road
Housewife's Paradise

 

Microwave
ovens
Induction cookers
Freezers
Refrigerators
Kitchen stoves

+254 790 039 732
Formerly, ICEA Building, JKUAT Towers, Wabera St, Nairobi
Ramtons

 

Freezers
Refrigerators
Kitchen stoves
Water heaters
Washing machines
Trash compactors

+254 800 723 723
 

Ramtons Building, 2nd Floor Mombasa Road (Opposite City Cabanas, Nairobi

Mika Appliances

 

Microwave
Ovens
Induction cookers
Freezers
Water heaters
Washing machines
Trash compactors

+254 800 722 444

 

Ring Rd Westlands Ln, Nairobi

 

 

Armco Kenya

 

Refrigerators
Kitchen stoves
Freezers
Refrigerators
Kitchen stoves

+254 733 638 901
Shamneel Court, 2 Muthithi Rd, Nairobi

 

 

Nairobi Kitchen Care

 

Water heaters
Washing machines
Trash Compactor
Refrigerators
Kitchen stoves

+254 727 246 209
Mombasa Road, Nairobi
Patabay

 

Induction cookers
Freezers
Refrigerators
Kitchen stoves

+254 711 477 775
Norwich Union 4th floor, room 14
Hotpoint Appliances

 

 

Refrigerators
Kitchen stoves
Freezers
Refrigerators
Kitchen stoves

+254 203 699 000
Hotpoint Appliances Limited, Ruiru

 

 LG Kenya

 

 

Air conditioners
Dishwashers
Clothes dryers
Drying cabinets
Kitchen stoves

+254 202 327 363
Hanover Block, 4th Floor, 14 Riverside, off Riverside Drive

 

Al-Yassin Appliances LTD

 

Water heaters
Washing machines
Trash compactors
Refrigerators
Kitchen stoves

+254 700 555 702
PR8G+H38, Next to Co-Operative Bank, Tom Mboya St, Nairobi
List of the Best Home Appliance Stores in Nairobi
Amedo Kenya rocks for appliances. It offers extensive products, including washing machines, refrigerators, air conditioners, ovens, vacuum cleaners, water heaters, dishwaters, and dryers.
It also stocks professional appliances in laundries, restaurants, and hotels. Amedo Kenya has regular sales and extra discounts. We also love that you can find some affordable brand appliances.
Google Ranking: 3.7 ⭐⭐⭐ (63 reviews)
Housewife's Paradise is Nairobi's premier online and in-store shop for kitchen appliances in Kenya. You can find items from many international brands, including Bosch, Samsung, and Whirlpool. The available appliances are classified on the website according to usage: laundry, dishwashing, refrigeration, and cooking.
It's one of the best appliance stores to purchase more portable items for small living spaces like air conditioning window units and countertop dishwaters. With frequent discounts and promotions, you can find any appliance you need at an exceedingly pocket-friendly price.
Google Ranking: 4.5 ⭐⭐⭐⭐⭐ (399 reviews)
If you want portable or compact appliances, Ramtons has an excellent selection of items that fit perfectly in your house. Whether you're in the market for a toaster oven, bread maker, air fryer, or space heater, this dealer covers your small living needs.
Like other retailers, Ramtons offers warranties to protect all appliances and electronics. Their website has various filters that make it simple to find the perfect appliance for your home.
Google Ranking: 4.3 ⭐⭐⭐⭐ (905 reviews)
Mika Appliances competes toe-to-toe with Ramtons but also goes head-to-head against other appliance retailers for kitchens. Let's say that if it's kitchen appliances and accessories, Mika Appliances sells it.
We especially like their selection of outdoor appliances like fireplaces and built-in grills and their competitive deals and pricing on kitchen packages.
Mika Appliances offers warranties to cover normal wear and tear lens or screen replacement. In addition, they provide free delivery and installation in 48 hours within Nairobi.
Google Ranking: 3.8 ⭐⭐⭐⭐ (44 reviews)
A wide variety of home appliances await you at Armco Kenya. Armco Kenya offers complete kitchen packages, ideal for anyone who needs to furnish their kitchen in one go. You can also select from general appliances, including dishwaters, cookers, outdoor, and more.
The store has a 100% satisfaction guarantee, and you can return any item you feel is substandard.
Google Ranking: 4.6 ⭐⭐⭐⭐⭐ (52 reviews)
A positive paradise for bakers and cooks – this is the number one place to shop for utensils! It's made up of many mini stores that stock everything you need, whether pots, pans, knives, baking supplies, crockery, accessories, and so much more.
We also like that Nairobi Home Appliances offers a straightforward delivery process — choose your preferred delivery date at checkout, and their representative will be in touch within 24 hours to confirm a three to five-hour delivery window, especially within Nairobi.
Google Ranking: 4.1 ⭐⭐⭐⭐ (369 reviews)
Do you live in Nairobi? The Patabay store is here to help you. This appliance store is here for all major appliances, helping you find the perfect option without fuss. This is a customer experience-driven team that puts solutions and success first.
This store offers a range of appliance options. From stoves to refrigerators, all areas are covered. You can also find dryers and washers. Alongside impressive products, the Patabay team can assist with delivery and installation.
Google Ranking: 4.5 ⭐⭐⭐⭐⭐ (85 reviews)
This Nairobi-based appliance store boasts an extensive range of home appliances. Hotpoint Appliances is a full-service store that offers appliances and accessories to keep your home up to date. With brands like Whirlpool, GE, and Samsung, Hotpoint Appliances is always well-stocked.
Key appliance categories include laundry, cooking, refrigeration, and dishwashers. From ranges to built-in dishwaters, your kitchen will be complete with the help of Hotpoint's Appliance team!
Google Ranking: 4.5 ⭐⭐⭐⭐⭐ (457 reviews)
LG Kenya is aamont the few online appliance stores with virtually every household item you need. The online shop's appliance segment has some high-end kitchen and home appliances at pocket-friendly prices.
What amazed us about LG Kenya is their easy-to-navigate website, which allows you to glimpse what a perfect kitchen would look like after purchasing their available appliances. In addition, their return policy is straightforward without the usual terms and jargon. You return any appliance that doesn't please you.
Google Ranking: 4.7 ⭐⭐⭐⭐⭐ (26 reviews)
When it comes to home décor, Al-Yassin Appliances LTD is a well-known and reliable choice with hundreds of options at a range of styles and prices. Their selection of cooktops, microwaves, refrigerators, and washers and dryers makes it one of the best places to purchase appliances.
Al-Yassin Appliances LTD has regular sales and extra discounts, plus you can find some brand-name appliances at affordable prices.
Because of the large variety of brands and manufacturers, browsing the selection online can feel frustrating despite the smaller selection. However, the website filters make it easy to sift through brands, types, and colors.
Google Ranking: 4.2 ⭐⭐⭐⭐ (255 reviews)
FAQs
1. When is the Best Month to Buy Appliances?
Now you know where to purchase appliances, but what is the best time to buy them? Timing plays a huge role in how much you pay for appliances. The best time to buy appliances is during Black Friday. Around this time, retailers will reduce prices significantly.
2. How Often Do You Need to Replace Appliances?
Appliances normally have long lifespans, especially if they're high quality. Most major appliances can last eight to eleven years with proper maintenance. A warranty can also help you save money and extend the life of your appliance if it needs repairs. You should replace your appliance when its accessories and parts are unavailable.
5. Should you Buy Appliances in a Bundle?
Unless you're moving into a new home completely bare of appliances or need to replace your appliances at once, we recommend against buying appliance packages or bundles. It would be unwise to replace anything still working and serving you well. Even if you get a good discount on the bundle, you're ideally spending money you don't have to!
Final Thought
When it comes to purchasing washing machines, refrigerators, or utensils, picking the right appliance stores is as important as picking the right model or brand. Ideally, your best bet is an independent local store with a delivery and service team.
The above home appliance stores are some of the best in Nairobi for their exemplary reputation, customer service, and quality products. With these in mind, you can easily identify a reliable supplier that meets your budget and needs.
Please follow and like us: