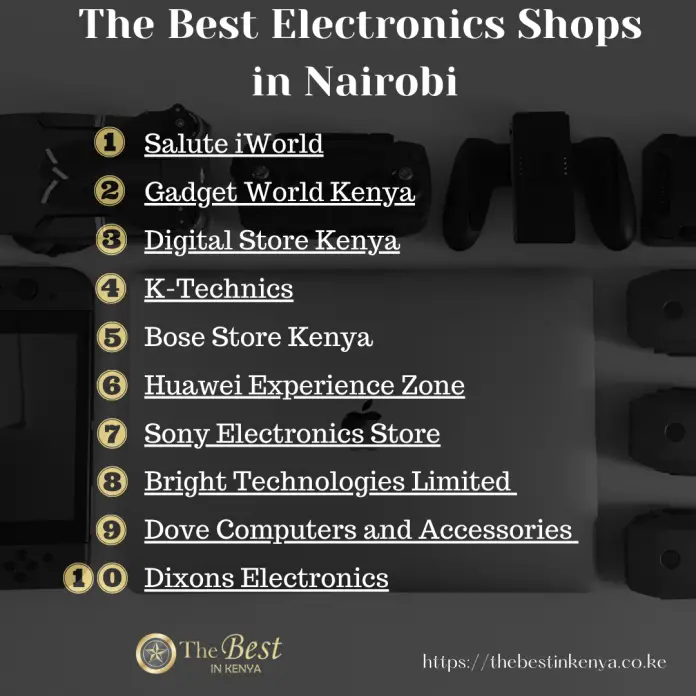 Are you searching for "electronic shops near me" and the results are overwhelming? Whether you are looking for tablets, smartphones, video game consoles, cameras, various accessories, or everything in between, Nairobi has insurmountable electronic shops. We've curated a list of the best electronics shops in Kenya to make it even easier. Let's dive in!
Top 10 Electronic Dealers in Nairobi 
Electronic Shop
Type of Electronics
Contact Information
Location
 

Salute iWorld

 

Desktop computers
Laptops,
Headphones
Smartwatches
Mobile phones

+254 798 192 924
Westgate Shopping Mall, Mwanzi Road.
Gadget World Kenya

 

Phones
Mobile phone accessories
Laptops

+254 727 540 440
After 40 Plaza, Biashara Street, Nairobi
Digital Store Kenya

 

Smartphones
Computer Accessories
Photography equipment

 

+254 111 043 000
Bihi Towers, Moi Avenue, Nairobi
 K-Technics

 

 

Displays sensors
Circuits
Shields & Modules
Mobile phones
Laptops
Headphones
Microphones

+254 712 799 123
Munyu Road, Nairobi
Bose Store Kenya

 

Microphones
Laptops
Mobile phones

+254 718 511 872

 

Westgate Shopping Mall, Mwanzi Road
Huawei Experience Zone

 

Mobile phones
Cameras
Wireless earpieces
Televisions

+25 114 118 326
The Village Market, Limuru Road
Sony Electronics Store

 

Mobile phones
Cameras
TVs
Entertainment systems

+254 746 543 391
Kimathi Street, Nairobi
Bright Technologies Limited

 

Laptops
Desktops
Phones
Printers

+254 710 623 400
Old Mutual Building, Kimathi Street, Nairobi
Dove Computers & Accessories

 

Computers
Computer Accessories

 +254 792 793 349
Revlon Professional Plaza, Tubman Road, Nairobi
Dixons Electronics

 

TVs
Phones
Tablets
Sound systems
Laptops

+254 720 628 888
Kimathi Street, Nairobi
List of the Best Electronic Shops in Nairobi
People often associate Salute iWorld with laptops and computers. However, they sell a whole host of electronics like smartwatches and mobile phones. You can easily find and order products from trusted brands like Panasonic, Samsung, LG, Sony, and Apple.
The electronics shop offers promotions during festive seasons, providing savings and discounts on purchases. In addition, their team is very attentive and always ready to help you get the best product according to your preferences and needs.
Google Rating: 5.0 ⭐⭐⭐⭐⭐ (1 Review)
Gadget World Kenya offers the best mobile devices and electronics, with premium brands on their shelves. They also provide electronic services like fixing your broken screens.
Notably, the shop is located at an easily accessible place in the CBD. Regarding customer service, the staff have profound knowledge of electronic gadgets and quickly understand your needs.
Google Rating: 4.9 ⭐⭐⭐⭐⭐ (17 reviews)
This is one of the best electronics shops to purchase smartphones, computers, and photography equipment. You can visit their website or the shop and request deliveries.
Digital Store Kenya riders are fast; you'll have your items after 24 hours. Their staff is very helpful and polite, always ready to guide you to get the best gadget according to your desire or need.
Google Rating: 4.8 ⭐⭐⭐⭐⭐ (294 reviews)
The electronic dealer offers a wide selection of gadgets. Its products range from accessories and computer parts to gaming items and smartphones. Plus, their electronic services are affordable and include mobile device repair, software installations, and consultation on tech gear, among others.
Google Rating: 4.7 ⭐⭐⭐⭐⭐ (252 reviews)
5. Bose Store Kenya
Bose Store Kenya is an esteemed retailer in Nairobi for accessories, laptops, tablets, and phones. They stock genuine products like microphones, laptops, and mobile phones. The shop offers unparalleled accessibility and convenience to customers in Nairobi.
They're known for their customer-centric approach, prioritizing customers' preferences and needs. In addition, they offer promotions and discounts for online and in-store shopping.
Google Rating: 4.8 ⭐⭐⭐⭐⭐ (4 reviews)
This store has an extensive collection of products, which is why we like it. They have electronic products and gadgets that extend smartphones and cameras to televisions and computers.
We also commend that it offers an ultra-fast delivery service, where your online orders are processed immediately and delivered within 24 hours. Even if you aren't an electronics fan, the Huawei Experience Zone is necessary for anyone visiting Nairobi!
Google Rating: 4.8 ⭐⭐⭐⭐⭐  (10 reviews)
Sony Electronics in Nairobi is known for its high-quality and genuine electronic products. Their prices are relatively higher than other shops in the CBD, but originality is assured. You can also make your online order and deliver your items if you prefer to shop virtually. If you have any doubts, contact the Sony Electronic Store's attendants, as there is always a specialist in the shop to talk to you and help you solve your doubts.
Google Rating: Not Rated Yet
We like Bright Technologies because it has a huge collection of electronic products. You may choose from TVs, mobile phones, cameras, computer hardware and systems, and other accessories.
We couldn't help but notice the countless offers, discounts and promotions it offers. Although specific to some electronics, these are great as they help you save money. It is a great customer experience and worth a visit, even if you aren't purchasing any electronics there.
Google Reviews: 4.2 ⭐⭐⭐⭐ (382 reviews)
Check out Dove Computers for the latest laptop brands and discount deals. They offer convenient shopping, with additional services like free delivery within the CBD. The shop greatly emphasizes serving its clients well, and you can expect outstanding services from highly qualified attendants.
Google Rating: 4.1 ⭐⭐⭐⭐ (122 reviews)
Dixons Electronics has proliferated in Nairobi to provide high-quality products. Renowned as one of the most trustworthy electronic shops in Nairobi, Dixons Electronics offers mobile phones, computers, tablets, and laptops at affordable prices.
You can also enjoy online and in-store shopping flexibility where quality is guaranteed. Dixons Electronics has earned its acclaim by providing superb customer services through its approachable, attentive attendants.
Google Rating: 4.3 ⭐⭐⭐⭐(24 reviews)
Factors To Consider Before Buying Electronics 
Buying electronics is a challenging task. A little planning not only can help you purchase the best gadget but also will save you money. Here are some factors to remember when visiting one of the electronics shops in Nairobi.
1. Budget
You may not afford the best brand but you want to purchase a product from a reputable, reliable company. Always go for electronics that offer a discount if you have a tight budget.
Check the voucher code on each electronic while in-store or online shopping. You may also wait for annual or seasonal sales to purchase big electronics, like Cyber Monday and Black Friday.
2. Reviews 
Never get attracted by engaging ads for electronics. No matter how appealing the ad looks, you can easily find out if the item will function as advertised or not with reviews of past clients.
You should read the customer's reviews even if you aren't purchasing the item. However, don't be too quick to conclude anything just because you read several negative reviews.
3. Brand  
It's advisable to select the best brand you're purchasing. For instance, if you need to purchase a mobile phone, it is advisable to buy from the common brands, such as Samsung, Lenovo, iPhone, etc. Do this by finding which brand has the highest ratings and demands from ratings and reviews.
You should choose one of superior quality for all your electronics. Avoid compromising on the quality. High-quality electronics can be expensive, but they consistently prove to be better than cheap gadgets of poor quality.
Picking a low-priced item is good, but make sure a trustworthy and reliable manufacturer has manufactured it. You should purchase gadgets from legendary companies because they have earned the loyalty and trust of customers.
4. Features  
When buying electronics, it's crucial to determine the features required. This includes understanding the technical characteristics of the gadget to ensure its optimal performance.
Always pay attention to the little details, from material to size and type. Attention to these details lets you identify electronics that can last longer without causing safety hazards. With the above factors, purchasing your preferred electronics will be a breeze.
Conclusion 
Electronics shops in Nairobi provide a diverse and engaging shopping experience that captures foreign and local customers' interests. From uncommon electronics and contemporary store chains to cutting-edge gadgetry to vibrant markets hosting vintage treasurers, Nairobi is one of the best places for tech enthusiasts.
With an extensive selection of electronics, varying price ranges, a dynamic market atmosphere, and language support, the above electronic shops remain ideal for tech-savvy shoppers looking for satisfying purchases during their visit!
Please follow and like us: