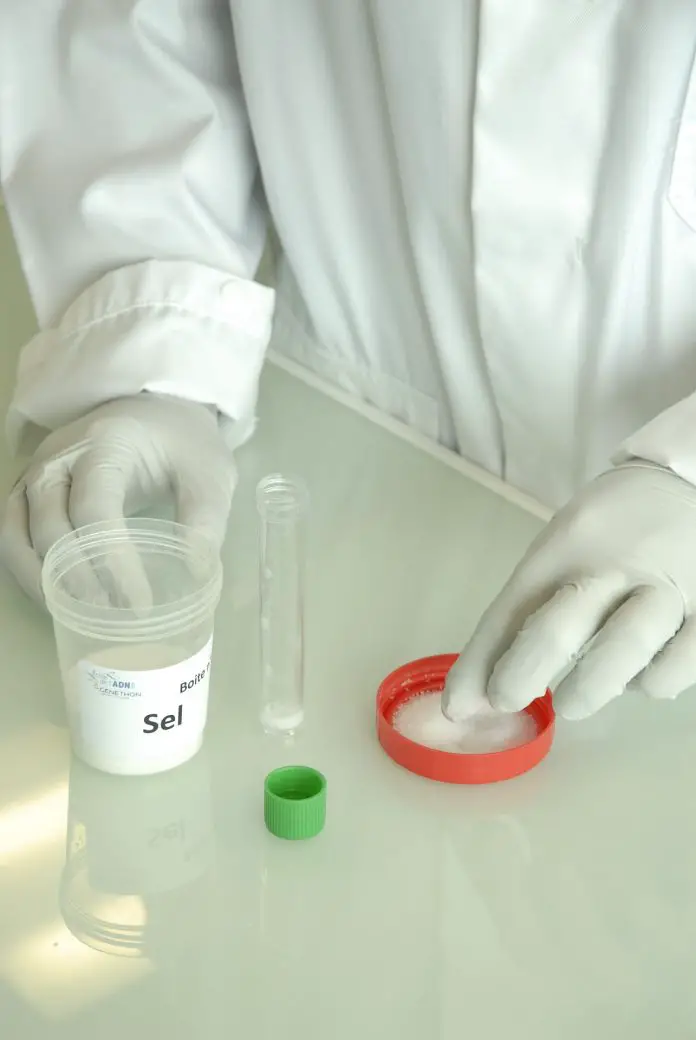 In Kenya, the 24-marker DNA test cost is approximately Ksh 10,000 per person, while the 44-marker price is about Ksh 17,500 per person depending on the DNA testing centres in Kenya. To carry out a DNA test, one needs to give out a sample of blood, skin, hair, or other body tissue.
There are two types of DNA testing, that is, paternity test and maternity test. A paternity test is done to prove whether a man is the biological father of an individual. In contrast, a maternity test is done to determine whether a woman is the biological mother of an individual.
Top 10 DNA Testing Centres in Kenya   
DNA Testing Centre

DNA Tests

Contact

Location

Bioinformatics Institute of Kenya

Paternity test

Prenatal test

Sibling test

Ancestry test

+254 716 335266

 

Maasai Rd, Off Mombasa Rd, Nairobi

Kenyatta National Hospital

Paternity test

020 2726300

Hospital Rd, Nairobi

EasyDNA Kenya

Paternity test

Relationship test

Legal DNA test

Infidelity test

+254 722 219352/ +254 722 622166

Upperhill, Nairobi

Nairobi Hospital

Paternity test

+254 703 082000/ +254 730 666000

Argwings Kodhek Rd, Nairobi

American Embassy

Relationship test

Paternity test

+254 20 3636000

United Nations Avenue, Nairobi

KEMRI

Paternity test

Family relationship test

Forensic DNA test

+254 722 205901

Off Mbagathi Rd, Nairobi

Pathcare Kenya Ltd

Paternity test

+254 722 203074/ 020-2430854

Limuru Rd, Nairobi

Metropolis Star Lab Kenya

Genetic test

+254 735 666689/ +254 733 666693

Argwings Kodhek Rd, Nairobi

Lancet Kenya

Kinship analysis

Y-chromosome analysis

Legal consent

+254 703 061000

Upperhill, Nairobi

SepiDNA Kenya

Paternity test

Immigration DNA

DNA maternity test

Forensic DNA test

Identity DNA test

Ancestry and genealogy DNA test 

+254 704 967808

Nairobi

Mombasa
List of DNA Testing Centres in Kenya
Bioinformatics Institute of Kenya conducts DNA paternity test, prenatal test, sibling test, and ancestral test. Over the years, the DNA testing centre has done over 1200 DNA tests.
 The requirements for a DNA test at Bioinformatics are a sample from the child and the alleged father. Also, you can send in the mother's sample to strengthen the DNA results. Lastly, you will collect the results five working days later after giving out the required samples.
Kenyatta National Hospital offers DNA testing services to both patients and also people who seek assistance. KNH follows a trustworthy sampling procedure for DNA tests in Kenya. As a result, their results are often 99.9% effective.  
The DNA testing centre charges between Ksh 20,000 and Ksh 30,000 for their services.  Therefore, if you have a dispute over a child and require an affordable cost DNA test at a government chemist, visit KNH.
EasyDNA is one of the leading DNA testing centres across Africa. The institution offers affordable, reliable, and accredited testing in all its legal laboratories. You can get paternity testing, legal DNA test, relationship testing, infidelity DNA test, and discreet DNA samples from EasyDNA.
The cost of a DNA test at the centre is Ksh 24,000. Over the years, EasyDNA has performed over 300,000 DNA tests. You can get your results within 5-7 working days, but if you feel it is long to wait, you can get an express service in which your results are released after two working days.
Nairobi Hospital is a reliable DNA testing centre. To receive a professional DNA test from Nairobi Hospital, you need to have a filled laboratory request form from your doctor. The facility conducts the DNA test with the highest level of integrity, which guarantees you accurate results.
However, the cost of DNA testing at Nairobi Hospital is a bit expensive. You can spend up to Ksh 100,000 for a complete test. You can visit any of their five laboratories and enquire about DNA testing.
The American embassy has a DNA testing Centre in Kenya to establish U.S. citizenship for a child born abroad. If you ask about the cost of DNA testing at the American Embassy in Kenya, the facility charges a specimen collection fee of $ 45.00 per person. Besides, you should pay for the tests before the scheduled date of the appointment.
You need to do the DNA testing fee at IOM Clinic at 78 United Nations Cresent off UN Avenue in Gigiri, Nairobi. Lastly, the DNA testing center requires you to retain the payment receipt and show it to the DNA technician once you visit the facility.
KEMRI Human DNA Identification Lab is one of the best DNA testing centres across Kenya. From KEMRI, you can get a paternity test, family relationship tests, identity DNA profiling, and forensic DNA testing. The DNA testing centre has international standards and thus produces quality results.
Also, the facility offers DNA training to enhance capacity building at the local and international levels. KEMRI serves private clients and even those referred by courts. Their services are not only pocket-friendly but also accessible to most in Kenya and East Africa.
Pathcare offers DNA testing to clients with the best possible experience. You can visit the facility at Regal Plaza Limuru Road in Nairobi. Besides, the DNA testing centre is open from Monday to Saturday.
The professionals at Pathcare value both the client's money and well-being in their work. Therefore, if you wish to have a reliable and effective DNA test, visit their laboratory.
It is an Indian facility with two laboratories in Nairobi. The labs can conduct 4500 different pathology tests. The two DNA testing centers also carry out 80% of the genetic testing, while Metropolis India does 20%.
Metropolis has plans underway to set up five more labs across Kenya to serve more clients who want genetic testing. You can visit the DNA testing centre for their quality services due to up-to-date facilities. Also, their professionals are highly qualified in pathology.
Lancet laboratories offer paternity testing to parents who want to settle a child's parentage. The results from this DNA testing center are 99.999% accurate; hence you can trust their work. Besides, the facility uses technology to test the sample provided.
The facility carries out 15 different DNA loci to establish accurate results. The DNA test cost at Lancet Kenya is affordable, and it is paid through credit card or in cash.
SepiDNA is a forefront DNA testing center across Africa. It has an office in Nairobi, Kenya, where they conduct DNA analysis. The facility has carried out the DNA sampling procedure for many clients in Kenya and across Africa.
The facility has conducted over 300,000 DNA tests, which improve its reputation. Besides, it is one of the DNA testing centres that provide tests on 16 genetic markers. This makes their results reliable.    
Please follow and like us: