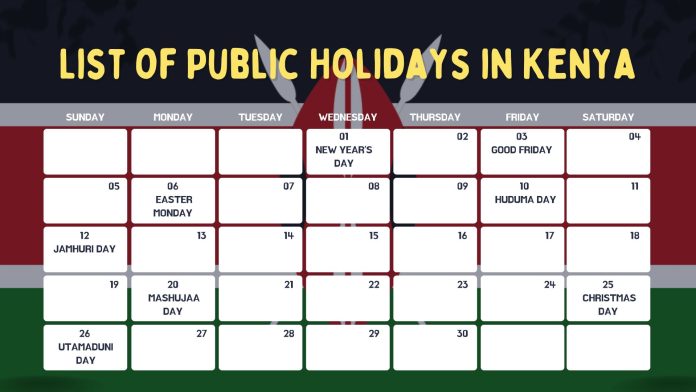 According to the Public Holidays Act, there are more than ten national holidays in Kenya. These are days when people do not go to work or school to celebrate the reason for that holiday. And when a public holiday falls on a Sunday, it is observed the following Monday, extending your weekend. 
The gazetted national holidays in Kenya include New Year's Day, Good Friday, Easter Monday, Labor Day, Madaraka Day, Idd-ul-Fitr, and Mashujaa Day. Jamhuri Day, Christmas Day, Boxing Day, Eid Ul Adha, and Huduma Day are also holidays. 
Keep reading this article to learn when each public holiday happens and their reasons!
Gazetted National Holidays in Kenya 
| | | |
| --- | --- | --- |
| Public Holiday in Kenya | Date  | Purpose  |
| New Year's Day | 1st January | Celebrating the beginning of a new year |
| Good Friday  | Depends on the Gregorian calendar | Commemorating the crucifixion and death of Jesus Christ |
| Easter Monday  | Depends on the Gregorian calendar | Marks the resurrection of Jesus Christ |
| Eid-al-Fitr | Depends on the appearance of the moon | Marks the end of Ramadan |
| Eid-ul-Adha  | Depends on the lunar cycle  | Celebrating prophet Ibrahim's willingness to sacrifice his only son |
| Labor Day  | 1st May  | Celebrating the achievement of Kenyan workers |
| Madaraka Day  | 1st June  | Commemorating when Kenya attained self-rule  |
| Huduma Day | 10th October | Encouraging acts of service to others  |
| Mashujaa Day  | 20th October | Celebrating the heroes who fought for Kenya's freedom  |
| Jamhuri Day  | 12th December | Celebrating when Kenya gained independence |
| Christmas Day  | 25th December | Marks the birth of Jesus Christ |
| Boxing/Utamaduni Day | 26th December | Appreciating the various Kenyan cultures and giving gifts to the needy |
1. New Year's Day 
New Year's Day is a Kenya public holiday commemorating the beginning of a new year. It happens every year on the 1st of January to celebrate a new beginning as an individual or with your family and friends. At midnight on this day, you can hear fireworks and people rejoicing to welcome the new year. 
People reflect on how the previous year has been, what they have achieved, and what they weren't. Also, some set goals for the new year so that they remain focused. 
2. Good Friday 
If you are a Christian, you are familiar with this Friday public holiday. It is a day when people celebrate the crucifixion of Jesus Christ and His death on the cross. On this day, some believers hold a special service in their places of worship. 
There is no specific date to celebrate Good Friday. Depending on the Gregorian calendar, the holiday happens on the first full moon, the Friday before Easter Sunday.
3. Easter Monday
Easter Monday happens the immediate Monday after Good Friday. It is a holiday to celebrate the resurrection of Jesus Christ in the Christian community. However, its specific day depends on the Gregorian calendar. 
Most places of worship spend the Sunday before Easter Monday teaching their congregant about the importance of Christ's resurrection. Some even break the bread together as a sign of remembrance of what happened at Calvary. 
4. Eid-al-Fitr 
It is one of the crucial public holidays in Kenya among the Muslim community. It marks the end of Ramadan when they fast and pray, and the beginning of Shawwal. The Eid-al-Fitr date is not constant but depends on the moon's appearance. 
The non-Muslims take a day off from work and school during this holiday. On the other hand, Muslims meet at their places of worship to eat and celebrate together. Before Eid-al-Fitr, Muslims are expected to donate foodstuffs to the less fortunate to ensure they have something to eat on the day of celebration.
5. Eid-ul-Adha
The Feast of Sacrifice, or Eid-ul-Adha public holiday, is another special day for the Muslim community. It is a day to commemorate the willingness of Prophet Ibrahim to sacrifice his only son, Ismael, to Allah. However, before he could sacrifice him, Allah provided a lamb.  
The actual date of Eid-ul-Adha depends on the lunar cycle. It is usually celebrated on the 10th day of Dhu al-Hijjah. You can visit your family and friends on this day and exchange gifts. 
6. Labor Day 
Kenya's gazette of national holidays indicates that Labor Day should be celebrated on the 1st of May every year. It is a special day to celebrate the achievement of all workers nationwide. Besides, it is not only done in Kenya but across the world. 
The trade union organizations such as COTU and employers organizations are the main stakeholders on this day. However, the sitting president of Kenya can also take part in addressing changes that will affect employers and employees. 
7. Madaraka Day 
Madaraka Day is the 1st of June public holiday in Kenya. It is a national holiday that happens every year, led by the sitting president, to celebrate when Kenya gained full control over its internal affairs from the British.  
Kenya gained partial independence on the 1st of June, 1963, so this year's Madaraka Day marked the 60th year since independence. Currently, the celebrations are done at county stadiums.
8. Huduma Day 
Huduma Day is one of the gazetted public holidays in Kenya to encourage acts of service among Kenyan citizens. This is the 10th of October national holiday that replaced Moi Day, when Kenyans celebrated the former president, Daniel Arap Moi. Moi Day was scrapped in 2010 during the reinforcement of the new constitution. 
For seven years since 2010, there was no public holiday on this day. However, in 2017, through a court ruling by George Odunga, the holiday was reinstated as Huduma Day. 
9. Mashujaa Day
Ten days after celebrating Huduma Day, Kenyans have another day from work and school to commemorate Mashujaa Day. Initially, this Kenya public holiday was referred to as Kenyatta Day in honour of the first president of Kenya. 
The word Mashujaa means heroes in English. Therefore, it is a day when we celebrate people who fought for freedom and other recognizable individuals like Kenyan athletes. Some significant people celebrated this day are the Mau Mau fighters and the Kapenguria Six. 
10. Jamhuri Day  
The month of December is full of celebrations and a happy mood. Kenyans begin this month with Jamhuri Day to commemorate when they attained independence from the British. The sitting president leads the 12th of December public holiday. 
The country gained self-rule on the 1st of June 1963; however, it became a fully independent nation on the 12th of December 1964. That is why we celebrated both Madaraka and Jamhuri Day. The word Jamhuri means republic. 
11. Christmas Day 
A few days after celebrating Jamhuri Day, one of the most important public holidays in Kenya, especially among Christians, happens. Christmas Day, which occurs on the 25th of December every year, is commemorated by billions worldwide. It marks the birth of the Savior, Jesus Christ. 
On this day, Kenyans spend quality time with their loved ones. Those who have been working in towns go to see their families in rural areas. For children, Christmas Day means delicious food and new clothes. 
12. Utamaduni Day (Previously Boxing Day)
Boxing Day, also known as Utamadani Day in Kenya, happens the next day after Christmas. If this day is on a Sunday, the 27th of December becomes a national holiday.
Traditionally, this is a day when people give gifts to the less fortunate. However, this is rare in Kenya, so the government renamed it Utamaduni Day. Hence, Kenyans appreciate the various cultures on this day. 
FAQs 
How many public holidays does Kenya recognize? 
Kenya recognizes about 12 national holidays. Kenyans are expected to take time off from work and school on these days, but some industries, such as hotels, are exempted. Also, during a public holiday in Kenya, such as Jamhuri Day, there are special celebrations led by the sitting president.  
Is Eid-ul-Adha gazetted in Kenya? 
Yes, the Eld-al-Adha national holiday is gazetted in Kenya. It is a day in the Muslim community when they celebrate the obedience of Prophet Ibrahim to sacrifice his only son, Ismael, to Alla. In 2023, the Interior Cabinet Secretary, Kithure Kindiki, declared the 28th of June a public holiday to mark this day. 
Which is the most important holiday in Kenya?
Jamhuri Day is one of the most important holidays in Kenya. It is a day to commemorate when Kenya became a republic and gained its full independence from the British Colonial. Jamhuri Day celebrations are done every year on the 12th of December, led by the current president of the Republic of Kenya. 
Please follow and like us: