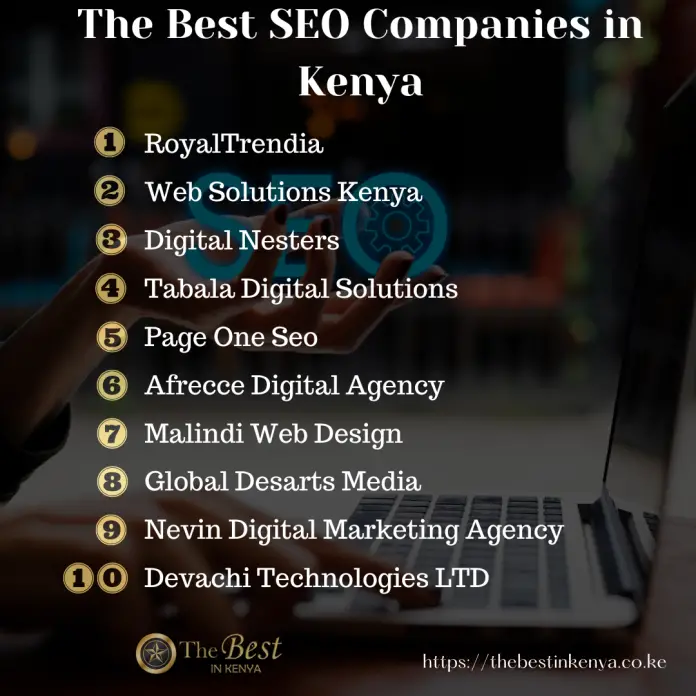 What happens when you search for "SEO companies near me"? It's like opening Pandora's box of online marketing madness! And everyone has a promise: from the local SEO guru who swears they'll make your website hotter than a jalapeño to the "world-renowned" expert who will turn your website into the next Amazon overnight.
And then confusion sets in. But you don't have to wallow in this dilemma. In this blog, we take you through the best SEO agencies in Kenya by different categories. Ready to learn more? Let's dive in.
The Top 10 SEO Companies in Kenya 
SEO Company
Services
Contact
Location
RoyalTrendia

Pay-Per-Click (PPC)
SEO
Email Campaigns
Display Advertising

 

+254 736 951 730

 

Nairobi, Kenya
Web Solutions Kenya

Paid Media
Social Media
Email
PR
Conversion Rate Optimization (CRO)
SEO

 

+254 780 201 212

 

Rex House – Moi Avenue
Mombasa, Kenya
Digital Nesters

Search Engine Optimization
Content Creation
Social Media Management
Web Design and Development
Analytics and Report

 

+254 746 067 760

 

 

6th floor Senteu Plaza, Galana/Lenana Road

 

 

Tabala Digital Solutions 

Pay-Per-Click (PPC),
SEO
Email Campaigns
Display Advertising

 

+254 799 405 121

 

 Le'Mac Towers, Church Road,
Nairobi.
Page One Seo & Online Marketing Ltd.   

PPC
 SEO
Content marketing
Social Media Management

 

+254 724 505 643

 

Unity Plaza Business  4th floor Maasai Lodge Ongata  Rongai

 

Afrecce Digital Agency

SEO
 Lead Generation
Online Reputation Management (ORM)

+254 722 326 932

 

Wayaki Way
Nairobi, Kenya 

 

Malindi Web Design

Web Hosting
SEO
Web Design

+254 784 845 791
Malindi, Kenya
Global Desarts Media

SEO
Content Writing & Marketing
Web Design
Video Production & Marketing
Web Development
Web Design
Software Development

 

+254 720 744 763

View Park Towers 16th Floor, Suite 04, Nairobi, Kenya

 

Nevin Digital Marketing Agency 

Local SEO, link-building services
Small business SEO
 e-commerce SEO to SEO consulting
APP Design & Development
Ecommerce Development
WordPress

+254 715 514 124

 

Norwich Union House Kimathi Street
Devachi Technologies LTD

Digital Marketing
Web Design, Cloud Backup
Cybersecurity
SEO

+254 720 602 020
Wood Avenue Plaza, Argwings Kodhek Rd
List of the Best SEO Agencies in Kenya
The agency provides a comprehensive range of web development and internet marketing services to B2B and B2C organizations. They excel in managing pay-per-click (PPC), SEO, email campaigns and display advertising.
ToyalTrendia also delivers innovative platforms and processes for your customized site and offers startup marketing solutions. The SEO company prioritizes transparency in its business model, valuing honest reporting of campaign results.
Google Rating: 4.9 ⭐⭐⭐⭐⭐ (11 reviews)
They're a highly acclaimed digital marketing agency based in Nairobi. They prioritize customer satisfaction, offer effective solutions, and reinvest profits for employee, client, and community success.
With a strong industry presence, Web Solutions Kenya specializes in multichannel strategies such as paid media, social media, email, PR, Amazon, conversion rate optimization, and SEO. They have been consistently recognized as the best agency in Kenya in these disciplines. Web Solutions Kenya provides a proprietary forecasting system to achieve your goals accurately.
Google Rating: 4.9 ⭐⭐⭐⭐⭐(40 reviews)
Digital Nesters specializes in delivering organic search engine optimization to boost your website traffic. More traffic means more clients. They work with honesty and integrity and always push the curve. Digital Nesters are the leading search team in Kenya.
The SEO experts have worked with top companies across the globe. This experience guarantees the skills go beyond the confines of Kenya. Their team are digital natives who breathe, live and love search engine marketing and content creation.
Google Rating: 5.0 ⭐⭐⭐⭐⭐ (I review)
Tabala Digital Solutions is a tech-savvy marketing agency. Their expert team of designers, marketers, and developers create personalized strategies depending on your unique objectives and needs. Tabala Digital Solutions pushes measurable metrics like revenue and leads to drive real business results to the forefront of what it does.
They combine various digital channels to maximize visibility, revenue, and conversions. The agency is dedicated to helping your business succeed by delivering tailored plans that align with your needs and goals.
Google Rating: 4.4 ⭐⭐⭐⭐ (7 reviews)
Trusted by major tech brands in Kenya, Page One is a leader in PPC, SEO, content marketing and social media. The company can bring your performance campaigns to life. Driven by powerful analytics and a committed team of experts, the company understands the importance of retaining and growing your customer base, fulfilling promises, and reaching bottom-line goals.
Over the past decade, the SEO company has generated high returns in client revenue. They achieve this by implementing top-tier campaigns in paid media, revenue operations, SEO, and design.
Google Rating: 4.0 ⭐⭐⭐⭐(1 review)
Afecce is a digital marketing agency specializing in SEO, lead generation, online reputation management (ORM), and other advanced techniques. Their experienced team and tools can increase organic traffic to your site, boost click-through rate (CTR), improve ROI, and enhance brand recognition.
The agency provides comprehensive SEO reports, unique hosting solutions, expert guidance, better ranking, increased traffic, and training opportunities. Afrecce caters to B2C, B2B, and various niche clients, offering specialized services like enterprise, e-commerce, franchise, and local SEO.
Google Rating: 5.0 ⭐⭐⭐⭐⭐ (10 reviews)
If you're a B2B, B2C, or SaaS company looking for a digital marketing agency to improve your online visibility, look no further because Malindi Web Design has got you covered.
The agency has a reputable position in the market for providing progressive strategies guaranteed to increase organic growth.
Malindi Web Design primarily focuses on SEO and offers web design and PPC services. They're a perfect choice for managing your online reputation. Their team of professionals thoroughly reviews your current website demographics. Then, they make data-driven decisions that appeal to the latest market trends and your website goals.
Google Rating: 4.0 ⭐⭐⭐⭐ (2 reviews)
Global Desarts Media is a virtual assistance agency that offers remote digital marketing talent to small businesses in Kenya. This helps you reduce marketing costs and achieve incredible growth online. The company has a team of virtual assistants providing skills in SEO, content writing and marketing, Web Design and video production and marketing.
At Global Desarts Media, you will meet a team of experts who manage every facet of digital marketing. They offer website design, online brand reputation management, SEO, and social media marketing services. They can also help you with social media, organic search, sales and an online reputation for your company.
Google Rating: 5.0 ⭐⭐⭐⭐⭐ (66 reviews)
Talk about exceptional SEO services; you will find no better option than Nevin. They're an all-rounded SEO expert because they cover web design and development, e-commerce development, local SEO, link-building services, e-commerce SEO, and WordPress SEO. You name it, and they've it!
Nevin Digital believes that "Content is the King." Thus, they have a specialized team of SEO writers trained in writing original and unique content in every niche. You could ask the company for the next post on your travel blog or some complex technical content, and they'll deliver.
Google Rating: 4.9 ⭐⭐⭐⭐⭐ (76 reviews)
Devachi Technologies is a 360° IT and digital communications company that handles all your IT needs. From digital marketing, web design, cloud backup, cybersecurity, and SEO to networking and collaboration tools.
Devachi Technologies LTD is one of the leading providers of SEO services. They are well-known for their extensive online marketing services, such as pay-per-click advertising, SEO, inbound links, and online reputation management (ORM).
Google Rating: 5.0 ⭐⭐⭐⭐⭐ (6 reviews)
Cost of SEO Services in Kenya
The cost of SEO services in Kenya ranges from $1000 to $7000 per month. The prices are usually lower for local campaigns and higher for e-commerce stores. However, the prices might be lower for entry-level SEO companies or personnel. It is advisable to choose customized monthly packages as you add and remove services per your needs.
Bottom Line 
Do you want to improve your website's search engine rankings? You can consider these SEO companies to increase traffic or conversions. We strongly encourage you to exercise due diligence in evaluating the suitability and reliability of any of the above SEO companies.
Please follow and like us: