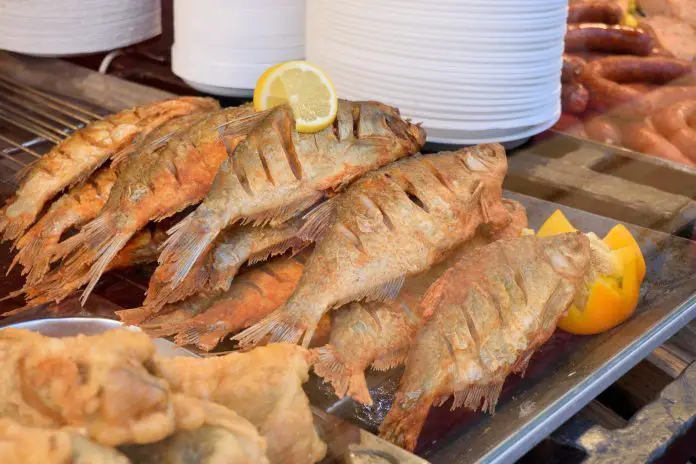 Fish is hailed for its nutritious value, especially as a source of protein. It also provides omega-3 fatty acids, which protect you from cardiovascular disease. Therefore, visiting fish joints from time to time is healthy for your body. 
However, getting a perfect fish place where you can find fresh fish can be a hassle. This is because some places sell bad fish that can make you hate this delicacy for life. 
But don't worry; this article will help you with the best fish joints in Nairobi. Keep reading!
Top 10 Fish Restaurants in Nairobi
Fish Joints 
Dishes 
Location 
Contact 

Fish Bay

Dry/ wet fry tilapia, traditional vegs and ugali 

Dagoretti Corner 

+254 722 653692

Mama Oliech

Omena

Mbuta

Fish and ugali

Marcus Garvey Street, North in Nairobi 

mamaoliechrestaurant@gmail.com

+254 701 707070

Mawimbi 

Smoked fish carpaccio

Kijabe Street, Nairobi 

info@mawimbirestaurant.com

+254 758 956805 

Everything Fish 

Tilapia served with an accompaniment

Fish fillet with an accompaniment 

Ngong Road, Nairobi 

info@everythingfish.co.ke

+254 113 796167 

Big Fish 

Wet/ dry fry Tilapia

Wet/ dry fry Nile perch  

Church Rd, Westlands

Roasters, Garden Estate Rd

freshcoinvestment@gmail.com

 

+254 715 148388

Samaki Samaki Seafood and Jazz

Fish & chips

Fish tacos & cakes

28 Othaya Rd in Lavington

+254 737 345667

K'Osewe Ranalo 

Wet/ Dry fry tilapia with ugali and kale

Kimathi Street, Nairobi 

kosewe@bwh.co.ke

 

+254 722 638538

Golden Spot 

Whole fish dry/wet fry with an accompaniment 

Chaka Road, Hurlingham

info@gspot.co.ke

+254 718 112432 

Kellyda Fish Palace 

Fried tilapia




Fried Nile perch 

Online 

+254 748243678

Ocean Basket Kenya 

Fish & chips

Grilled Salmon

Kingklip

Westgate Shopping Mall, City Estate 

oceanbasket@simbisakenya.co.ke

+254 114 018785
List of the Best Fish Joints in Nairobi
1. Fish Bay Restaurant
It is one of the best places for fish in Nairobi. The restaurant offers delicious lake-bred tilapia with nutritious traditional vegs and ugali. You can visit the restaurant any day at Dagoretti Corner. 
Besides, the prices are affordable, and the environment is clean. You can choose to take wet fry or dry fry fish with your brown or white ugali. Lastly, the restaurant provides takeaway services; you can buy fish and carry it home. 
Mama Oliech Restaurant is famous for its tasty, mouth-watering fish dishes fresh from lake Victoria. It also strives to provide a comfortable and serene environment where you can eat, relax and feel at home regardless of race or tribe. 
The restaurant is located along Marcus Garvey Street in Hurlingham. Due to its delicacies and friendly environment, the place has earned itself a name and hosted popular people like Mark Zuckerberg. Lastly, it is one of the cheapest fish joints because prices are as low as Ksh. 140.00 for a plate of ugali and a large fish.
It is a seafood restaurant located in the heart of Nairobi to offer a fine dining experience. The interiors are made with a modern design to provide you with unforgettable memories. You can book a table earlier to avoid being locked out. 
The award-winning fish joint is open from 6 AM to 9 PM. Besides, the Mawimbi seafood restaurant menu has all types of fish, from smoked to deep-fried. You can also choose from various accompaniments such as ugali and rice. 
 It is a state of art restaurant located at the junction between Ngong Road and Ole Dume Road in Nairobi. It is a branch of Kamuthanga Fish Farm, where tilapia's aquaculture is the order of the day's order. Therefore, rest assured that you will enjoy fresh fish at the restaurant. 
A big Watamu King fish goes for Ksh. 1,400 while half of it Ksh 650. On the other hand, a whole tilapia fish goes for Ksh. 650. You can choose to eat your fish with white/ brown ugali, mukimo, fries, chapati, or sauteed potatoes. 
5. Big Fish Restaurant
It is one of the seafood restaurants in Westlands, providing medium dry fish served with ugali, mboga, and a side of kachumbari at Ksh. 625. A medium wet fry one goes for Ksh. 688. If you want the large dry fish, you can get it at Ksh 750. 
The good news is, you don't have to go to the restaurant to enjoy the dishes. You can order via food delivery companies such as Bolt or Jumia. Currently, the Big Fish Restaurant, Nairobi, has two joints; one along Church Road in Westlands and the other at Roasters along Thika Road. 
6. Samaki Samaki Seafood and Jazz
It is one of your go-to fish joints when you want to taste authentic seafood in Nairobi. Also, you can easily access it because it is located at 28 Othaya Road in Lavington. It offers different fish dishes such as Swahili fish curry, baked oysters, and king prawns pili pili. 
Besides the mouth-watering food, Samaki Samaki is one of the fish joints where you listen to jazz music from Asta Ina and The Rouge Band every Sunday from 2 PM. This makes dining memorable and exciting. You can bring your family on Sunday afternoons to have fun and create memories.
7. K' Osewe Ranalo Foods
K' Osewe Ronalo is one of the seafood restaurants in Nairobi CBD. It is known for serving traditional and local dishes, including fish delicacies. Apart from the good food, the services are top-rated, and the smiles from the staff are genuine. 
You will get a plate of ugali, kales, and a large tilapia at a fair price. As you enjoy your meal, you can play along with the music to add to your dining experience. 
Gspot restaurant provides a relaxed and memorable environment for dining. Whether you want a wet fry or a dry fry whole fish, you will get it at Ksh. 800 only. The fish is served with white/ brown ugali and a portion of greens. 
This fish place in Nairobi is open from Sunday to Saturday. The services are available from 8 AM to 8:30 PM. All you need to do to enjoy their services is make a reservation that takes just a few minutes. 
9. Kellyda Fish Palace
If you are considering where to buy fresh seafood in Nairobi, think of Kellyda Fish Palace. You can enjoy fried tilapia or fried Nile perch. Five hundred grams of fried tilapia goes for Ksh. 390, while that of Nile perch costs Ksh. 400. The price depends on the weight of the fish.
You can also buy raw tilapia or Nile perch to cook at home. Five hundred grams of raw tilapia goes for Ksh 320, while that of Nile perch is Ksh. 380. You don't have to visit the fish joint; instead, you can place your order through Glovo, which will be delivered on time. 
It is one of the most-loved fish joints in Nairobi, offering abundant portions of delicious seafood. You don't have to worry about your kids because the restaurant has a kids' menu with kid-friendly meals. 
The famous fish & chips package goes for Ksh. 890 while a grilled Salmon fish costs from Ksh. 1,990. You can visit the fish place in Westgate Shopping Mall, City Estate or make a call to order. 
Please follow and like us: