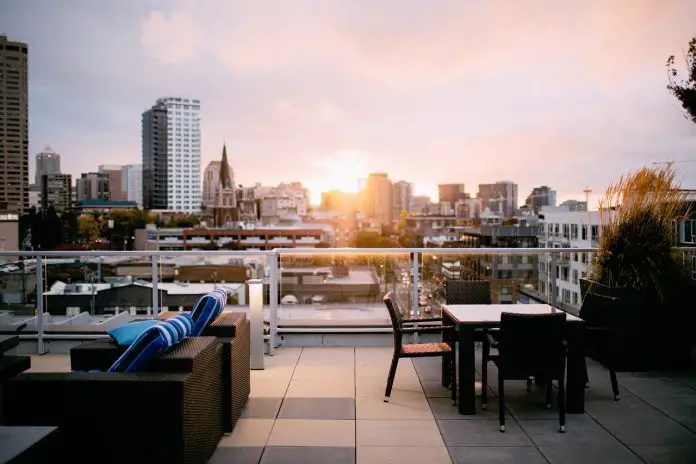 We love Westlands. The ease of navigating cannot be compared to the CBD. As such, many business owners find this part of town to be ideal for setting up the best restaurants in Nairobi with a view. Nairobians also flock to these establishments, which are scenic and suitable for the glam.
So, if you are looking for a good restaurant in Westlands, want a romantic date venue, hang out with the girls, or kick back with your colleagues after work, you cannot go wrong with these options. There are old favourites and new up-and-coming trendsetters. You'll enjoy signature dishes, cultural cuisines, or local delicacies. Let's look at the top ten restaurants in Westlands.
Related: The Best Budget Restaurants in Nairobi CBD
Good Restaurants in Westlands
Restaurant
Contact
location
INTI – A Nikkei Experience
 +254 735 065945

 

20th Floor, One Africa Place, Westlands, Nairobi
Brew Bistro
 +254 705 466836
11th Floor Fortis Tower Westlands Located Inside New Brew Bistro, Fortis Towers, Westlands, Nairobi Kenya
Mercado – Mexican Kitchen & Bar
 +254 700 245795
Ring Road Parklands Terrace Floor, South Wing, Kenrail Towers, Westlands Area, Nairobi
Fonda's Taqueria, Westlands
reservations@fondanbo.com

(+254) 0748458856

Sarit Centre, Rooftop Garden, 00800, Westlands, Nairobi
 The View Restaurant
(+254) 0709548183
Mkungu Cl Nairobi, 00800
Sarabi Rooftop Restaurant
 (+254) 0204208000
Sankara Nairobi, 05 Woodvale Grove, 69671 00400, Nairobi, 00800

 

The Amaica
 info@amaica.co.ke

0716 687248

Peponi Road,

Westlands

Open House Restaurant
 (+254) 0727726345
Ring Road Westlands Opposite The Mall, 00800, Westlands, Nairobi
The Mayura Restaurant
 (+254) 0737224444

info@themayura.com

 KenRail Towers, 00800, Westlands, Nairobi
The Copper Ivy
 (+254) 0781234234
The Promenade Drive, General Mathenge Rd, 00800, Westlands, Nairobi
List of the Best & Affordable Restaurants in Westlands
1. INTI – A Nikkei Experience
Located at OneAfrica Place on the 20th Floor, INTI – A Nikkei experience is one of the best chill spots in Westlands. The ambience, location, and scenic view make it one of the best restaurants in Nairobi for a date.
INTI's chefs prepare Japanese and Peruvian dishes such as Sushi and dumplings introducing you to new experiences. If you are looking for a hotel with a wide variety on their menu, you cannot go wrong with this restaurant.
Are you worried that you may need to break the bank? Well, worry not. With Ksh 1000 to 2000, you can enjoy a delicious meal to impress that date. However, you may have to adjust the budget to accommodate the drinks.
You can buy signature cocktails, wine, and beer to suit your taste. They also provide delivery services if you want to order a meal to impress your date at home.
Google Rating: 4.5 ⭐⭐⭐⭐⭐ (1641 Reviews)
There's an ending love for roof-top restaurants in Nairobi. Brew Bistro, Westlands also provides a view overlooking the growing city of Nairobi. This semi-open bar has a welcoming ambience. Many ex-pats and tourists have this as their regular spot.
Brew offers international European cuisine. You can enjoy finger-licking buffalo wings, french fries, and delicious burgers. As one of the roof-top restaurants in Westlands, they also have a club experience.
You can unwind after dinner by drinking their in-house craft beer. The restaurant offers cocktails, mocktails, and a wine collection if you enjoy something different.
Google Rating: 4.5 ⭐⭐⭐⭐⭐ (5312 Reviews)
3. Mercado – Mexican Kitchen & Bar
If the telenovelas have you craving some Mexican food, you can book a reservation at the Mercado restaurant. It continues to rank as one of the top restaurants in Westlands, offering diverse and authentic Mexican food and drinks.
They use organic and fresh ingredients to bring you a well-curated menu. Do you need a special diet? The restaurant has vegetarian, gluten-free, and halal options on its menu, catering to all its diners.
It is located at the heart of Westlands and overlooks this calm area. You are guaranteed to enjoy your time even as you take those panoramic photos to post or keep. Mercado also rates among the best affordable restaurants in Westlands.
Google Rating: 4.4 ⭐⭐⭐⭐ (2446 Reviews)
Located inside Sarit, Fonda Taquieria is another excellent choice for Mexican foods. The restaurant uses locally-sourced ingredients to make mouth-watering Mexican soul food. Fonda, a Spanish word with an Arabic origin, refers to a place people can go to enjoy a meal. And true to their word, diners are served intensely flavoured dishes and drinks in traditional pottery.
Fonda restaurant has a warm, homey, and rustic ambience, making one feel like they are dining in Mexico. This restaurant redefines the casual dining experience.
Google Rating: 4.4 ⭐⭐⭐⭐ (1021 Reviews)
One of the best fine dining restaurants in Westlands is The View. True to its name, the restaurant is located on the 24th floor of the Movenpick Hotel Tower, providing diners with a breath-taking view. Additionally, you get the magnificent 360 degrees of the beautiful Nairobi city.
Apart from this heavenly view, especially when you visit during sunset, you have a wide variety of foods from which to pick. The restaurant serves European, Swiss and Swedish dishes. It is a perfect spot for that romantic date.
Google Rating: 4.7 ⭐⭐⭐⭐⭐ (660 Reviews)
Sarabi is another leading roof-top restaurant in Westlands offering a fine-dining experience. It has a stunning view over the majestic and ever-changing Nairobi Skyline. The restaurant has been in business for years and is one of the finest places to socialize.
Their in-house mixologists make classic and signature cocktails to keep you hydrated. The in-house bar collection also boasts the finest wines, spirits, and beers. Do you enjoy music from a live band? You can enjoy their tapas-style food menu as you listen to good music. During the day, you can dine by the pool, enjoying delicious cuisine.
Google Rating: 4.4 ⭐⭐⭐⭐ (347 Reviews)
Amaica's Vision is "To be The African Brand of Choice for Cultural Fusion, Heritage and Diversity." They are achieving this dream by offering a fine-dining experience where they serve indigenous Kenyan meals. It is one of the few formal dining places in Nairobi where you can experience this holistic experience.
As far as diversity goes, the restaurant serves rare delicacies. They include delicious wild mushrooms, white ants or (tsiswa), and all the indigenous or kienyeji vegetables. The menu consists of healthy balanced meals across the country. If you want to go back to your roots or introduce a tourist to authentic Kenyan meals in a serene and picturesque restaurant, add this restaurant to your list.
Google Rating: 4.1 ⭐⭐⭐⭐ (435 Reviews)
It's impossible to lack Indian cuisine when searching for top restaurants in Westlands. Open House Restaurant offers the perfect fine-dining Indian Cuisine. Their menu offers vegetarian, vegan, and gluten-free options. You enjoy a delicate balance of this vibrant culture and delicious foods.
Apart from the in-dining experience, the restaurant also provides takeaways, and payments can be made in cash or MPesa.
Google Rating: 4.5 ⭐⭐⭐⭐⭐ (1505 Reviews)
When looking for the best Indian restaurants in Westlands, The Mayura makes a list. You enjoy a warm and welcoming ambience when you enter the restaurant. It has a gorgeous peacock theme design, full of vibrant and colourful decor. The restaurant also has a charming decorative brightly coloured peacock feather on the ceiling. The wall is also full of golden-coloured peacocks.
Additionally, the menu is full of various delicious mouth-watering Indian meal options. They also provide takeaway options.
Google Rating: 4.2 ⭐⭐⭐⭐ (599 Reviews)
10. The Copper Ivy
It is one of the best places to hang out in Westlands with a view. It's located in a posh location. It's a pure representation of elegance and class for fine dining. It has charming and illustrious interior decor.
Apart from enjoying the rich ambience, you can choose from an assortment of international cuisine. Diners also enjoy a variety of signature drinks, fine wines, and spirits. You cannot go wrong when you select this restaurant for your next date night.
Google Rating: 4.5 ⭐⭐⭐⭐⭐ (1140 Reviews)
Conclusion
Westlands is a buzz of culture, and the restaurants in this area represent this rich metropolitan mix. We hope this list helps reduce your time going through the various options.
Please follow and like us: