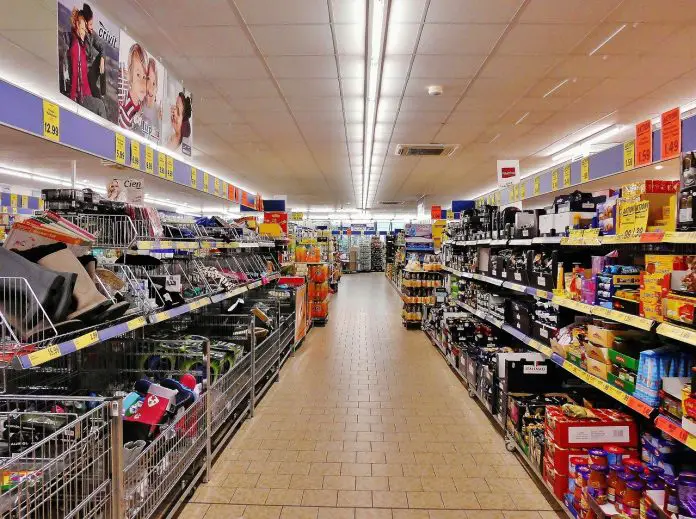 Most people love shopping under one roof. They visit places where they can buy foodstuffs, furniture, cosmetics, clothing, and gadgets among others at the same place. It reduces movement from place to place thus saving time. Supermarkets in Kenya serve this need pretty well.
As Kenyans continue embracing shopping in one place, supermarkets are launching branches each dawn. Every supermarket chain in Kenya is working out to outdo competitors. The competition is stiff and the famous supermarket chains keep striving to put up new branches especially in major cities like Nairobi, Mombasa, Kisumu and Nakuru.
Related: The Biggest Shopping Malls in Kenya
The Top Supermarket Chains in Kenya
Supermarket
Products
Branches
Naivas
Groceries
Clothing
Electronics
Nakuru
Nairobi
Kisumu
Tuskys
Furniture
Food items
Home appliances
Nairobi
Athi River
Mombasa
Choppies
Foodstuffs
Laundry
Health & beauty care
Snacks
Kisumu
Kisii
Nakuru 
Uchumi
Foodstuffs
Kitchen appliances
Decorations  
Karatina
Meru
Eldoret
Carrefour
Household items
Drinks
Apparel
Nairobi
Eastmatt
Personal care
Foodstuffs
Home care
Nairobi
Kitengela
Kajiado
Quickmart
Foodstuffs
Household items
Hardware
Nairobi
Nakuru
Kiambu road
Games store
Entertainment
Baby and toy items
Nairobi
Foodplus Chandarana
Foodstuffs
Drinks
Nanyuki
Nairobi
Eldoret
Cleanshelf
Drinks
Household items
Personal care
Nairobi
Kiambu  
List of the Best Supermarkets in Kenya
1. Naivas supermarkets
Naivas supermarket is the largest supermarket chain in Kenya. The chain was established in 1990. As of March 2020, the supermarket had 62 branches spread across the country. It was the first chain to open a state-of-the-art food market store in East Africa.
The supermarket is offering food deliveries at your home with the help of Glovo. You can get your meats and meat products, water, soft drinks and juices, snacks, and sweets at the comfort of your home. The chain generates annual revenue of between 50 to 60 billion Kenya shillings.
Before its dwindling fortunes from 2019, Tuskys was one of the leading supermarkets in Kenya. The chain had branches all over the country that made it possible to reach out to many.  It had employed more than 6,000 Kenyans. The chain is owned by the seven children of the late Joram Kamau, the founder of the business.
In 2017, the supermarket opened its largest store at Nairobi CBD. This helped shoppers to do all shopping under one roof. They had all the foodstuffs and drinks, personal and home care items, electronics, and furniture among others.
Choppies which was formerly known as Ukwala supermarket is one of the biggest supermarkets in Kenya 2020. As their motto goes 'great value for your money', the chain has served many customers with value. Their branding is on another level, all their packaging materials have their name.
The supermarket chain has two main achievements.  First, it uses the retail space effectively. Even in a limited space, the products are displayed beautifully. Secondly, they serve customers with an engaging and experiential experience.
Another giant that fell in 2019. The hyper store provided a variety of goods and services. However, their woes with suppliers led to its death. The government-owned some of the company shares.
Carrefour is one of the most popular supermarket chains introduced by Majid Al Futtaim. They opened the first outlet in Kenya in 2016. The chain aims to offer the best quality and a wide selection of household items to its customers. The supermarket has stores in several African countries.
Their discounts on household items are unbeatable and their branding is in global standards. Carrefour Kenya offers a one-hour free car park for every Ksh. 3,000 spent at any of their branches in Nairobi.
Eastmatt supermarket chain is a leading hypermarket in Kenya. The supermarkets take pride in the variety of products and brands offered to their customers. They are working towards becoming the leader in the retail market.
Their aim is to open branches at the convenience of every customer and also keep opening hours flexible. Save more and live better when you shop with Eastmatt for your foodstuffs, drinks, house, and personal care products among others.
Quickmart is a Kenyan origin supermarket chain established in 2006. The first branch was opened in Nakuru and over the years, they have opened more than 35 branches across the country. They offer delicious snacks in their bakeries and food outlets.
To make the customer experience memorable, they give offers on a variety of their products. They also spoil their customers with shopping vouchers from time to time which you can use to shop at their branches.
Games stores is a foreign-based supermarket chain with several branches in Kenya. The chain offers baby and toy items, entertainment products, and also outdoor products. They also sell foodstuffs and household items in their various stores.
When it comes to home deliveries, Game stores don't disappoint. They have partnered with Uber Eats for deliveries. All you need to do is give them a call and you will have the exact items delivered at your doorstep.
Chandarana Foodplus is a chain of supermarkets in Kenya. They entered the market in 1959 and since then, more than 17 branches were established. They offer some of the best wines from all over the world at a very fair price.
The supermarket chain allows you to do your shopping online. They also support the needy in society by giving donations and partnering with organizations to fulfil communities' dreams.
Cleanshelf supermarket story began in 2002 with a single outlet in Limuru town. The chain has grown steadily with about 11 stores spread across the country. They combine the staff experience, customers' feedback, and data collected to offer great service to you.
The supermarket stores have various departments like alcoholic drinks, beverages, cosmetics, flour & sugar, fresh & frozen foods, and audio-visual appliances among others. Their delight is putting a smile on your face.
Coming out of a supermarket with a smiling face is great.  Good customer service and fair prices make everything beautiful. Visit one of the best supermarkets in Kenya and enjoy the experience.  
Please follow and like us: