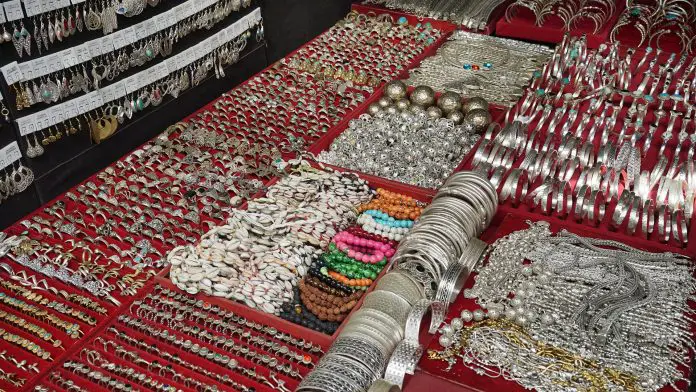 Jewelry is attractive and makes you look beautiful. Besides, expensive pieces of jewelry are a sign of wealth. You can wear gold, silver, diamond, or bronze jewelry. However, the process of buying quality ones can be a hassle. It is essential to work with jewelry stores that sell the best.
Some people have landed in the hands of conmen who sell fake jewelry. To avoid such disappointments, stay tuned.  In this article, you will know the best jewelry stores in Kenya to buy your favorites that match your clothes.
Top 10 Jewelry Stores in Kenya
Jewelry Stores
Jewelry
Contact
Location
Little Jewellers
Silver wedding and engagement rings

Anklets

Pendants

littlejewellers@yahoo.com

+254 704 878717/ +254 726 815372

Nanak House, Kimathi Street, Nairobi
Sally Dudmesh
Earrings

Necklaces

Cufflinks

+254 720 718306

 

70 Dagoretti Rd, Karen, Nairobi
Lavanderia Jewels
Engagement rings

Wedding bands

Watches

lavanderiamecks@gmail.com

+254 722 117527

Tembo Co-op House, Moi Avenue, Nairobi
Nagin Pattni
Wedding and engagement rings

Watches

unpattni@gmail.com

+254 772 232800

Kaunda Street, Nairobi
Taj Jewellers
Gemstone jewelry

Custom-made jewelry

info@tajgems.com

+254 722 847868

Toe Rivers Mall, Mombasa
Goldiam Jewellers
Watches

Gold and silver jewelry

pratibha_hingad@yahoo.com

+254 20 2711722

Yaya Centre, Hurlingham, Nairobi
Adele Dejak
Ear cuffs

Bracelets

Bags

sales@adeledejak.com

+254 737 253862

Village Market, Nairobi
Kennedy's International Jewelry Ltd
Wedding and engagement rings

Anniversary gifts

mpgksi@gmail.com

+254 722 510964

Laico Regency Hotel, Nairobi
Zaveri's Jewellers
Tungsten

Earrings

Necklaces

info@zaveris.co.ke

+254 701 442434

Jimkan House, Westlands, Nairobi
Rajshyn Jewellers
Wedding/engagement rings
rajshyn@yahoo.com wedding/engagement rings
Standard Street Nairobi
List of Jewelry Stores in Kenya
Little Jewellers sells 92.5% sterling silver jewelry. You can get silver wedding rings, engagement rings, anklets, earrings, bracelets, pendants, and silver necklaces. Besides, you can purchase from their online jewelry store or visit them at Nanak House, Kimathi Street in Nairobi.
It is one of the Kenya jewelers that caters to your upcoming engagement party need. This is because it has a sparkling and shiny round engagement ring for Ksh. 2,500.  For ladies, you can get a gorgeous and stunning aquamarine necklace set at Ksh. 3,500.
Do you love handmade jewelry? If yes, Sally Dudmesh should be your jewelry store. It provides jewelry made of silver, fossils, gold, and gemstones. Sally, the owner, has made jewelry since she was thirteen years. Therefore, quality treasures that you can wish to hand down to your children are an assurance.
You can purchase earrings, cufflinks, necklaces, rings, bracelets, and belts from Sally Dudmesh's shop. When it comes to earrings, the store has different designs to cover the taste of everyone. You can have hoops, wilder collections, ocean collections, or nature collections.
3. Lavanderia Jewellers
It is one of the best jewelry shops in Nairobi, Kenya. You get all kinds of jewelry and watches designed with quality and durability. For your bridal, cocktail, engagement, and wedding jewelry need, Lavanderia has got you.
You can purchase from their online store or visit them at Tembo Co-op House along Moi Avenue in Nairobi. You can get yourself or your loved one bracelets, rings, pendants, earrings, chains, watches, and men's accessories from the jewelry store.
4. Nagin Pattni Jewelry Store 
The jewelry store was established in 1969 in Nairobi, Kenya. It has branches at Thika Road Mall, River road, Lavington Mall, and Kaunda Street. You can get quality wedding/ engagement rings and watches. Besides, it provides supply and printing of wedding cards.
Nagin Pattni elegant 9kt gold wedding ring prices start from Ksh. 22,000, and you get them at River road, TRM, and Kaunda street branches. They come with different options and can also wear as engagement or friendship/ promissory rings.
5. Taj Jewellers
Taj jewelers have 40 years of experience in jewelry sales. It started humbly in the Old town of Mombasa at Two Rivers Mall. If you are looking for wedding and engagement rings, gemstone jewelry, loose gemstones, and Tanzanites, Taj is the place.
The jewelry store has trained and experienced artisans who provide custom-made jewelry in Kenya. This is because, at Taj, each piece of jewelry is an art. It is unique and made with professionalism.
6. Goldiam Jewellers
It is a jewelry store located at Yaya Centre, Hurlingham, in Nairobi. It caters to all your Tanzanites, emeralds, sapphires, tsavorites, diamonds, and all semi-precious gemstone jewelry needs. The pieces of jewelry are available in all shapes and sizes.
If you are looking for unique designs for silver and gold jewelry, Gemstones, and watches, Goldiam cares for you. Besides, the jewelry store offers crazy discounts on seasons such as Valentine's and Christmas. Finally, the Goldiam store is open from 9.30 am to 8.00 pm.
It is one of the online jewelry shops in Kenya. You can get contemporary, artistic, and wearable rings, bracelets, bags, necklaces and earrings, and some home decoration items. The jewelry store shop is at Village Market in Nairobi.
Adele Dejak promotes the African culture. All the products come from materials used by different African tribes to create their ornaments and trinkets. Lastly, the jewelry store's earring prices range between Ksh. 2,500 to Ksh. 8,500.
8. The Kennedy's International Jewellery Ltd
It is one of the wedding rings shops in Nairobi, Kenya. It provides all types of engagement and wedding rings, anniversary gifts, and various extraordinary occasion jewelry.
One of the unique products you can get from this jewelry store is a double-sided wedding ring. Besides, all the rings are made with uniqueness and come with diamond, gold, or halo materials. You can visit their shop to order your design.
Zaveri's started in 1994 in Nairobi, Kenya, and over the years, they have served their clients with the best jewelry. If you are looking for a pure gold engagement or wedding ring price in Kenya that is affordable, Zaveri's has got you. It ensures you get your taste at a pocket-friendly price.
Besides, you can purchase a variety of gold, precious and semi-precious, pearl, and silver jewelry at Zaveri's. If you want your products delivered to your doorstep, the jewelry store will do it in two days after the receipt.
10. Rajshyn Jewellers
Rajshyn jewelers is a jewelry business with over 40 years of existence. It has three showrooms at Lonrho House Standard Street, Garden City Mall, and Prestige Plaza in Nairobi, where you can find various jewelry.
Also, Rajshyn not only crafts the jewelry but also the experts do jewelry repair works. Their shops open from Monday to Sunday between 11.00 am to 7.30 pm. Lastly, the jewelry store won the wedding ring & jewelry retailer award in the Kenya Wedding awards 2018.
Frequently Asked Questions about Jewelry Stores in Kenya
How should I keep my jewelry?
It is important to keep your jewelry with a lot of care to avoid tarnishing. Store your delicate jewelry in a dark, dry place. The felt helps to absorb moisture and prevent premature tarnishing. Also, you can keep your jewelry wrapped in silver polishing to avoid exposure to the air.
How do I clean my jewelry?                                                                     
Jewelry gets dirt, and hence it is vital to clean them regularly. For a simple home wash, mix a gentle soap with warm water. Then, soak your jewelry such as a wedding ring or necklace for about five minutes and brush using s soft-bristled toothbrush to gently clean behind stones or settings. Lastly, air dry and finish with a polishing cloth. Avoid cleaning your jewelry with chemicals as it may damage some stones.
How do I attract customers to my jewelry store in Kenya?                                                
A jewelry store can give you profit when you know the trick of handling your customers. Once a client shows up at your jewelry store, welcome them warmly. Be willing to provide all the help they need to purchase the appropriate jewelry. For example, if a customer wants an engagement ring, assist them in finding the right size. They will come back again or refer their friends.
Please follow and like us: