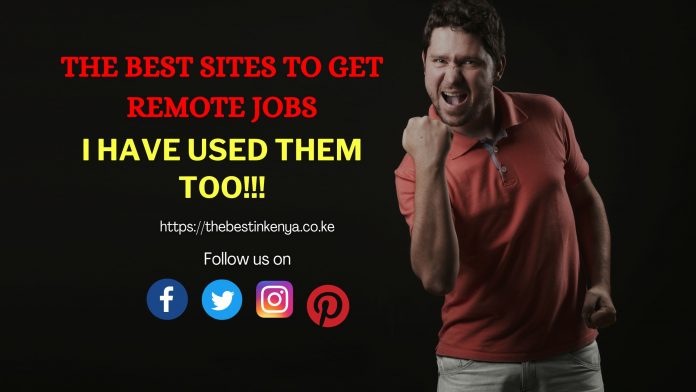 According to Statista, there are over 200 million unemployed people worldwide. This statistic is staggering, and it's hard to imagine how these people will find work. But what about remote jobs?
The internet has revolutionized the way we work. With so many people working remotely, many websites have popped up to help you find remote jobs. Let's take a look at the best sites to get remote jobs.
The Best Websites for Remote Jobs
Job Site
Primary Fields
Flexjobs

Administrative
Computer & IT
Marketing
Customer Service
Accounting & Finance

Toptal

Healthcare and Life Sciences
Consumer Products and Services
Financial Services
Industrials
Communications, Media, and Entertainment
Technology

LinkedIn
Reddit
Listiller
We Work Remotely

Programming
Design
DevOps and Sysadmin
Management and Finance
Customer Support
Sales and Marketing

Upwork

Development & IT
Creative & Design
Writing & Translation
Sales & Marketing
Admin & Support

Problogger
Craiglist
CryptoJobs

Cryptocurrency Industry Jobs
List of Sites to Get Remote Jobs
This site has a vast database of companies looking for remote workers in various industries. You can search your fit by job title, keyword, or location. You can also sign up for their job alert emails to be the first to apply when a new job is posted.
Apart from posting jobs, FlexJobs has a blog full of resources to help you with your job search. They also have regular webinars and events with interviews and tips from industry experts. The site's objective is to help you find a better work-life balance by finding a job that fits your lifestyle.
Are you a top-level talent in your field? Then Toptal is the site for you. The site accepts the top 3% of applicants. If you get in, you're guaranteed to find a well-paying remote job.
Toptal is a great site for finding jobs in the tech industry. They have a wide range of companies looking for the best and brightest minds in the field.
The company also posts jobs in healthcare, finance, and other industries. So if you're looking for a remote job in a specific industry, this is a great site to check out.
This site needs no introduction. LinkedIn is the world's largest professional networking site. You can use the site to find jobs, connect with recruiters, and research companies.
You're missing out if you have not been using LinkedIn to find a job. While not all jobs on the site are remote, LinkedIn is a great place to start your search and connect with potential employers.
You can also use LinkedIn to read articles and get the latest news in your industry. Publishing articles is a great way to build your personal brand and show off your expertise.
There are many subreddits dedicated to helping people find remote jobs. My favorites are /r/forhire and /r/HireaWriter. These subreddits have a large community that is constantly posting vacancies.
You can also use Reddit to find jobs in specific industries. For example, if you're a programmer, you can check out /r/programming.
The best thing about Reddit is that you can find jobs not posted on other job boards. So if you want to get a leg up on the competition, check out Reddit.
Are you searching for a writing or editing job? Listiller is the perfect site for you. The site posts several jobs in writing and editing fields for reputable companies.
Having a job in writing or editing is one of the surest ways to make money online. You can set your hours and work from anywhere in the world.
Listiller also has a blog with articles on improving your writing skills. This is the site to follow if you want to sharpen your skill set.
As the name suggests, this site only posts remote job vacancies. You can find customer service, design, programming, and marketing jobs from across the globe.
The site charges employers $299 to post jobs. Therefore, you can be sure that only quality companies are posting on the site.
The best thing about We Work Remotely is that you can filter your job search by position. So if you want to find a job in a specific field, this is the site for you.
This is an excellent platform to start your job search if you are a freelancer. The site connects businesses with freelancers in various fields.
There is a wide range of jobs available on Upwork. You can find writing, web development, graphic design, and more jobs.
Although the site is primarily for freelancers, there are also some full-time remote jobs posted. The only downside is that you will have to compete with other freelancers for the job.
Are you a writer worth your salt? Then start your job search on Problogger. The site is dedicated to helping businesses find high-quality writers for their content needs.
There are many different types of writing jobs on Problogger. You can find content writing, copywriting, ghostwriting, and more.
The best thing about the site is that you can filter your search by contract, part-time, full-time, or remote. Problogger will come in handy if you're looking for a writing job that fits your lifestyle.
While not all jobs on Craigslist are remote, the site is still worth checking out. You can filter your search by location to find remote jobs in your area of expertise.
Apart from that, Craigslist allows you to search for jobs within specific industries. Whether you're looking for a job in customer service, marketing, accounting, or any other field, you can find it on Craiglist.
With the advent of cryptocurrency, there are now many jobs in the crypto field. If you're looking for a remote job in this industry, CryptoJobs is the solution.
The most common jobs on the site are in marketing, customer service, and software development. However, you can also find jobs in other fields, such as writing and design. CryptoJobs is the perfect site for people who want to work in the burgeoning cryptocurrency industry.
These are just some of the best sites to help you find remote jobs. You can also consider getting online courses if you don't have any skills. With a little effort, you can find the perfect job for you. What are you waiting for? Start your job search today!
Please follow and like us: