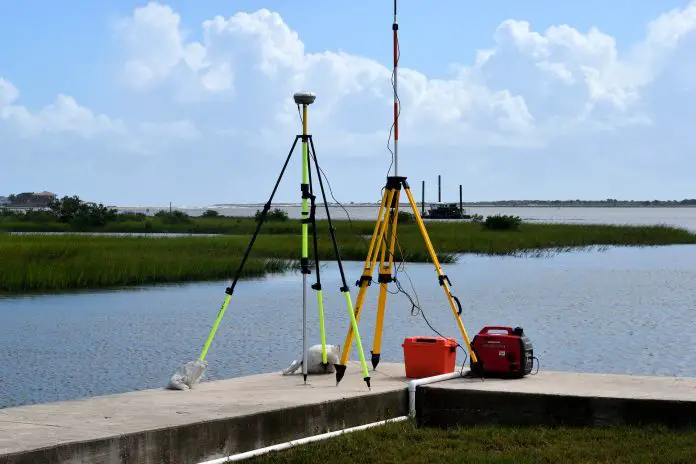 In Kenya, the Department of Survey of Kenya (SOK) looks after all matters regarding land surveys and mapping. This includes controlling land survey companies in Kenya to ensure they adhere to the set rules and regulations.
Since independence, the Survey of Kenya department has processed about 8.6 million title deeds. Moreover, 2 057 adjudication sections containing 3,215,992 parcels covering 8,711,449.85 hectares have been completed across Kenya. In 2017, the Ministry of Land fulfilled the government promise by processing and issuing 3.2 million title deeds.
Top land survey companies in Kenya
Land survey company
Services
Contact
Location
Digmap Geosystem Ltd
Aerial photography and lidar survey

Geographic Information Systems (GIS)

Sectional property surveys

info@digmapgeosystems.com

+254 722 753833

Kiambere Rd, Upperhill, Nairobi
Orbital Africa
GIS and RS training

Land and topo survey

Spatial planning

geo@orbital.co.ke

+254 736 357609/ +254 719 672296

City Square, Nairobi
Ramani Land Services
Online mapping

Land survey

GIS & Mapping solutions

Aerial survey

info@ramani.co.ke

+254 722 200616

Langata Rd, Nairobi
Kolmans Geomatic Consultants Kenya Ltd
Engineering survey

Topographical survey

Mapping

Geoinformation Systems

+254 770 919322/ +254 721 663488
Kimathi Street, Nairobi
Alliance Land Surveys Ltd
Land survey

Mapping

 

alliancesurveysltd@gmail.com

+254 716 233039

Low-Lux Building, Thika SuperHighway, Nairobi.
Geomatic Technic Ltd
Geodetic & GPS surveying

Aerial photography

Engineering surveying

GIS and mapping

info@geomaticstechnics.co.ke

+254 202 402818

Ngong Rd, Nairobi
Mapinfotek Mapping & Survey Services
Land and engineering surveying

Global Positioning System

Geographic Information System

Natural resource mapping and modelling

info@mapinfotek.co.ke

+254 710 596280/ +254 737 994726

Rhapta Rd, Westlands, Nairobi
Trinity Surveys Ltd
Setting Out surveys

Due Diligence

Mapping

Engineering survey

info@trinitygroup.co.ke or trinitysurveyorslimited@gmail.com

+254 721 265808/ +254 733 703300

Pena Towers, Kitengela
Advanced Geospatial Solutions
GIS and Remote Sensing

Spatial analysis

Environmental assessment

Applied research

Strategic planning

info@ags.co.ke

+254 721 770339

Plainsview Rd, South B, Nairobi
Arch Surveys
Land planning

Boundary survey

GIS mapping

Engineering survey

Topo survey

info@archsurveys.com

+254 795 434522

Muthaiga Square, Thika SuperHighway, Nairobi
List of Land Survey Companies in Kenya
Digmap is a duly licensed land survey company in Nairobi. The company deals with various projects. First, the land survey company does projects that regard the establishment of the size, height, depth, and location of a natural or manmade feature.
Second, the Digmap company does aerial photography and lidar survey projects. This type of survey is done from aircraft or any other type of floating object. Finally, the firm conducts hydrographic survey projects to help people understand features that affect marine activities.
Orbital Africa is a firm offering quality land surveying software in Kenya. This software includes desktop GIS, portal GIS, mobile GIS, GIS Apps, and Online GIS.  For years, the company has offered GIS database solutions that are client-tailored.
The land survey company has the vision not only to design geospatial solutions for clients but also to develop them through innovation. If you want quality survey services, you can visit their offices in Nairobi from Monday to Saturday.
Ramani is a well-known company in conventional land surveys, geodetic surveys, topographic surveys, among others. As one of the surveying companies in Kenya, the firm meets the client's expectations.
The land survey company has professional surveyors and assistants who work tirelessly to give you the service that suits your need. Also, the team offers training that is based on your project if the need arises. Lastly, Ramani offers an online platform that provides you with a wide range of spatial data.
4. Kolmans Geomatic Consultants Kenya Ltd
It is a dedicated mapping, surveying, and multidisciplinary firm that is licensed to operate in Kenya. First, the firm deals with land surveys. This allows clients to do land transfers, re-establishment, succession, and subdivision. Second, as one of the geomatic engineering companies in Kenya, Kolmans conducts an engineering survey.
Third, the land survey company helps clients with mapping. Whether you want the paper mapping or a digital one, professionals from Kolmans will help you from scratch.
5. Alliance Land Surveys Ltd
Alliance land surveyors take pride is one of the leading land survey companies that serve clients from commercial, acreage, and residential fields. Besides, the company offers a wide range of survey services that suit each client's needs.
You can visit their offices in Nairobi and have one on one talk with the qualified land surveyors. Also, if you want a quality topographic survey of your land, you can reach out to Alliance.
It is one of the GIS companies in Nairobi since 2011. The company has a vision of offering accurate and up-to-date spatial data for planning and engineering purposes. Besides the company serves a wide range of clients. This includes asset owners, construction firms, engineering environmental, among others.
If you want a fully serviced GIS and mapping for your land, you can sign up with Geomatics. The land survey company uses quality GIS software and hardware to conduct their surveys. Also, your satisfaction is their joy.
Mapinfotek company uses modern technologies and equipment in any surveying task to deliver quality services. The land survey company conducts GIS, planning, surveying, EIA, and Remote Sensing services.
Also, the company offers the best GIS attachments in Kenya. Therefore, if you are an urban and rural planner student, environmentalist, or any surveying field, you can apply for an internship. As a result, you become a competent graduate who brings impact to the mapping and surveying industry.
Trinity surveyors are located in Kitengela, Kajiado county. The company's priority is your satisfaction as a client. Using modern software like GPS processing, CAD, database, among others, the land survey company completes both large and small projects.
Besides, the cost of a land survey at Trinity Kenya is pocket-friendly. You can do your project without fear of financial strain. Lastly, the land survey company follows the local government regulations, policies, and procedures while doing the work.
The company was registered under the companies act of Kenya in August 2013.  AGS has worked for companies like UNICEF, Save the Children, and Vivo energy in Kenya.
It is one of the land survey companies known for land survey, spatial planning, engineering survey, GIS remote sensing, among others. To deliver their efficient services, the staff embrace teamwork, commitment, professionalism, and integrity.
For more than 25 years, Arch surveys have helped thousands of Kenyans to own lands with tittles. This is achieved through their land survey projects across the country.
As the company grows, it has a vision of becoming the leading surveying, mapping, and GIS consultants across East Africa. You can visit the land survey company offices in Nairobi to experience its quality services.
Please follow and like us: