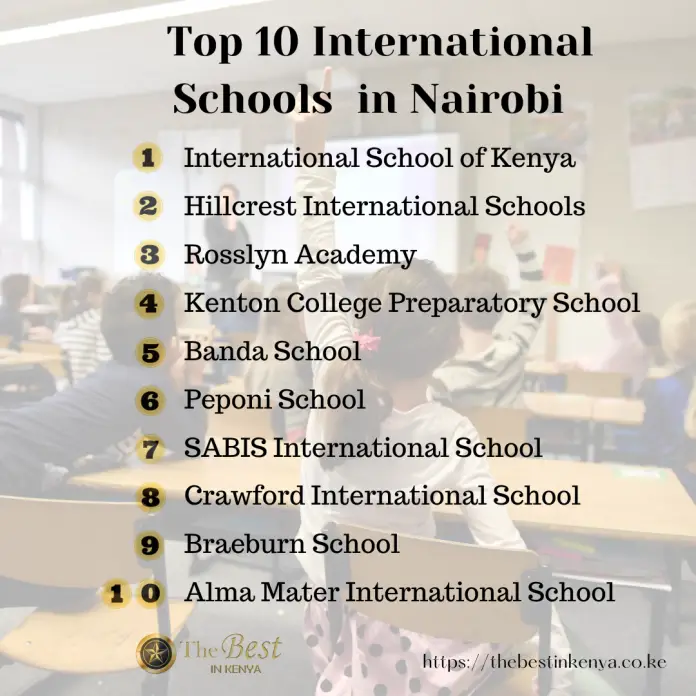 Education is not the filling of a pot but the lighting of a fire. These are the words of W.B. Yeats. As a parent, you want to ensure your kid's flame burns brightest. Over the years, international schools in Nairobi have proved to be one of the best institutions to achieve this goal. But which is the best because a simple search of "international schools near me" can land you in the wrong hands?
Kenya has everything from multilingual schools to programs with global curriculums like the British Education System, the International General Certificate of Secondary Education (IGCSE), the American Curriculum, and other international systems. To make this easy, we have curated a list of the top 10 international schools in Kenya.
The Best International Schools in Nairobi
School
Curriculum
Age
Yearly Fees
Contact
International School of Kenya
IB

American

4 to 18
Sh. 2.8M-Sh. 5.1M
+254 733 639 363
Hillcrest International Schools
British
2 to 18
Sh. 740K-Sh. 2.4M
+254 724 255 444
Rosslyn Academy
American

Christian

4 to 18
Around Sh. 4.5M
+254  202 635 294
Kenton College Preparatory School
British
6 to 13
Around Sh. 2M
+254 722 205 038
Banda School
British
1 to 13
Sh. 290K- Sh. 2.2M
+254 205 131 100
Peponi School 
British

American

Christian

5 to 13
Sh. 1.1M- Sh. 2.1M.
+254 203 546 456
SABIS International School
American

British

4 to 18
Sh. 680K- Sh. 1.4M
+254 743 162 670
Crawford International School
British
2 to 18
Sh. 580K- Sh. 1.3M
+254 708 995 254
Braeburn School

 

British
3 to 13
Sh. 800- Sh. 1.9M
+254 720 667 622
Alma Mater International School
British
1 to 18
Sh. 103K- Sh. 150K
+254 727 810 350
List of Top International Schools in Nairobi
Without a doubt, this school deserves to be at the top of the best international schools in Nairobi. Since its establishment in 1976, the International School of Kenya (ISK) has been at the forefront of excellent education. The institution sits on a 50-acre land off Kirawa Road, Nairobi.
An innovative and unique new education system is created by fusing cutting-edge learning concepts and strategies with a healthy dosage of personal enlightenment, self-improvement, and considerable challenge. That's why the school offers high-quality, international education to students from over 70 countries. The institution focuses on academics, offering programs like the IB Primary Years Program, IB Middle Years Program, and IB Diploma Program.
In 2003, ISK was ranked 7th out of the 100 best high schools in Africa by Africa Almanac because of its impressive quality of education, school profile, news visibility, internet, student engagement, strength, and activities of the alumni.
ISK is dually accredited by the Council of International Schools (CIS) and the Middle Schools Association of Schools and Colleges (MSA).
Google Ranking: 4.4 ⭐⭐⭐⭐ (72 reviews)
The Hillcrest International School started in 1965 as Hillcrest Preparatory School. It wasn't until 1972 that it acquired its international status after joining the Independent Association of Prep Schools (IAPS). The institution is on a 35-acre site along Lang'ata Rd, Nairobi City.
The Hillcrest International School stands out for its energizing atmosphere, varied and innovative curriculum, technically gifted tutors, and first-rate facilities. Students are nourished and supported through a unique mix of academic excellence, sports, theatre classes, self-development, ethics, morality, and creativity.
The institution has three schools: Hillcrest Early Years, Hillcrest Preparatory School, and Hillcrest Secondary School. It offers day/boarding co-education with a British curriculum and A-Levels, BTEC Level 3 Extended Diploma, and IGCSE.
The Hillcrest International Schools is affiliated with AIPS, a Council of British International Schools member, and is inspected by the Independent Schools Inspectorate for British Schools Overseas (BSO).
Google Ranking: 4.6 ⭐⭐⭐⭐⭐ (178 reviews)
Rosslyn Academy is located in Parklands/Highridge, off Limuru Road, off UNEP Avenue Past UNEP. Off, Magnolia Cl, Nairobi. The school offers two sections of the education system: early year foundation and junior school, with a curriculum adapted from the National Curriculum for England. Your kids will experience a dynamic, challenging education while balancing academic achievements with various activities, sports, and performances.
From a cutting-edge institution, Rosslyn Academy offers up-to-date classrooms, technology hubs, advanced science labs, and dedicated art, drama, and music spaces. Superb sports facilities promote physical well-being and teamwork, creating a conducive learning atmosphere at this prestigious institution. The Middle State Association of Schools and Colleges accredits the institution.
Google Ranking: 4.5 ⭐⭐⭐⭐⭐ (65 reviews)
Started in 1924, Kenton College Preparatory School is one of the oldest international schools in the country. The institution, located along Gichugu Rd, Nairobi, follows the English National Curriculum while providing a holistic learning experience for its international students.
It combines rigorous academics with a global approach to balance modern technology and traditional values. The engaging curriculum supports students' physical, emotional, social, physical, and educational development. Tutors personalize learning experiences for each student, and outdoor activities provide hands-on learning. The institution is a member of the IAPS and is inspected by the Schools Inspection Service for British Schools Overseas.
Google Ranking: 4.4 ⭐⭐⭐⭐ (27 reviews)
The Banda School is a multinational British preparatory school located along Magadi Road, Nairobi. The institution offers a British curriculum, emphasizing critical thinking, personal development, and academic excellence to prepare students for higher education and global success.
It features state-of-the-art classrooms, computer centers, and science labs for an engaging learning experience. Music rooms, art studios, and sports facilities promote creativity, teamwork, and well-being. Banda School offers a well-rounded education and superb facilities for a successful and bright future. The institution is accredited by the Independent Schools Inspectorate for British Schools Overseas.
Google Ranking: 4.6 ⭐⭐⭐⭐⭐ (24 reviews)
Peponi School is a privately owned day/boarding co-educational institution located on a 45-acre along the Thika Super Highway near Ruiru. The institution caters to students all over the country and other multinational students. It has operated for three decades and was designed to offer a UK-based curriculum geared towards the Common Entrance Exam.
They offer IGCSE education, and in 2017, it started offering the US-based College Board examinations like the SAT.  Peponi School is an IAPS member inspected by the Schools Inspection Service for British Schools Overseas (BSO).
Google Ranking: 4.7 ⭐⭐⭐⭐⭐ (43 reviews)
SABIS International School sits on a 20-acre land in the suburbs of Runda, off Kiambu Road. It features modern classrooms, an independent Kindergarten, and a boarding hall accommodating 70 students. SABIS has a vibrant and engaging student life, through which students become part of a mini-society that empowers them to participate in the daily experience at school.
SABIS has vibrant social and academic events, hosts challenges and games, and raises awareness on important subjects. Your child can join different clubs and other activities that are appealing to top-ranked learning institutions.
The institution is part of the global SABIS Network with a presence in over 15 countries and prepares students to sit for ACTs, TOEFL, SATs, A-Levels, Advanced Placement, and IGCSE. In 2022, the students who took the IGCSE exams passed, and 85% scored from A to B.
SABIS International School is accredited by several international associations, namely the Accreditation International (AI), the College Board, and the Middle States Association Commissions on Elementary and Secondary Schools (MSA-CESS).
Google Ranking: 4.4 ⭐⭐⭐⭐ (37 reviews)
Crawford International School, located in Tatu City, Nairobi, bases its education on the values of humanity.
It emphasizes personal learning, diversity, personal growth, multilingualism, and individual growth. This approach ensures a tailored, well-rounded education for each student.
The school's unique facilities include cutting-edge science labs, modern classrooms, sports amenities, artistic spaces, and technology centers. These resources support physical well-being, academic pursuits, and creative expression, creating a conducive learning environment at Crawford International School.
The institution follows the Cambridge International Examinations and the British Curriculum as the preferred choice of the syllabus. They also offer a flexible and unique, individualized timetabling that allows students to study some of the most marketable disciplines, including blockchain and cryptocurrency education in technology.
Google Ranking: 5.0 ⭐⭐⭐⭐⭐ (3 reviews)
With 16 co-educational international schools in Tanzania and Kenya, Braeburn School celebrates diversity for its over 4500 pupils. It takes pride in its British Curriculum, which fosters holistic learning. This comprehensive program nurtures students' emotional, social, physical, and intellectual development, preparing them for success.
The school's modern facilities, like science labs, computer rooms, libraries, and classrooms, create an engaging learning environment. Plus, impressive sports amenities like fields, gymnasiums, and swimming pools promote a healthy lifestyle, further enhancing the educational experience at Braeburn School. The Council of International Schools accredits the school and is a member of the AISA, IAPS, and the Association of British School Overseas.
Google Ranking: 4.3 ⭐⭐⭐⭐ (34 reviews)
Alma Mater International School was formally known as Cambridge International School, with its main operations based in Johannesburg, South Africa. It's one of the cheapest international schools in Nairobi.
The institution offers a Cambridge-based educational program to create well-rounded students. The Cambridge program has a rigorous and demanding academic subject content. Thus, it gives students time to develop and master various social and practical skills that form the basis for long-term success in both school and outside of it.
Further, the school, located along Kirawa Rd., Nairobi City, features age-specific amenities and a learning environment. Other amenities inside the school include computer suites with Apple Macs and PCs, a library, an auditorium, a music school, a recital hall, and a professional dance studio. In addition, the school features excellent sporting facilities. You can find gymnasiums, gymnastic halls, sports fields, outdoor playgrounds, tennis courts, and many more. Like the abovementioned schools, Alma Mater International School is accredited by the Council of International Schools.
Google Ranking: 3.1 ⭐⭐⭐ (8 reviews)
Conclusion
These schools draw on the experiences and expertise of a global network to create challenging, engaging, and fun lessons for students. This approach helps students develop independent and critical thinking skills, leading to exam success.
We hope you can now decide which school best fits your kid. Remember, the application process for enrolling at the top 10 international schools in Nairobi is quite simple. Check your preferred school's official website for the latest notifications and updates.
Please follow and like us: