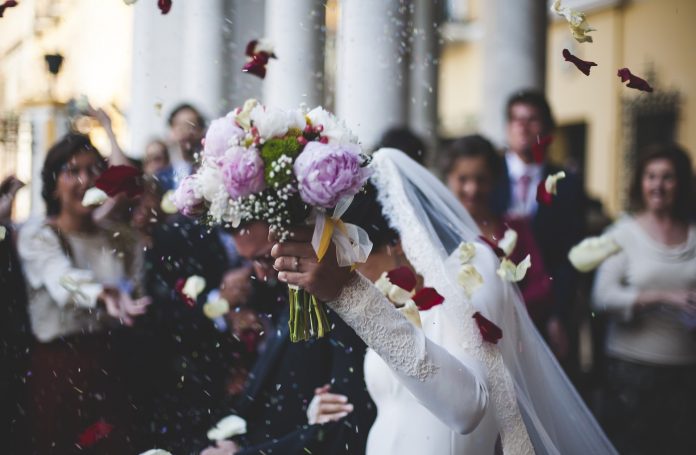 The wedding industry in Kenya is growing daily. Most people are embracing different types of weddings, like church and traditional weddings, to make vows. According to Business Daily, Kenya generates about Ksh 30 billion yearly from weddings. On the other hand, wedding planners are taking home a significant share.
Every year, about 28,000 Kenyans get married through a wedding. The low-key couples spend around Ksh 500,000, while the flamboyant ones spend up to Ksh 43 million, including the honeymoon cost. Besides, most Kenyans marry late in life after settling in their careers to afford the kind of wedding they want.   
Top wedding planners in Kenya
Wedding planners

Services and products

Contact Information

Janeson Weddings

Budget Preparation
Venue Search
Décor & Entertainment
Photography & Videography
Catering
Bridal & Groom Attires

0714444045

services@janeson.co.ke

Dhahabu wedding planners

Calla Lilly package
Orchid package
Daisy package
Rose package
Magnolia package

+254 717 340 162

contact@dhahabuweddings.com

Aura Event planners

Email: info@aura.co.ke
Phone: +254 734 446655

Dazzling Events

Wedding tents, chairs & décor
Linens Lighting

0722736779

Shankai Wedding and Events

Wedding chairs
Wedding décor

0716085395

0759212749

Dreams Wedding Planner

Wedding plan & management

Telephone: +254 722 330 884
Telephone: +254 716 754 272
Email: info@dreamsweddingplanner.com

Ritzy Wedding and Event Planners

Décor Lighting
Entertainment solutions
Wedding arrangement services

0718 453867

Lavida Events Kenya

 

Delights Occasions and Events

Full planning services
Venue set up
Full wedding décor
On-the-day coordination
Tents & chairs

0768 641921

Beautiful You Ltd

Rental cars
Floral arrangements
Special lighting
Table napkins & napkin holders
Tents & Canopies

0712442200

Dorothy Humphreys Wedding, Special Events

Wedding planning
Decoration
White periwinkle
Town & country wedding resources

0705 134474
dhweddings@mail.com
List of Wedding Planning Companies in Kenya
1. Janeson Weddings
This is a full-service wedding planning company in Kenya with seasoned wedding planners that understands the industry. Janeson offers full-package solutions from preparing budgets, sourcing for ideal venues, setup and decor, photography, and video.
Apart from that, the company offers entertainment, catering, bridal gowns, and honeymoon services. If you want a taste of the best cakes for your wedding in Nairobi, the company will sort your needs.
Dhahabu is one of the best wedding planners located in Nairobi, Kenya. The company works towards producing stylish and refreshing wedding designs that blend with each couple. The wedding planners ensure that they provide exceptional services to bring a lasting memory on your big day.
Besides, Dhahabu sells quality bridal shoes. The company realized that there was a gap for bridal shoes in the Kenyan Market. As a result, they started to provide bridal shoes that make the bride comfortable as she walks down the aisle. 
Since 2012, Aura Event offers event design in Kenya and East Africa at large. The wedding planner company was established by Fatema and Tamim Bhaiji, who were passionate about event execution and décor perfection.
 Aura guarantees you your dream wedding once you trust them with the planning. Whether you are blank about your wedding plan, you know what you want, or you are in between, the wedding planners in Nairobi will work with you.
This is an event planning company that hires out items like chairs, tables, tents, and décor services. When creating a wedding plan, Dazzling Kenya considers the clients' tastes and preferences. Besides, the company takes pride in offering unique and extra-ordinary services on your wedding day. 
If you want dazzling tents, lighting, linens, and chairs for your big day, Dazzling got your back. The wedding planner provides them in any part of the country where your wedding will be happening.
5. Shankai Wedding and Events
Shankai is a one-stop-shop for all your wedding requirements. The wedding planner has a wide range of seat options. If you want ghost chairs, Chiavari chairs, or folding chairs, the company will dress your occasion with them.
When it comes to fabrics, Shankai offers different elegant designs. To book Shankai wedding services in Kenya, you can call them at 0716 085 395 or 0792 752 845. The firm will deliver a memorable atmosphere as you exchange vows with your loved one.
6. Dreams wedding planner
Dreams Company falls under the list of leading wedding planners in Kenya who allows you to wed in style. If you do not have time to plan for your wedding, Dreams wedding planner will make it happen for you. The company provides and sets up your theme-colored décor on time.
Besides, the Dreams wedding planner team is friendly and committed. Once you sign up a contract with them, they communicate on time about each plan's progress. This makes every event they conduct not only a success but also remarkable.
7. Ritzy Wedding and Event planners
 Ritzy aims to be a high-quality and value leader in the event management service industry in Kenya and beyond. The wedding planner is committed to know what you exactly want for your big day and deliver to your expectations. As a result, customer satisfaction is their pride in every wedding.
The company offers wedding packages in different parts of Kenya, mainly in décor, lighting, and entertainment. Whether you want a small or a big garden wedding, Ritzy can plan it for you from scratch.
8. Lavida Events
Lavida is a Spanish word meaning life. As you celebrate your life events, Lavida Events brings life to your event through their planning and management skills. Since 2010, the wedding planner has managed many events that have fulfilled clients' expectations and left a memory in their lives.
If you have an upcoming wedding where you need a keen eye for design and detail, reach out to Lavida. The team never disappoints when it comes to the uniqueness and rhythm of the décor for your event.
9. Delights Occasions and Services
Delight offers consultation, full planning services, on-the-day coordination, full wedding décor, venue set up, among others to their clients. Also, the wedding planner spices up your wedding with tents and chair that rhymes with the color of the day.
The wedding planner also considers your pocket because the cost of their services in Kenya is affordable. Do not let the pressure of planning your wedding overwhelm you, Delights Occasions and Events will make it happen for you.
10. Beautiful You Ltd
Beautiful You Events is one of the leading destination wedding planners and event managers in Kenya. Located in Mombasa, the company serves other parts like Nairobi, Kisumu, Machakos, Naivasha, Kericho, and Malindi.
The wedding planner also provides an array of wedding services to clients. You can enjoy their tents and canopies, Chiavari chairs, rental cars, table napkins, and napkin holders. Besides, Beautiful You makes your day elegant through floral arrangements and special lighting.
11. Dorothy Humphreys Wedding, Special Events Planners
This is a wedding planner company that offers all services from planning to on-the-day. The company ensures that your wedding features the latest trends in the market. Dorothy Humphreys provides wedding dresses, accessories, flower girl dresses, cakes, and decorated baskets.
Through their professional services, the firm allows you to have a colorful town or country wedding. Also, the wedding planners offer set decoration services for a wedding across Kenya.
Please follow and like us: