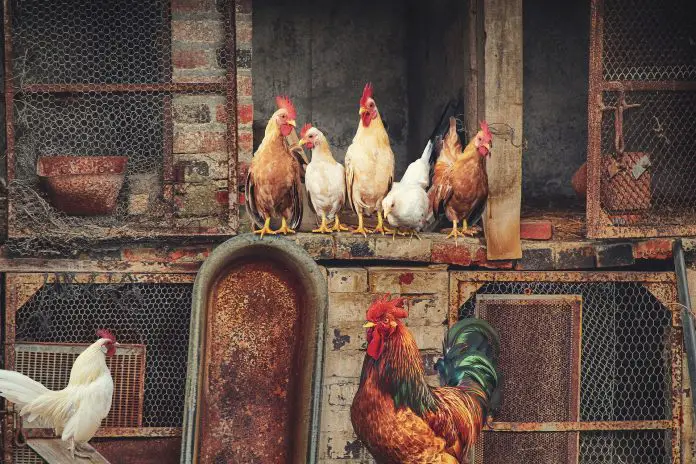 Poultry farming involves the rearing of birds such as chicken, turkeys, ducks, and geese. It is a profitable business because both poultry meat and eggs are readily available in Kenya. About fifty billion chicken are reared in poultry farms per year for eggs and food.
Most Kenyans have an appetite for both eggs and poultry meat. You can't pop in a restaurant or a hotel and lack chicken on the menu. For instance, KFC and ken chic food chains specialize in chicken. Also, eggs offer a good ingredient for many recipes used in Kenya to prepare meals.
10 Popular Poultry Farms in Kenya
Poultry farm

Products and services

Contact

Location

Neochicks poultry Ltd

Advanced poultry incubators

Poultry farming training

Modern poultry structures

+254 707 787884

Kenyatta Rd, Off Thika Rd

Nice Hatch Incubators Kenya Ltd

Quality egg incubators

Poultry feeds

Poultry feeders and drinkers

+254 706 733531/ +254 711 844945

Kariobangi Light Industries, Nairobi

Muguku poultry farm

Chicken eggs

Chicks

Kienyeji chicken

+254 724 266087

Kikuyu, Kiambu

Ziwani Poultry

Chicks and ducklings

Fertile hatching eggs

Training and hatching services

+254 708 923991

Ngoliba along Garissa Rd, Thika

Oloosirkir farm

Chicken eggs

Layers chicken

N/A

Kajiado

Ecochicks poultry

Poultry breeding, hatching, and brooding

General management and feeding

Disease prevention and treatment

+254 727 087285/ +254 723 957547

Haile Selassie Avenue, Nairobi

Engokho Kuku farmer

Eggs incubators

Layers cages

Kienyeji chicken

+254 727 474045

Development House, Moi Avenue, Nairobi

Kuroiler poultry

Kuroilers

Fertilized eggs

Poultry training seminars

+254 706 351010

Nakuru

Africhic poultry

Chicks and chicken

Fertilized eggs 

+254 719 894759

Ruaka Town, Muchatha

Kim's poultry farm

Parent stock farm

Hatchery

Feeds factory

Slaughter factory

+254 733 838391

Nakuru
List of Poultry Farms in Kenya 
It is a poultry farm in Kenya. First, Neochicks offers advanced poultry incubators where you can hatch eggs. The incubators are of quality and elegance, and you can comfortably place them in your table room.
Second, being one of the best poultry farms in Kenya, Neochicks offers quality indigenous eggs. The eggs are fertile, and you can hatch them and give you healthy chicks. Finally, you can also get nutritious poultry feeds from Neochicks to feed your poultry.
Nice Hatch Incubators do poultry farming in Kenya 2020. The farm offers the best egg incubators that are simple to use yet long-lasting. Also, they have collection points across the country where you can easily access your incubator.
If your incubator has a functioning problem, you can contact them. This is because they have qualified technicians who have great skills in incubator repairs. You can also use the incubators to raise the birds after hatching.
3. Muguku Poultry Farm
Muguku poultry farm was established by the late Nelson Muguku- one of the successful poultry farmers in Kenya. The poultry farm started as a hatchery with a 9,00-egg incubator. As the farm continued to grow, Muguku farm supplied eggs to Governor-General Malcolm MacDonald and Mzee Jomo Kenyatta in the early days.
Currently, the farm can hatch 500,000 chicks in a day. You can get healthy chicks to rear from this farm. They have branches in Thika and Ngara.
Ziwani poultry is the home of kienyeji chicken, chicks, ducklings, kienyeji eggs, and meat. The poultry farm also offers hatching services and training. If you want to know how to succeed in poultry farming, attend their training.
You can place your order today for any of their products. They deliver on time, and the products are in good condition. For strong and healthy chicks that mature faster than the ordinary kienyeji chicken, you can visit the poultry farm and buy several.
5. Oloosirkir Poultry Farm
Oloosirkir farm is a poultry farm in Rongai owned by Simon Kisulu. The farm started with only 200 broilers. Later, the farmer advanced and used automated cages to rear the birds. There are also layers on the farm currently, and each gives a maximum of two eggs per day.
Each morning, the poultry farm produces an average of 35 trays of eggs. The eggs are then sold at Sh. 300 to individuals and institutions. The farmer advises poultry farmers always to ensure that they are fed properly and given clean water.
Ecochicks is one of the largest poultry farms in Kenya. The farm offers poultry disease prevention and treatment and poultry breeding, brooding, and hatching. Also, the farm carries out external parasite control on kienyeji chicken.
The poultry farm offers a full range of genuine incubators that allow reliable, quality, and good hatching performance. You can visit them at Wakulima House in Nairobi to purchase their products and learn about poultry farming.
Engokho Kuku farmer sells poultry houses that can hold 128 hens. The poultry farm delivers, installs, and offers after-sale support of the layer's cages for free. Also, you can get automated bell drinkers and egg incubators from them.
If you want day-old chicks to mature chicken you can get them from Engokho farm. Their chickens are well-bred, and they come as either improved or indigenous kienyeji chickens. 
8. Kuroiler Poultry Farm 
 Kuroiler poultry is a leading supplier of kuroilers in Kenya. The poultry farm also offers freshly fertilized eggs from improved kienyeji chicken from India. The farm is based in Nakuru, and you can reach them through the telephone number 0706 351010.
All the way from 2014, the poultry farm offers day-old, two-week-old, and month-old kuroiler chicks. You can visit them any day from 9 AM to 5 PM.
9. Africhic Poultry Farm 
Africhic is a poultry farm to supplies high-quality poultry hatching eggs here in Kenya and Africa at large. The farm also provides well-bred chicks that grow to healthy mature chickens.
The poultry farm offers poultry farming training on their YouTube channel. You can visit the site and gain skills on how to succeed in poultry farming.
Kim's poultry farm is located in Nakuru county. First, the farm does parent stock breeding, hatching, egg production, feeds production, and broiler rearing. Second, if you want dressed poultry, the farm processes and distributes them.
Finally, the poultry farm serves some of the esteemed institutions in Kenya like Sarova hotels, Safari Park Hotel, Nairobi hospital, and Naivas Supermarket. Therefore, you can trust their quality.
FAQs on the Best Poultry Farms in Kenya
How much do I need to start a poultry business in Kenya?
Poultry farming is a lucrative business to do in Kenya. This is because hotels, restaurants, homes, wholesale and retail businesses require poultry meat and eggs. If you wonder how much you need to start up your poultry farm, it is affordable. You can start the business with Kshs. 100,000. This will cover 150 chicks, land, feeders, food, marketing, cage, and other miscellaneous.
Is poultry farming a profitable business in Kenya?     
The poultry business in Kenya is booming in the 21st century. Great restaurants and hotels need poultry meat and eggs like never before. If you land in KFC, Chicken-In, and Pizza-In food chains, you can agree that poultry meat is on demand. Therefore, if you are thinking of starting a poultry farm, go ahead. You will make a profit from the business.
How can I start a successful poultry farm in Kenya?
To have a profitable poultry farm in Kenya, you need to follow some steps. This is because some farmers have failed because of starting the business without a plan or a guide. Here is a guide on how to start a successful poultry business;
First, learn about poultry farming from a well-established poultry farm.
Decide on which type of chicken product you will venture into-is it meat or eggs? This will help you to decide whether to buy layers or broilers chicks.
Look for a good location for your poultry farm- a place where you can reach your target market.
Build the poultry cage for your birds, or you can buy it from a supplier.
Buy other farming equipment like feeders
Buy food for your chicks from a trusted supplier
You can employ one or two people to be helping you on the farm.
Ensure you feed your birds properly.
Also, maintain a health management program for your poultry birds to avoid death.
Market your products and sell them at a profit.
Please follow and like us: