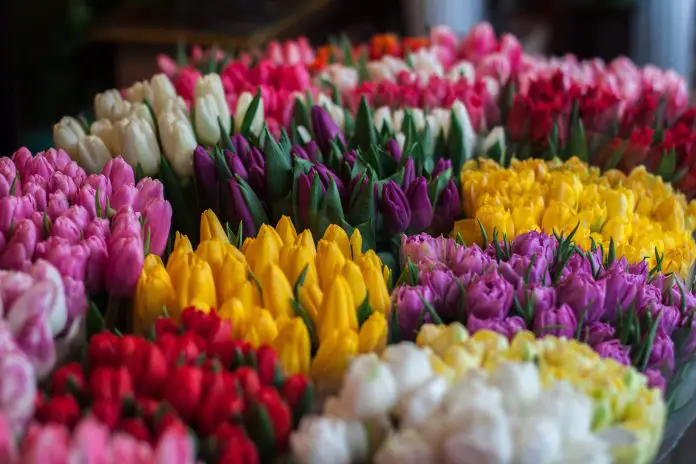 Giving someone a flower is a beautiful way to express your deepest sentiments. Whether you want to show them love, gratitude, joy, apologies, or romance,  flowers are the perfect gift. But where do you source these heart-warming florets? You can get them from flower delivery companies spread across the country.
These companies provide you with flowers and utilize their artistic skills to design unique bouquets. As a result, if you have a sick friend, your sibling is graduating, or you want to surprise your girlfriend, you can make their day extra special.  
So, let's get started with the best flower delivery services in Kenya you can work with. 
The 10 Best Flower Delivery Companies in Kenya
Flower Delivery Companies 
Bouquets 
Location 
Contacts 

Purpink 

Romance 

Celebration

Sympathy 

Thank You

New Baby 

5 Homa Bay Rd, Nairobi 

sales@purpink.co.ke

+254 702 100100

Send Flowers 

Anniversary

Love & romance

Birthday 

Thinking of you

Apology 

Zil-Za-Zin House, Amboseli Rd, Lavington

ccare@sendflowers.co.ke

 

+254 726 006123 

Midas 

Mother's Day

Condolences

Farewell

Valentine's Day

Sympathy 

Rentford Building, Muoidni Mbingu Street, Nairobi 

sales@midasflowersdelivery.co.ke

+254 716966966

Fusion 

For Her

Birthday

Romance 

View Park Towers, Utalii Lane, Nairobi 

sales@flowerdelivery.co.ke

+254 713777647

Ythera 

Exotic mix

White roses

Tropical  

Prince's arrangement

Royal Vase  

Eaton Place United Nations Crescent, Nairobi 

info@ythera.co.ke

+254 710 558855/ +254 758 290099

Jospah 

Birthday flowers & packages

Love & Romance

Mother's Day

Anniversary 

West Corner House, Muindi Mbingu Street, Nairobi 

info@jospahflorist.com

+254 714 047380 

Cosmet 

Wedding

Get Well Soon

Love & Romance

Office & Reception

VIP arrangement 

City Market Street, Nairobi 

cosmetflorist@gmail.com

+254 721 604111

Simona 

Birthday 

Get Well Soon

Anniversary 

Funeral 

Newborn

Love and Romance

Monrovia lane Behind Lilian Towers, Nairobi 

+254 722 936764/ + 254 720 368504

Nairobi Flowers 

Anniversary 

Wreaths and Sympathy

Mixed bouquets

Love and Romance

Sunflowers

Lilies 

Bruce Hse, Standard Street, Nairobi 

info@nairobiflowers.co.ke

+254 702 668037/ +254 721 318104 

Chichi Flowers 

Funeral Wreaths

Anniversary 

Get Well Soon

Love and Romance

Newborn 

Birthday 

Trust Mansion Building, Tubman Rd, Off Koinange Street, Nairobi 

info@chichiflowers.co.ke

 

+254 729 641580 
List of Flower Delivery Companies in Kenya
Purpink is a leading online flower delivery site in Kenya. It helps you send flowers to any part of Kenya with same-day delivery in Nairobi and next-day delivery in Mombasa, Kisumu, Meru, Nanyuki, and other far areas. 
You can purchase different flowers customized as per your need. For example, you can get romance flowers, celebration flowers, I'm sorry flowers, get well soon, and new baby flowers. They also help you to add the recipient's name or a personalized message to your gift. 
It is the best flower shop in Nairobi, aiming to make online flower gift-giving easy and fun. They deliver the blossoms to all major cities in Kenya and across the world with the help of their partners. You enjoy free delivery within Nairobi.
Whether you want a love & romance bouquet or an anniversary one, you can find them at Send Flowers shop. Besides, they are designed uniquely to fit the occasion and the recipient. For example, if you want a birthday bouquet, you can request the ones specifically designed for a wife, mom, or girlfriend. 
The flower delivery company allows you to express yourself with your favourite bouquet at an affordable price. Whether you want to tell someone that you love them or celebrate with them during their anniversary, you will get a perfect design for them. 
Also, if you are looking for birthday flowers in Nairobi, you can shop them at Midas. You will enjoy same-day delivery services in Nairobi. You can also add a personalized gift, chocolate, and other gift hampers to your flowers. 
Fusion Florist was born out of a passion for floral designs. It allows you to send flowers and gifts on the same day in Nairobi. Also, they go the extra mile by offering bigger, more beautiful bouquets and excellent services. 
A Red on Red flower basket goes for Ksh. 3,500, while a Perfect Combo costs Ksh. 6,000. Expert florists design all the bouquets and flower arrangements. Therefore, quality is guaranteed. 
It is one of the flower shops in Nairobi CBD, providing beautiful gift ideas for any occasion. The team ensures that your gifting is memorable by going all out to meet your expectations. Therefore, if you want to celebrate someone special, you can check out their flower bouquets. 
At Ythera, you can find different flower designs. You can buy a flower basket which goes for Ksh. 3,900. You can also have a roses and lilies bouquet at Ksh. 3,500, while a tropical bouquet costs Ksh 6,500. 
Jospah is a top-rated florist shop providing flower delivery in Kenya for over 8 years. They are known for timely delivery, quality fresh flowers, unique bouquets, and exemplary customer support.   
If you make an order, you will enjoy same day delivery within Nairobi and next day delivery in other towns in Kenya. They provide different packages to cover all the customers' needs. A simple colour bust bouquet cost Ksh. 2,400. 
If you want to enjoy 7-day flower freshness, Cosmet is where the delivery of fresh flowers happens. They design blossoms that show love, congrats, and special events for friends, lovers, and family. 
You can find a wide selection of flower categories. They provide weddings, valentines, get well soon, funerals, newborn babies, office & reception florets. All the orders around Nairobi CBD are delivered for free. 
Simona is one of the best florists in Nairobi. They provide fresh flowers and gifts for all occasions and expressions. You will enjoy the same day and free delivery within Nairobi. Delivery to other parts of the country is at a fee, and they happen the next day or a scheduled later day.
You don't have to worry about the payment methods because you will pay via secure and reliable platforms. Also, you will find any bouquet under Simona's roof, from birthdays to funeral flowers. 
Nairobi Flowers is one of the largest and most reliable flower delivery companies with 10 years of experience. They believe that picking flowers for delivery could be easier, transactions smoother, and excellent customer service possible. 
Therefore, you can place your bouquet order virtually from anywhere at any time. If you are within Nairobi, you will receive it within 2 hours. You can purchase a Modern Embrace White Rose and Lily Cube at Ksh. 7,500. 
Visit Chich Flowers today and buy handmade floral arrangements for all your event needs. The fresh flowers from the farm make the bouquets and arrangements look beautiful as they bloom. They can also stay in vases for up to 2 weeks.
You can add a card, chocolate, ice cream, or a card into the floret. You will get your order within 24 hours and a 3-hour express delivery, even on weekends. Therefore, if you are searching for a florist near me, Chichi has got you. 
Please follow and like us: